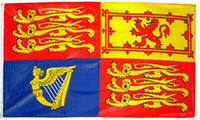 British Royal Family
---

Families have been told how witnesses to the Scottish Hospital Inquiry fear incriminating themselves while giving evidence.
British Royal Family media coverage

Sarah Ferguson has recalled being in "fairytale land" on the day of her wedding.


Almost two years ago, a suspicious fire damaged the old fish factory in Glenarm, a prime development site which Northern..

Prince William has praised an "inspirational" group of young people who have won the Diana Award this year.

96 per cent of people think the Duke and Duchess of Sussex should be stripped of their titles

Prince William wrote a personal note to this year's winners of the Diana Award. Buzz60's Keri Lumm shares the story.

It is part of the lead up to Birmingham 2022 Games