Sheffield
City and metropolitan borough in South Yorkshire, England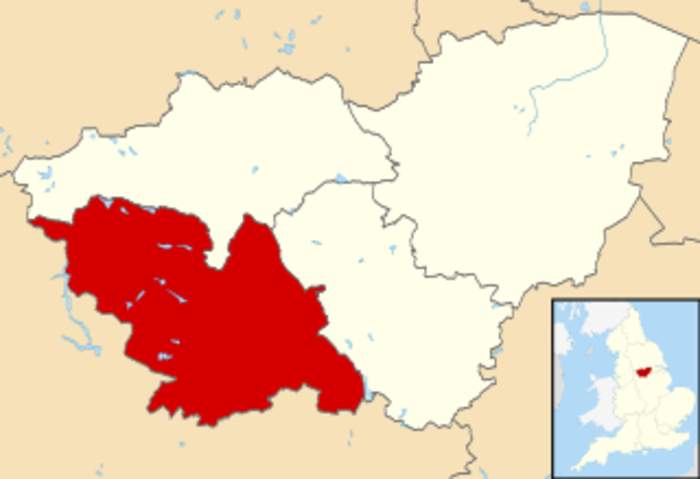 Sheffield is a city and metropolitan borough in South Yorkshire, England. The name derives from the River Sheaf which runs through the city. Historically part of the West Riding of Yorkshire With some southern suburbs annexed from Derbyshire, the city has grown from its largely industrial roots to encompass a wider economic base. The population of the City of Sheffield is 584,853 (mid-2019 est.) and it is one of the eight largest regional English cities that make up the Core Cities Group. Sheffield is the second-largest city in the Yorkshire and the Humber region and the third-largest English district by population. The metropolitan population of The city of Sheffield is 1,569,000.


Tobias Weller raises £150,000 for Sheffield charities

A nine-year-old boy from Sheffield has raised more than £150,000 for local charities since lockdown began, 300 times more than his initial goal. Tobias Weller, who has cerebral palsy, was only walking..
Credit: ODN Duration: 01:01
Published
You Might Like



'Underwhelming' Sheffield Christmas tree put up for 100th year

The artificial tree, which was bombed during the Blitz, is thought to be one of the oldest in the country.




BBC News - Published




Covid-19: Sheffield shisha bar fined £2,000 for breaching rules

Police found 20 people inside the shisha bar in Sheffield, with all those inside given fines.




BBC News - Published





Ramey Salem shooting: Ricardo Nkanyezi charged with murder

The 18-year-old has been charged with murder over the shooting of Ramey Salem in Sheffield.




BBC News - Published





Tony Pulis: Sheffield Wednesday appoint former Stoke City manager as new boss

Struggling Championship side Sheffield Wednesday appoint former Stoke City manager Tony Pulis as their new boss.




BBC News - Published





England v Norway friendly cancelled over Covid-19 restrictions

England's friendly against Norway, set for 1 December in Sheffield, is cancelled because the visitors are unable to travel.




BBC News - Published





England v Norway friendly cancelled with visitors unable to travel

England's friendly against Norway, set for 1 December in Sheffield, is cancelled because the visitors are unable to travel.




BBC News - Published





Sheffield freight train derailment disruption 'to last for days'

The freight train came off tracks at Sheffield station and a crane will be needed to remove it.




BBC News - Published





Sheffield freight train derailment causes major travel disruption

Disruption is expected to last all day due to the "low speed" freight train derailment in Sheffield.




BBC News - Published





Garry Monk: Sheffield Wednesday sack ex-Swansea, Leeds and Birmingham boss

Manager Garry Monk leaves Sheffield Wednesday after 14 months in charge.




BBC News - Published





Coronavirus: Piers Corbyn Sheffield charges dropped

The brother of the former Labour leader was charged following an anti-mask gathering in Sheffield.




BBC News - Published





Free school meals: Sheffield makes Christmas promise

A council says it will fund free school meals for vulnerable children over the Christmas holidays.




BBC News - Published





Photographs capture 'pivotal' decade in Sheffield's history

A new exhibition of images from 1980s Sheffield has gone on show at the city's Weston Park Museum.




BBC News - Published





Sheffield knife-makers: More cutlery history unearthed

A project to find descendants of Sheffield's cutlery makers has unearthed many new stories.




BBC News - Published





'Wrong person' jailed over M1 smart motorway deaths

Jason Mercer and Alexandru Murgeanu died in a three-vehicle crash on the M1 near Sheffield.




BBC News - Published





Lorry driver admits causing deaths of two men on Sheffield M1 'smart motorway'

Jason Mercer and Alexandru Murgeanu died after a three-vehicle collision on the M1 near Sheffield.




BBC News - Published





Sheffield flat fire: Woman in her 30s dies

The blaze broke out at a property in the Lowedges area of Sheffield in the early hours of Thursday.




BBC News - Published





Police in Sheffield fire plastic bullet at gun suspect

A man suspected of having a firearm is confronted by armed police.




BBC News - Published





Sheffield shooting: Victim, 12, 'recognised gunman'

The boy says he recognised the man's eyes and voices, court hears.




BBC News - Published





Coronavirus spread fear of Sheffield carer who went untested

Alison Taylor fears she may have been unwittingly responsible for spreading Covid-19 to care homes.




BBC News - Published





Sheffield stabbing: Victim was killed 'at house party'

Marcus Ramsay, 35, was attacked in what police said was a "large-scale disturbance" early on Saturday.




BBC News - Published





McGill unhappy with opponent Clarke as tempers flare in Sheffield

Qualifiers Jamie Clarke and Anthony McGill are involved in a feisty exchange at the World Championship in which the referee has to step in to diffuse the situation.




BBC News - Published




Sheffield stabbing: One man killed and three injured

Police were called to Horninglow Rd in the Firth Park area of Sheffield just after midnight.




BBC News - Published





Sheffield man 'never imagined' proposal would set flat on fire

Albert Andreu's romantic gesture went up in smoke when tea lights and candles set fire to his home.




BBC News - Published





Kate Middleton: Duchess of Cambridge wears face mask at event for first time

Royal dons face covering during visit to baby bank in Sheffield




Independent - Published





Trump advances at World Championship after first-round scare

Defending world champion Judd Trump survives a first-round scare to edge past Tom Ford at the Crucible Theatre in Sheffield.




BBC News - Published





World Snooker Championship: Anthony Hamilton withdraws over health concerns, says Barry Hearn

Anthony Hamilton pulls out of the World Championship in Sheffield because of health concerns, according to Barry Hearn.




BBC News - Published





World Snooker Championship: Judd Trump faces Ford, O'Sullivan v Un-Nooh

Defending champion Judd Trump will face Tom Ford in the first round of the World Championship in Sheffield.




BBC News - Published





Coronavirus: Lockdown-inspired Shed of the Year entries

The shortlist includes Sarah McGoldrick, in Sheffield, who used her shed to make visors for the NHS.




BBC News - Published





Three pints deep at 10am: Pub drinkers toast end to lockdown

Bars in Sheffield busy by midday on so-called Super Saturday: "I could die tomorrow," one punter notes. "I'd rather know I'd enjoyed myself than stayed at home afraid of a virus."




Independent - Published





Huge, jagged hailstones lash northern England as thunderstorms sweep the country

Images show people in Leeds and Sheffield holding large clumps of icy debris




Independent - Published





UK weather: Hailstones fall on Leeds and Sheffield

A Met Office yellow weather warning for thunderstorms and heavy rain remains in place.




BBC News - Published





Sheffield pub where drinkers hid in cupboards loses licence

The Pitsmoor Hotel in Sheffield was raided by police during the coronavirus lockdown on 24 April.




BBC News - Published





Sheffield storms: Lightning strike sets house on fire

Six people fled the building during storms in Sheffield on Tuesday night.




BBC News - Published





'A joy to be back': Places of worship reopen for private prayer three months after coronavirus lockdown

Queues may be smaller than for Primark but faithful in Sheffield tell Colin Drury this is moment they have been waiting for




Independent - Published





Thousands expected to attend anti-racism protests across UK despite ministers warning against mass gatherings

Demonstrators set to gather in cities including London, Manchester, Sheffield, Bristol and Leicester




Independent - Published





Coronavirus: Families missed funerals 'as webcast failed'

Current restrictions mean 10 people are allowed at a funeral in Sheffield, with others watching online.




BBC News - Published





Investigation at Sheffield care homes after PPE claims

Horizon Care, which runs the homes in Sheffield, said it had always followed government guidance.




BBC News - Published





Patricia Grainger: £10k reward over 1997 Sheffield murder

Patricia Grainger's son says "someone out there knows what happened" as he pleads to find her killer.




BBC News - Published





Sheffield 'fight' death: Two charged with murder

Paul Crossley died following reports of a group of men fighting on Longley Hall Way in Sheffield.




BBC News - Published





Sheffield shootings: Police fear for public caught in crossfire

The South Yorkshire force's comments come after four shootings in 24 hours in Sheffield.




BBC News - Published





Four shootings in Sheffield in 24 hours

The incidents took place in the Burngreave, Sharrow and Nether Edge areas of Sheffield during Friday.




BBC News - Published





Sheffield shootings: Four men injured in early hours

Police have stepped up patrols in the Burngreave and Sharrow areas of Sheffield.




BBC News - Published





Coronavirus: Sheffield street thief jailed for syringe threats

A street thief who threatened to infect passers-by with coronavirus, AIDS and hepatitis is jailed.




BBC News - Published





Coronavirus: Sheffield medical students graduate early

The University of Sheffield students are joining the front line after their virtual graduation.




BBC News - Published





Coronavirus: Pub customers hid in cupboards during raid

Police raided the Pitsmoor Hotel in Sheffield after reports it was still serving customers.




BBC News - Published





Coronavirus: Boy with cerebral palsy takes on 'Captain Tom' feat

Tobias Weller, from Sheffield, uses a walking frame and is walking 750m a day to reach his target.




BBC News - Published





Postman delivers 'somewhere in Sheffield' parcel

The package, containing chocolate bars, was sent from Sweden with only biographical details on the front.




BBC News - Published





Police officer dies in pursuit crash in Sheffield

His motorcycle collided with car as he responded to reports another motorist had failed to stop




Independent - Published





South Yorkshire Police motorcycle officer dies in crash

The 40-year-old officer was pronounced dead at the scene in Ecclesfield, Sheffield, police say.




BBC News - Published





Coronavirus: Villagers say cyclists 'pose threat' to residents

Residents in the Hope Valley complain cyclists from Sheffield are "flouting coronavirus guidelines".




BBC News - Published