Mother
Female parent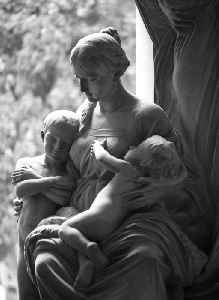 A mother is the female parent of a child. Mothers are women who inhabit or perform the role of bearing some relation to their children, who may or may not be their biological offspring. Thus, dependent on the context, women can be considered mothers by virtue of having given birth, by raising their child(ren), supplying their ovum for fertilisation, or some combination thereof. Such conditions provide a way of delineating the concept of motherhood, or the state of being a mother. Women who meet the third and first categories usually fall under the terms 'birth mother' or 'biological mother', regardless of whether the individual in question goes on to parent their child. Accordingly, a woman who meets only the second condition may be considered an adoptive mother, and those who meet only the first or only the third a surrogacy mother.


Simon Smith: Mum recalls baby's murder 25 years on
Rachel Playfair describes how triple baby killer Simon Smith murdered their daughter 25 years ago.
BBC News - Published
Tyler Peck death: Mum 'gave son, 15, drink and drugs'
Tyler Peck, 15, drank alcohol and liquid morphine and sniffed an aerosol, a court hears.
BBC News - Published
Mum launches 1980s-themed gym classes with just £100
Inspired by the movie Fame, a nimble mum who used a spare £100 to start a 1980s-themed dance class in her village hall, told how her nifty moves have been such a hit she has expanded across the UK and..
Credit: PA - Press Association STUDIO Duration: 01:07Published
Mum wins £3.2m after eye operation delays left her blind
The woman waited more than 18 months for an appointment and gave birth after losing her sight.
BBC News - Published
'I'm sorry, Mom, I'm dying': Last text of woman feared among 39 dead in Essex lorry trailer revealed
Pham Thi Tra My was not been heard from since sending message saying 'I can't breathe'
Independent - Published
Translating for Mum and Dad
When a family arrives in a new country, often children find themselves in the role of translator.
BBC News - Published
World Heart Day: Mum's transplant plea for sick toddler
Shannon Heagren has been told her 17-month-old son Grayson needs a transplant before he is two.
BBC News - Published
First day at school: Mum's before-and-after photos of daughter go viral
Lucie's new school uniform is on the dishevelled side by the end of the five-year-old's first day.
BBC News - Published
Search for Nora Quoirin: Mother's voice played through loudspeaker in Malaysian jungle
The voice of the mother of a British teenager missing in a Malaysian jungle has been played out through a loudspeaker in the search for her.
BBC News - Published
Aliny Godinho stabbing: Mum 'murdered on school run'
Ricardo Godinho denies murdering his estranged wife in front of their three-year-old daughter.
BBC News - Published
Analogue treasure hunt: Mum's bid to wean kids from computers
A mother devises a picture book to get her daughters off their screens and into museums.
BBC News - Published
MOVIE REVIEW: I Am Mother
by Graham Pierrepoint - I AM MOTHER IMDb Dir: Grant Sputore Starring Clara Rugaard, Rose Byrne, Hilary Swank, Luke Hawker 4.5 STARS (out of 5) Sometimes, it's nice to see a bit of genuine..
One News Page Staff - Published
You Might Like