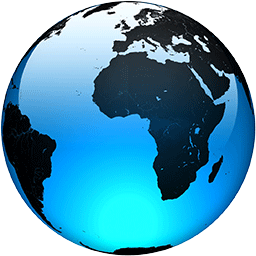 One News Page is a leading news portal website featuring original news coverage as well as news- and video content from trusted media outlets worldwide. It is arguably the speediest news and video portal in the world and its extensive coverage comprises of more than 130 million news references and videos.
The One News Page website (the "Website") is a freely-accessible international news portal owned and operated by One News Page Limited, a privately-held British media firm registered in England and Wales with company registration number 6871419.
The primary purpose of the Website is to provide original news content as well as a comprehensive archive of syndicated content from selected media sources. In the case of syndicated content, the Website offers access to its comprehensive search index of online news as well as news-related video content published on the Website under publication agreements with leading video distrubtion networks. For third party news article links, the Website offers a display of partial news content (headlines and snippet descriptions of underlying news stories) which have a functional link to the provider's website area pertaining to each news item. The Website is in many respects similar in operation and service to an Internet search engine, except that it is restricted in displaying only content explicitely published by third party news providers using the RSS publishing mechanism for content syndication. In this aspect, One News Page takes a more ethical approach than most other news portal websites which tend to crawl and scrape entire web pages.
By accessing and using the Website you agree to be bound by its Terms of Usage set out below.
Access to the Website and its functionality and content is provided free of direct or indirect charges. Your access and usage of the Website and its contents is restricted to private, individual and non-commericial use, and usage of any functionality or content of the Website is restricted to on-screen viewing and interaction only.
All content of this website is protected by copyright - please see the accreditation and copyright information below.
All Website content and functionality is provided "as is", and the usage of the Website and its contents is entirely at your own risk. All news content is displayed on the Website as published by its publisher and owner, and therefore all news content, its accuracy and timeliness is out of the control of the Website. One News Page is not responsible for syndicated news or video content, and the content of third party website linked to from within the site. You agree to indemnify One News Page in respect of any damages, costs and/or charges arising out of any misuse or contravention of these Terms of Usage associated with your access to the Website and any of its content.
Your Privacy And Our Protection of Your Data
The General Data Protection Regulation, or GDPR for short, is one of the biggest changes to data privacy law in recent years. It is designed to put you in control of how your information is collected and used by organisations.
This privacy policy sets out how One News Page uses and protects any information recorded by us when you access and use the Website. One News Page is committed to ensuring that your privacy is protected. Should we ask you to provide certain information by which you can be identified when using this website, then you can be assured that it will only be used in accordance with this privacy statement. One News Page may change this policy from time to time by updating this page. You should check this page from time to time to ensure that you are happy with any changes. This policy is effective from January 2021.
What Data We Collect And What We Do With It
No registration is required for you to access the Website and no personal information is communicated to us or stored by us. We do offer the option of registering as a One News Page member, which has the benefit of accessing our news archives older than 2 years and additional personalised functionality such as news alerts by email. During the registration process, we ask you to supply only essential personal contact details which are required for us to communicate with you and provide our services (e.g. news alerts by email) to you. The registration is entirely optional, and the information we obtain is restricted to as little as your email address and a password you set for this website, but can include your name and location if you so choose to provide this information, which allows us to personalise our communications with you. Any such personal information is stored by us securly on our server and never shared with or communicated to any third party. Our use of this information is restricted to providing the optinional personalised services such as news alerts by email to you, using the email address and name details you provided.
We never disclose or share your details with any third parties.
Member registration is not required in order for users to access any of the areas of the Website. All accesses to our Website are logged by us in industry-standard log files, recording all requests received by our web servers along with date and time information, details of the apparent IP address and user agent (the web browser used to access the Website), along with any referral details as is standard with any typical webserver. In addition to this, we have developed and implemented bespoke analytics functions designed to record user behaviour, such as the time spent on each of our webpages, details of mouse movement and scrolling activity as well as mouse clicks. The data obtained from these analytics functions is used to identify popular areas of the Website, allowing us to further improve our services, as well as the detection of potentially malicious non-human traffic accessing our site ("bad bot" detection) in our efforts to combat advertising fraud and other malicious activity. All of this data collection and analysis is carried out by us on a legitimate interest basis, for the prevention of fraud and to keep our services relevant and secure. We never share any of the analytics data with third parties and, having developed our own analytics functions, we are the sole controller of all of this data. All analytics data is automatically deleted by our systems one month after it is recorded.
Security And Safe-Guarding Of Your Data
We are committed to ensuring that your information and access to the Website is secure. As such, the Website is solely accessible via the secure HTTPS protocol, with the SSL security certifcate scoring the best-possible "Grade A" level. In order to prevent unauthorised access or disclosure, we have put in place suitable physical, electronic and managerial procedures to safeguard and secure the information we collect online.
Your Right Of Access And Right To Request Deletion Of Your Data
The vast majority of data we record and hold has no identifying information about our users, such as named or email addresses. The exception to this is data related to registered members. You do have the right to request from us what data we hold about you and also to request the deletion of this data by us. In order to make such a request, please email our appointed data protection officer at legal@onenewspage.com.
We use third-party advertising companies to serve ads when you visit our website. These companies may use information (not including your name, address, email address or telephone number) about your visits to this and other websites in order to provide advertisements about goods and services of interest to you. If you would like more information about this practice and would like to know your options in relation to not having this information used by these companies, visit the Google Advertising and Privacy Centre.
You can opt out of Google Analytics for Display Advertising, which is implemented on this website, by using Ads Settings. This also allows you to customize Google Display Network ads.
Accreditation And Copyright Information
All content, functionality and features of the Website are protected by copyright. Importantly, all title, ownership rights and intellectual property rights of the news content remain the property of the respective news publisher. Any accompanying preview thumbnail images are used as hyperlinks, having undergone an automated transformation into a link, depicted at low resolution as to make them of no value commercially as it is not intended for them to compete in any way with the actual creative works. Proper accreditation for any such preview thumbnail images is currently not always possible due to the required credit details not being passed on by news publishers as part of the estabilished data communication processes. For each news content item displayed on the Website, its publisher and owner is clearly identified as the source, and each news content item links to the original article on the publisher's website. All news content is hereby accredited to its publisher and owner as follows:
One News Page is owned and operated by British media firm One News Page Ltd. (registered in England in Wales with company no. 6871419). It was created in 2008 by serial entrepreneur Marc Pinter-Krainer.
You can contact us with any feedback, suggestions or comments you may have via our contact us page - we would love to hear from you.
One News® is a registered trademark of One News Page Ltd.