Birmingham, Alabama
Most populous city in Alabama, United States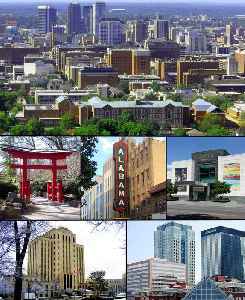 Birmingham is a city in the north central region of the U.S. state of Alabama. With an estimated 2018 population of 209,880, it is the most populous city in Alabama. Birmingham is the seat of Jefferson County, Alabama's most populous and fifth largest county. As of 2018, the Birmingham-Hoover Metropolitan Statistical Area had a population of 1,151,801, making it the most populous in Alabama and 49th-most populous in the United States. Birmingham serves as an important regional hub and is associated with the Deep South, Piedmont, and Appalachian regions of the nation.


Black Sabbath super fan's living room rebuilt in museum
An exhibition of fans' devotion to Black Sabbath is part of a celebration of Heavy Metal in Birmingham.
BBC News - Published
Barty wins Birmingham to become world number one
Australian Ashleigh Barty will become the world number one after beating Julia Gorges 6-3 7-5 to win the Birmingham grass-court event.
BBC News - Published
Ashleigh Barty Is The New World #1
Australian tennis player Ashleigh Barty has cinched the top spot in the world tennis rankings after beating Germany's Julia Gorges 6-3, 7-5, in Sunday's final of the Nature Valley Classic in..
Credit: Wochit News Duration: 00:38Published
Boris Johnson Under Fire For Alleged Altercation
London (CNN)Boris Johnson, the front-runner in the race to become Britain's next prime minister, was facing mounting calls Sunday to fully explain an incident in which police attended an alleged..
Credit: Wochit News Duration: 00:51Published
Boris Johnson dodges questions about police presence at his home
Conservative Party leadership candidate Boris Johnson is questioned by Iain Dale about police attending his house during during the first party hustings at the ICC in Birmingham. When asked whether a..
Credit: PA - Press Association STUDIO Duration: 01:26Published
Osaka prepared for Wimbledon following 'learning curve' at French Open
Interview with world number one Naomi Osaka at the Nature Valley Classic in Birmingham as she looks ahead to Wimbledon next month.
Credit: PA - Press Association STUDIO Duration: 00:37Published
Dramatic footage shows police rescuing kidnapped baby
Dramatic new video shows police rescuing a kidnapped baby. James Dempsey, from Eden Road in Solihull, has been convicted of abducting a baby from his Birmingham home.
Credit: PA - Press Association STUDIO Duration: 01:12Published
Public reacts to 'disgusting' scrapping of free TV licences for all over-75s
Members of the public in Birmingham give their reaction to the decision not to continue with free TV licences for all over-75s - a policy Downing Street has urged the BBC to look at again.
Credit: PA - Press Association STUDIO Duration: 00:44Published
Michael Bublé: "Be in the moment"
With more than 60 million records sold, many awards and now back on stage: the king of swing Michael Bublé is currently on world tour. We met up with the mega star in Birmingham.
Credit: euronews (in English) Duration: 04:15Published
Nicholas Hoult speaks elvish at 'Tolkien' premiere
Hoult and Lily Collins as well as director Dome Karukoski were on the red carpet in London for the UK premiere. Rough cut (no reporter narration).
Credit: Reuters Studio Duration: 01:11Published
"Tolkien" looks at early years of "Lord of the Rings" writer
After entertaining fans with his fantastical world of hobbits, elves and orcs since "The Hobbit" and "The Lord of the Rings" stories were published, J.R.R. Tolkien himself is the subject of a new film...
Credit: Reuters Studio Duration: 02:01Published
Tory leadership: Jeremy Hunt challenges Boris Johnson to TV debate 'any time, anywhere'
The two challengers for the Conservative crown are to face off at a hustings event for party members in Birmingham
Independent - Published
Commonwealth Games 2022: Women's T20 cricket set to be included
Women's Twenty20 cricket, beach volleyball and Para-table tennis are set to be added to Birmingham's 2022 Commonwealth Games programme.
BBC News - Published
The teenager photographing Birmingham's homeless
Oliver Obee, 19, has taken photographs of the people living on the streets of Birmingham.
BBC News - Published
Birmingham 20mph zone death crash driver jailed
Mother-of-three Noreen Akhtar died after she was hit by Mohammed Shameel's car in Birmingham.
BBC News - Published
Leeds and Birmingham Clean Air Zones 'delayed by government'
Birmingham and Leeds councils say a software delay means Clean Air Zones will not begin in January.
BBC News - Published
You Might Like