Georgia (U.S. state)
State in the southeastern United States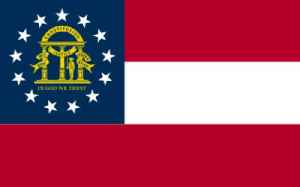 Georgia is a state in the Southeastern Region of the United States. Georgia is the 24th-largest in area and 8th most populous of the 50 United States. Georgia is bordered to the north by Tennessee and North Carolina, to the northeast by South Carolina, to the southeast by the Atlantic Ocean, to the south by Florida, and to the west by Alabama. Its 2019 estimated population was 10,617,423, according to the U.S. Census Bureau. Atlanta, a "beta(+)" global city, is both the state's capital and its largest city. The Atlanta metropolitan area, with an estimated population of more than 6 million people in 2019, is the 9th most populous metropolitan area in the United States and contains about 57% of Georgia's entire population.


Georgia's Biggest School District Has Hundreds Of Active COVID Cases

Gwinnett County Public Schools is the largest school district in Georgia, reports HuffPost. Some 260 of their employees have either tested positive or been exposed to COVID-19. Those people will be..
Credit: Wochit News Duration: 00:36
Published
Hundreds Of Kids In Georgia Catch COVID At Summer Camp

Georgia is facing a massive COVID-19 outbreak at an overnight summer camp this past June. Hundreds of children of all ages and teenage staff members have tested positive. The overnight camp opened on..
Credit: Wochit News Duration: 00:36
Published
CDC: 44% of attendees at Georgia overnight camp test positive for COVID-19

Nearly half of those who attended an overnight camp held in Georgia have tested positive for COVID-19. 344 campers and staff members have been tested and received their results. Of the 344 available..
Credit: Wochit News Duration: 00:36
Published
John Lewis Becomes First Black Lawmaker to Lie in State in Capitol Rotunda

The body of the late Georgia representative is currently lying in state for the public to pay their respects in Washington, DC.
Credit: Cover Video STUDIO Duration: 01:10
Published
Coronavirus surges, but NY offers glimmer of hope

[NFA] New York state reported the fewest hospitalizations from the coronavirus in four months on Monday just as New York City entered a new phase of reopening, but the progress was eclipsed by the..
Credit: Reuters - Politics Duration: 02:22
Published
Representative John Lewis, Civil Rights Icon, De*d at 80

The Georgia congressman died less than seven months after announcing he was diagnosed with Stage 4 pancreatic cancer.
Credit: Cover Video STUDIO Duration: 01:34
Published
Georgia's Governor Insists He Wants To 'Flatten The Curve,' But Bans Mandatory Mask Laws

In Georgia, almost 2,800 people are hospitalized due to the novel coronavirus COVID-19. According to CNN, it's the highest number in the state's ongoing battle against the virus so far. 37 people have..
Credit: Wochit News Duration: 00:41
Published
GA governor encourages masks, refuses mandate

Georgia Governor Brian Kemp on Friday urged everyone in his state to wear a mask for four weeks to halt the spread of the coronavirus but stood firm on banning state and local authorities from..
Credit: Reuters - Politics Duration: 01:11
Published
GA Governor Overrides All Local Mask Orders in the State

Republican Governor Brian Kemp issued the executive order on Wednesday.
Credit: Cover Video STUDIO Duration: 01:04
Published
Mother donates 62 litres of breast milk to parents struggling to produce their own

A "human milkmaid" who was breastfeeding when she learned how to pump a cow's udders has also expressed so much of her own milk that she has given 62 litres away.Describing herself as a "suburban..
Credit: PA - Press Association STUDIO Duration: 02:04
Published
More states require masks; Georgia bans mandate

Colorado and Arkansas on Thursday joined a growing list of U.S. states requiring face coverings in public places to combat a surge in coronavirus infections, after Georgia's governor moved the other..
Credit: Reuters Studio Duration: 02:57
Published
Tom Hiddleston and Zawe Ashton have reportedly moved in together

Tom Hiddleston and Zawe Ashton are speculated to have moved in together in Atlanta, Georgia after they were spotted out and about together in the US city.
Credit: Bang Media World Duration: 01:08
Published
Funding crunch risks U.S. election chaos

[NFA] State election officials face budget cuts after tax revenues plunged in the virus-stricken economy, with consequences that could undermine voters' faith in the polls. This report produced by..
Credit: Reuters - Politics Duration: 01:44
Published
Trump spares longtime adviser Stone from prison

[NFA] President Donald Trump commuted the sentence of his longtime friend and adviser Roger Stone on Friday, sparing him from prison after he was convicted of lying under oath to lawmakers..
Credit: Reuters - Politics Duration: 01:05
Published
T.I. to teach hip-hop class at Georgia college

Clifford Joseph Harris Jr., more commonly known as the rapper and actor T.I., has joined the faculty at Georgia's Clark Atlanta University to help teach a course about the hip-hop subgenre of trap..
Credit: Cover Video STUDIO Duration: 00:46
Published
You Might Like



Guess Who This Computer Kid Turned Into!

Before this tech-lovin' tot was starring in original Disney channel movies, she was just another kid playing on the computer growing up in Augusta, Georgia. This little lady is better known for her..




TMZ.com - Published





Coronavirus: Georgia governor sues Atlanta over face mask rules

It comes as Atlanta signalled it would defy an order barring the enforcement of public mask usage.




BBC News - Published





Coronavirus: How 'three musketeers' helped Georgia fight virus

Georgia has recorded fewer than 1,000 infections and only 15 deaths among its 3.7 million people.




BBC News - Published





Tiafoe tests positive for Covid-19 and withdraws from All-American Team Cup

Frances Tiafoe is the latest tennis player to contract coronavirus and withdraws from the All-American Team Cup in Georgia.




BBC News - Published





Ahmaud Arbery: Three men indicted over death of black jogger in February

Travis McMichael, his son Greg, and William Bryan are indicted by a jury in the US state of Georgia.




BBC News - Published





Martin Luther King Jr's daughter: 'I know the pain of growing up without a father'

Rev Bernice A King was speaking at Rayshard Brooks' funeral in Atlanta, Georgia.




BBC News - Published





Atlanta police officer charged with murder in shooting death of Rayshard Brooks

A Georgia county prosecutor on Wednesday announced that a fired Atlanta police officer has been charged with felony murder in the shooting death of Rayshard Brooks in the parking lot of a fast-food..




Reuters - Published




Charging decision to be announced in Atlanta police shooting death of Rayshard Brooks

A Georgia county prosecutor is set to announce on Wednesday whether a fired Atlanta police officer will face criminal charges in the shooting death of Rayshard Brooks in the parking lot of a Wendy's..




Reuters - Published




Ramzan Kadyrov denies Georgia journalist murder plot

Ramzan Kadyrov denies local reports he ordered the assassination of a Georgian journalist.




BBC News - Published





Trump says he met with families of victims of recent police violence

U.S. President Donald Trump on Tuesday said he met with the relatives of victims of recent police and other violence, including the family of Ahmaud Arbery, the unarmed black Georgia man who was killed..




Reuters - Published




Georgia Democrat Jon Ossoff wins nomination to run for U.S. Senate after chaotic vote

Georgia Democrat Jon Ossoff has clinched his party's nomination for a U.S. Senate seat representing the state, three years after narrowly losing a special House election for a district that had been a..




Reuters - Published




Georgia to send doctors to Armenia to fight coronavirus

Georgia will send doctors to Armenia to help fight the coronavirus and will provide its neighbour with 10,000 diagnostic tests free of charge, Georgian officials said on Thursday.




Reuters - Published





Georgia's election mess offers a stark warning for November

Georgia's tumultuous primary elections on Tuesday offer a grim preview of what could happen in November if states move to voting by mail and polling places are sharply reduced due to concerns about the..




Reuters - Published




Long lines, voting machine problems fuel investigations in U.S. state of Georgia

Voters encountered long lines and problems with voting machines on Tuesday during a chaotic day of in-person balloting in Georgia, the latest state to struggle to conduct elections amid the health..




Reuters - Published




Investigation ordered after Georgia vote marred by 'suppression'

Atlanta's mayor said the new voting machines did not work, but state officials blamed user error.




BBC News - Published





Long lines, blame-trading in Georgia as five U.S. states hold primaries

Some voters experienced hours-longs waits to cast ballots in Georgia on Tuesday as Democrats went to polls to pick a nominee in a competitive U.S. Senate race, one of five states choosing candidates..




Reuters - Published




Georgia officials report problems at some voting sites as five states hold primaries

Voters reported long lines and problems with equipment in Georgia on Tuesday as Democrats went to polls to pick a nominee in a competitive U.S. Senate race, one of five states choosing candidates for..




Reuters - Published




Georgia Democrats vote on Senate challenger as five U.S. states hold primaries

Georgia Democrats will try to pick their challenger to Republican Senator David Perdue on Tuesday when voters in five U.S. states choose candidates for the White House and Congress as the nation..




Reuters - Published




White defendant used racial slur after shooting Ahmaud Arbery, investigator testifies

One of the white men charged in the Georgia killing of Ahmaud Arbery used a racial slur after shooting the unarmed black man, an investigator testified in court on Thursday, an explosive allegation in..




Reuters - Published




White defendant in shooting death of Ahmaud Arbery used racial slur, investigator says

One of the white men charged in the Georgia killing of Ahmaud Arbery used a racial slur after shooting the unarmed black man, an investigator for the prosecution said in court on Thursday, an explosive..




Reuters - Published




Three white men to face Georgia judge in death of Ahmaud Arbery

Three white men charged with the murder of an unarmed black man in Georgia will face a judge Thursday morning in a case that caused a national outcry after cellphone video of the shooting was leaked on..




Reuters - Published




Ahmaud Arbery: White man 'used racial slur' after shooting black jogger

A Georgia state investigator says Travis McMichael used the slur while Mr Arbery was on the ground.




BBC News - Published





'We felt like we were going to die in that car'

Two black students were dragged from their car in Atlanta, Georgia, by police, who now face charges.




BBC News - Published





Gambia demands probe after US police shoot dead diplomat's son

Momodou Lamin Sisay, 39, from The Gambia, was shot dead after a car chase in Georgia.




BBC News - Published

Also reported by •Reuters


Three white men charged in Georgia slaying of black man to face judge

Three white men charged with murdering an unarmed black man in Georgia will face a judge next week in a case that touched off a national outcry after cellphone video of the shooting was leaked on..




Reuters - Published





Georgia to reopen all shops, cafes, resume public transport before June 8: PM

Georgia will restart public transport and reopen shops, shopping malls and cafes and restaurants before June 8, the ex-Soviet country's Prime Minister Giorgi Gakharia said on Wednesday.




Reuters - Published





Three U.S. states offer to host Republican convention if Trump pulls it from North Carolina

Republicans in Georgia, Texas and Florida are offering to host the party's national convention if President Donald Trump makes good on his threat to move the event from North Carolina over social..




Reuters - Published