Home Office
United Kingdom government ministerial department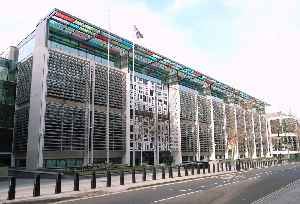 The Home Office (HO) is a ministerial department of the Government of the United Kingdom, responsible for immigration, security and law and order. As such it is responsible for policing in England and Wales, fire and rescue services in England, visas and immigration and the Security Service (MI5). It is also in charge of government policy on security-related issues such as drugs, counter-terrorism and ID cards. It was formerly responsible for Her Majesty's Prison Service and the National Probation Service, but these have been transferred to the Ministry of Justice. The Cabinet minister responsible for the department is the Home Secretary, currently Priti Patel.


Minister: 'Fingers crossed' we will get a Brexit deal

Home Office minister Kit Malthouse has talked up the chances of a trade deal with the EU, saying he was "hopeful", but remained adamant that the UK "can function without a deal" in terms of..
Credit: ODN Duration: 01:04
Published
Home Office minister condemns Extinction Rebellion protests

Home Office minister Kit Malthouse gave a statement in the House of Commonswhere he condemned the behaviour of Extinction Rebellion protesters, accusingsome of seeking to "impose an extremist world..
Credit: PA - Press Association STUDIO Duration: 01:54
Published
You Might Like



Asylum seekers: UK considered floating barriers in Channel

The Home Office looked at the idea to deter asylum seekers crossing, according to latest leaks.




BBC News - Published





More than 200 migrants picked up in English Channel

The French authorities stopped more than 100 people making the crossing, the Home Office says.




BBC News - Published





UK border: 13 boats carrying over 130 migrants intercepted on English Channel

The Home Office has said Border Force officials have intercepted 13 boats carrying more than 130 migrants arriving in the UK on Friday. A spokesperson for the department said Border Force was..




Independent - Published





UK Home Office drops 'racist' visa algorithm

After a legal challenge to the automatic algorithm, the UK will "redesign" its visa process.




BBC News - Published





'Grave risk' of Windrush-style scandal happening again unless Home Office takes action, says author of review

'The Home Office has a very stark choice,' says Wendy Williams




Independent - Published





Home Office still has no evidence to show hostile environment policy is working, report finds

Government admits it can't measure whether controversial measures have desired effect, says watchdog




Independent - Published





Thousands of refugees set to be evicted from Home Office accommodation within two weeks

Refugees will face 'cliff edge' in support unless suspension on evictions is extended, charities warn




Independent - Published





Channel migrants: Small boats 'major threat to UK'

Claims by Nigel Farage that French ships are accompanying migrant boats are denied by the Home Office.




BBC News - Published





Guildford pub bombings inquest can access closed files

The 700 files, which were retained by the Home Office, have been at the centre of a long-running row.




BBC News - Published





Coronavirus: Thousands could be forced to leave UK within weeks under current Home Office guidelines

Families say lack of clarity over visa policy during pandemic leaving them in state of limbo




Independent - Published





Windrush scandal: More than 1,000 cases yet to be considered by Home Office, figures show

Dozens of Windrush claimants have been waiting more than a year for a decision, with more than 1,000 applicants yet to have their cases considered, government figures show.




Independent - Published





Coronavirus: Home Office immigration policies 'compounding' health inequalities, says Sadiq Khan

Exclusive: London mayor calls on Priti Patel to lift certain restrictions on migrants in response to the virus outbreak, saying he is 'deeply concerned' that some policies are risking Londoners' public..




Independent - Published





Priti Patel facing tribunal claim for constructive dismissal from former Home Office chief

Sir Philip Rutnam could win unlimited compensation over whistleblowing claim




Independent - Published





Coronavirus: Home Office staff 'give face masks to migrants'

Volunteers say French migrant camps are dangerously overcrowded and without running water.




BBC News - Published





Coronavirus: Home Office accused of risking lives after Passport Office staff told to return to work amid lockdown

HMPO accused of treating employees like 'guinea pigs to test herd immunity on'




Independent - Published





Coronavirus: Home Office to extend visas of foreign nationals unable to return home due to pandemic

Announcement comes amid concerns people being told to leave UK despite travel bans




Independent - Published





Coronavirus: Home Office 'tells 80-year-old cancer patient she must return to Ukraine' despite travel ban

'Absurd' case comes as department under pressure to update immigration guidance over Covid-19 outbreak




Independent - Published





'Everyone in here is panicking': Immigration detainees say they feel unprotected from coronavirus

Home Office facing legal challenge over claims it is unlawfully maintaining detention of unwell people at risk from Covid-19




Independent - Published





Coronavirus: Home Office urged to suspend 'hostile environment' amid fears infected migrants won't seek treatment

Human rights groups warn government attempts to control spread of disease and protect public health are undermined by policies designed to prevent undocumented immigrants from accessing public services




Independent - Published





Child slavery victims 'falling through cracks' as Home Office delays support promised four years ago

Exclusive: UK's anti-slavery tsar and children's charities raise concern about 'unjustifiable' delay in full roll-out of Independent Child Trafficking Guardian scheme, promised by ministers in 2016




Independent - Published





Police cuts contributed to rise in murders in Britain, Home Office report says

Budget cuts to police contributed to the rising number of murders in Britain, an official report has found.




Independent - Published





UK top minister facing more bullying claims

The claims are from her time at DfID and follow similar allegations from the Home Office and DWP.




BBC News - Published





Home Office deports man despite court order ruling it illegal before bringing him back hours later

Exclusive: The move described as yet more evidence of the Home Office's 'disregard for the rule of law'




Independent - Published





Who to believe – Priti Patel, sacked for endangering national security and lying about it, or the other guy?

The Home Office civil war comes down a matter of trust, and if you trust the home secretary, you're beyond salvation




Independent - Published





Top British home office mandarin quits over minister's behavior

Britain's top official in the ministry responsible for policing resigned on Saturday after clashes with Home Office minister Priti Patel, in the latest test of Prime Minister Boris Johnson's plans for..




Reuters - Published




Boris Johnson is at war with civil servants: it won't end well for him

The Home Office's top civil servant is to take home secretary Priti Patel to court, accusing her of a 'vicious' briefing campaign against him




Independent - Published





Home Office permanent secretary quits, announcing he will sue government amid row over Priti Patel bullying claims

The most senior civil servant at the Home Office Sir Philip Rutnam has quit the department amid a row over alleged bullying claims levelled at Priti Patel.




Independent - Published





'How do I convince the UK Home Office I'm a lesbian?'

More than 1,500 people claim asylum in the UK each year, claiming that they are persecuted for being gay. But it's not an easy thing to prove.




BBC News - Published





MI5 denies Priti Patel shut out of intelligence briefings as Home Office civil war deepens

It comes amid ongoing hostilities at the Home Office, with Ms Patel accused of bullying officials




Independent - Published





Home Office deports asylum seekers on charter flight to EU countries despite warnings of 'inadequate access to justice'

The Home Office has gone ahead with a charter flight deporting asylum seekers this morning despite a stark warning from immigration solicitors that these individuals may have been denied access to..




Independent - Published





Home Office deportation flight to Jamaica leaves UK despite outrage and court ruling

A deportation flight to Jamaica has left the UK despite widespread outrage and a court ruling which meant dozens of those scheduled to be removed were granted last-minute reprieve.




Independent - Published





'I wanted to forget the past – but I couldn't': How modern slavery victim was left in limbo for five years by Home Office

'You don't know where your life is... You can't do anything'




Independent - Published





Channel migrants: Boat carrying 28 rescued off Dover

A Border Force vessel was called to intercept a migrant boat entering UK waters, the Home Office says.




BBC News - Published





Brexit: European Parliament has 'grave concerns' about Home Office EU citizen settlement scheme

MEPs says citizens could face discrimination because of lack of protections and certainty




Independent - Published





Harry Dunn case: Home Secretary Priti Patel makes extradition request

The Home Office requests Anne Sacoolas's extradition "on charges of causing death by dangerous driving".




BBC News - Published





Harry Dunn: UK makes extradition request to US

The Home Office requests Anne Sacoolas's extradition "on charges of causing death by dangerous driving".




BBC News - Published





Thousands of asylum seekers not reporting rapes due to Home Office stigma and 'culture of disbelief'

Exclusive: 'I came here because I was beaten nearly to death by my husband and the police did nothing. My claim for asylum was refused,' says victim




Independent - Published





Windrush victims 'waiting too long' for compensation from Home Office

'What little trust and confidence there was in the scheme has quickly dissipated,' lawyer says




Independent - Published





European Parliament could block Brexit deal over Boris Johnson's treatment of EU citizens, Guy Verhofstadt says

Problems with Home Office settlement scheme have raised concerns




Independent - Published





'Detention refreshes the memory – the trauma': Torture victim unlawfully detained by Home Office speaks out

'The sound of the keys, it reminded me directly of Sudan. It took me straight back there. There is no torture here, but the situation is all similar: serious officers, locked doors. It scared me. I..




Independent - Published





Home Office asylum detentions ruled unlawful as appeal unanimously dismissed by Supreme Court

Judgement could affect thousands who have been wrongly locked up




Independent - Published





'Exorbitant' Home Office fees blocking children from legal entitlement to British citizenship, court hears

Government challenged over 'unlawful' £1,012 fee for British-born children to obtain citizenship




Independent - Published





Hundreds of homeless people will be at risk of deportation after Brexit, charities warn

Exclusive: 'Disastrous' shortcomings in Home Office's settled status scheme will leave 'at least hundreds' of homeless EU nationals undocumented, say lawyers and NGOs




Independent - Published





France says its citizens are ignoring Home Office Brexit registration scheme

Three quarters of French nationals living in the UK have not signed up despite several Brexit extensions elapsing




Independent - Published





Thirty potential modern slavery victims referred to Home Office each day amid surge in cases, figures show

Former anti-slavery commissioner says UK 'still inadequately resourced' for dealing with problem




Independent - Published





Department for Education flouted rules when it secretly shared pupil data with Home Office, says watchdog

Information Commissioner's Office identifies 'clear deficiencies' in processing of pupil personal data for 'hostile environment' purposes




Independent - Published





Public inquiry launched into abuse at Brook House immigration detention centre

Home Office performs U-turn after initially challenging judge's call for probe




Independent - Published





Asylum seekers left with no heating in rat-infested homes due to 'failing' new Home Office contract, charities warn

Exclusive: Ministers urged to act as asylum seekers, including single mothers with small babies, living in 'appalling' conditions for weeks on end due to 'drastically increased' waiting times under new..




Independent - Published





Black, asian and ethnic minorities more likely to be targeted in stop-and-search, Home Office report finds

Any increases 'pose the risk of magnifying any residual levels of discrimination in the use of this power'




Independent - Published





Hate crimes reports 'at record number'

A record number of offences were recorded in England and Wales for 2018-19, the Home Office says.




BBC News - Published