Home Office
United Kingdom government ministerial department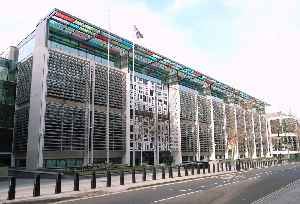 The Home Office (HO) is a ministerial department of Her Majesty's Government of the United Kingdom, responsible for immigration, security and law and order. As such it is responsible for policing in England and Wales, fire and rescue services in England, and visas and immigration and the Security Service (MI5). It is also in charge of government policy on security-related issues such as drugs, counter-terrorism and ID cards. It was formerly responsible for Her Majesty's Prison Service and the National Probation Service, but these have been transferred to the Ministry of Justice. The Cabinet minister responsible for the department is the Home Secretary.


Three boats with 36 migrants found off Kent coast
The Home Office says it has not yet confirmed the migrants' claims that they are Iraqi or Iranian.
BBC News - Published
Brexit: High-tech solution to avoid hard Northern Ireland border 'decade away', leaked Home Office document says
'The challenges of this work cannot be underestimated', warns memo in blow to Brexiteer hopes of replacing backstop
Independent - Published
UK Unveils Plan to Crack Down on Harmful Online Content
The plan would establish an independent regulator to write a code of practice for tech giants to follow.
Credit: Newsy Studio Duration: 00:52Published
'I'm still at a loss': Windrush victims who were forced into homelessness and debt due to scandal still living in anguish and destitution a year on
Twelve months after the government apologised for the Home Office's 'hostile environment' policy on immigration, those hit by the scandal are still suffering
Independent - Published
Search this site and the web:
You Might Like