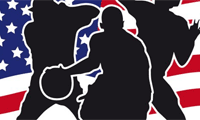 U.S. Sports
---
U.S. Sports media coverage

Just before taking the field for mandatory minicamp practice in Berea Tuesday afternoon, Browns running back Nick Chubb and..

After decade of play, Kennedy High School's baseball field was simply unsafe.
All-NBA selections were announced Tuesday, with Nikola Jokic, Giannis Antetokounmpo, Steph Curry, Luka Doncic and Kawhi Leonard..

Miami Dolphins QB Tua Tagovailoa threw 5 interceptions on the first day of minicamp today. FOX Bet has the Dolphins as an underdog..

Joining Ben Verlander, Tampa Bay Rays pitcher Ryan Yarbrough shared how he used a demotion to Triple-A to refine his game and make..

The Stanley Cup Playoffs continue without the Pittsburgh Penguins this year, but the team is inspiring fans in another way. KDKA's..