Nigel Farage
Leader of the Brexit Party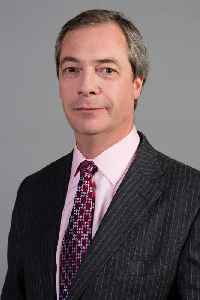 Nigel Paul Farage is a British politician, activist, and broadcaster serving as leader of the Brexit Party since 2019. He was leader of the UK Independence Party (UKIP) from 2006 to 2009 and 2010 to 2016 and served as Member of the European Parliament (MEP) for South East England from 1999 until the United Kingdom's exit from the EU in 2020. He was the host of The Nigel Farage Show, a radio phone-in on the Global-owned talk radio station LBC, from 2017 to 2020.


Brexit Leader Farage Loses Radio Gig After Comparing Black Lives Matter To Taliban

Brexit Party leader Nigel Farage has left his position at LBC Radio ahead of his contract renewal, and 'with immediate effect.' Business Insider reports Farage's departure followed after comments he..
Credit: Wochit News Duration: 00:34
Published
Farage parts company with broadcaster LBC

Nigel Farage has left LBC with "immediate effect", the broadcaster has said.The Brexit Party leader had been a regular presenter on the station. In a statement, the broadcaster said: "Nigel..
Credit: PA - Press Association STUDIO Duration: 00:50
Published
You Might Like



What is the true story behind Nigel Farage's claim that 'illegal' immigrants are staying in hotels?

Brexit party leader makes remarks in 10-minute video cataloguing failed attempt to book hotel room in late July




Independent - Published





Coronavirus: Nigel Farage pub trip raised with Kent Police

The acting leader of the Liberal Democrats asks whether Nigel Farage has broken quarantine rules.




BBC News - Published





Nigel Farage reported to police for visiting pub after US Trump rally trip

The Brexiteer was pictured in Tulsa last month




Independent - Published





Glasgow stabbings: Nigel Farage accused of stirring up 'fear and hatred' after blaming attack on 'illegal immigrants'

Politicians from across city accuse Brexiteer of exploiting incident and 'spewing vile racist rhetoric'




Independent - Published





Congressman launches investigation into Nigel Farage's travel to US to attend Trump rally

Mississippi House member says exemption given to ex-UKIP leader raises 'troubling questions'




Independent - Published





Nigel Farage says he's 'in the USA' ahead of Donald Trump rally – despite travel ban

'In the USA, only twenty four hours from Tulsa,' says Brexit Party leader




Independent - Published





How will future generations understand Nigel Farage, now that his phone in radio show has been torn down?

Is it fair to judge Nigel Farage on the values of today?




Independent - Published





Nigel Farage quits LBC radio show amid backlash over Black Lives Matter comments

Nigel Farage is "stepping down from LBC with immediate effect," the radio station has announced.




Independent - Published





Channel migrants: Small boats 'major threat to UK'

Claims by Nigel Farage that French ships are accompanying migrant boats are denied by the Home Office.




BBC News - Published





Nigel Farage condemned for boat trip into English Channel to report migrant 'invasion'

Brexit Party leader has already been reprimanded for making trips to report on migrants during lockdown




Independent - Published





Nigel Farage 'visited' by police after travelling to Dover to report on migrants

Brexit Party leader made two separate trips to south coast to produce videos




Independent - Published





'He's lying to you' sign pointed at Nigel Farage to go on display in Brussels museum of European history

Images of the piece of paper being pointed at the then-Ukip leader went viral around the world




Independent - Published





Nigel Farage raved about populism to EU parliament – right after an Auschwitz survivor spoke

It was fitting, in a strange way, that he should save his most crass moment till last




Independent - Published





'Put your flags away, and take them with you': European Parliament speaker scolds Brexit MEPs as they wave Union Jacks

Nigel Farage gives final speech to European Parliament




Independent - Published





Second EU referendum would not be 'wholly unreasonable' after Brexit, says Nigel Farage

Brexit Party leader says he will miss being the 'pantomime villain' of the European Parliament




Independent - Published





Boris Johnson news – live: PM faces Tory rebellion over Huawei decision, as Farage predicts only 'pretty reasonable' post-Brexit trade deal

Follow all the latest developments




Independent - Published





Brexit crusader Farage: 'I'll miss playing the villain'

As Nigel Farage packed a few belongings into a box at his office in the European Union's parliament in Brussels on Tuesday, he reflected that he will miss the very institution on which - as its..




Reuters - Published





Brexit celebrations approved to mark UK's last moments in the EU

Brexit Party leader Nigel Farage has won his bid to hold a party on Brexit night in front of parliament with speeches, music and possibly the chimes of the Big Ben bell on the day when Britain is due..




Reuters - Published




Brexit: 31 January gathering in London gets go-ahead

Nigel Farage says the Parliament Square party on 31 January will mark a "big moment" in UK history.




BBC News - Published





Brexit: Boris Johnson planning official events to mark departure from EU, No10 suggests

Brexit Party leader Nigel Farage is hoping to stage a 'celebration' in Parliament Square on 31 January




Independent - Published





Nigel Farage concedes Brexiteers must prepare to make concessions ahead of trade talks

Brexit Party leader also rejects suggestions he denied Tories a three-figure Commons majority




Independent - Published





UK's Farage: We will get Brexit, but maybe not the right Brexit

Brexit Party leader Nigel Farage said Britain would leave the European Union if Boris Johnson's Conservatives win the majority forecast in the exit poll, but it may not be the hard Brexit he had spent..




Reuters - Published




General election: Nigel Farage suffers major blow as three Brexit Party MEPs resign to join Tories

Annunziata Rees-Mogg says: 'Conservatives are the only option for Brexit supporters and democrats alike'




Independent - Published





ITV debate: Farage likens infamous Trump comments on women to something 'said on a night out after a drink'

Nigel Farage has compared Donald Trump's lewd comments on women to things men say after drinking on a night out.




Independent - Published





Climate debate: Key facts as Jeremy Corbyn and Jo Swinson prepare for live Channel 4 election clash

Boris Johnson and Nigel Farage expected to be empty-chaired as rival party leaders take on environmental issues




Independent - Published





Boris Johnson to be empty-chaired by Channel 4 after refusing to take part in live climate change debate

Boris Johnson and Nigel Farage will be empty-chaired in tonight's climate change debate if they refuse to take part, Channel 4 has confirmed.




Independent - Published





Liberal Democrats target Boris Johnson with new election posters: 'He lied to the Queen, parliament, the people'

Election ad shows prime minister with Trump and Farage, asking: 'Brexit's good for them, how is it for you?'




Independent - Published





General election: Conservatives extend lead over Labour as Brexit Party loses support, poll says

Apparent swing to Tories likely to be due to Nigel Farage standing down candidates, rather than a 'debate bounce' for Boris Johnson




Independent - Published





On the campaign trail: Nigel Farage signs contract with voters

Britain holds an election on Dec. 12, a political gamble by Prime Minister Boris Johnson who sees it as his best chance to break the deadlock in parliament over Brexit.




Reuters - Published





UK's Brexit Party leader Farage promises to continue campaigning

The leader of Britain's Brexit Party, Nigel Farage said on Friday he would go on campaigning for years to come, setting out an agenda beyond securing an exit from the European Union, focused on..




Reuters - Published





Farage claims tragic migrant deaths could be prevented if UK made clear illegal entrants will be deported

Brexit Party leader says it is time for 'a debate about who a refugee really is'




Independent - Published





General election 2019: Brexit Party pledges 'political revolution'

Nigel Farage pledges to cut foreign aid, cap immigration and plant trees, as he makes his pitch to voters.




BBC News - Published





Campaign group Led By Donkeys offers to sell thebrexitparty.com to Nigel Farage – for £1m

Stunt 'designed to highlight lunacy and hypocrisy' of Conservative alliance with upstart faction




Independent - Published





British PM Johnson will probably win this uninspiring election, Farage says

British Prime Minister Boris Johnson will probably win the Dec. 12 election with a small majority but the campaign has so far been uninspiring with a host of unrealistic promises on both sides, Brexit..




Reuters - Published




Nigel Farage accuses Tories of 'corruption' as he insists it is 'fact' that Brexit Party candidates were offered jobs to stand down

Brexit Party leader hits back after Conservatives deny claims that he and others were offered peerages if they stood aside




Independent - Published





Lib Dems demand Boris Johnson answers questions over Nigel Farage peerage claims

'The public deserve to know of any agreement before they go to the polls,' say Lib Dems




Independent - Published





General election: Met Police assessing electoral fraud claims after Farage says senior Brexit Party figures offered peerages to step aside

Scotland Yard looks into claims of potential bribery as former lord chancellor demands investigation of 'exceptionally serious allegations'




Independent - Published





Boris Johnson news - live: PM shuts down questions over family in BBC interview, as Labour pledges free broadband and Farage threatens to call police on Tories

Follow all the latest developments




Independent - Published





Nigel Farage's one man alliance has already fallen apart

The eternal question never goes away: who on earth do this lot expect us to vote for?




Independent - Published





Farage claims Tories are calling Brexit Party candidates pleading with them not to stand: 'Disgraceful abuse'

Candidates facing 'relentless phone calls, emails and abuse', Brexit Party leader alleges




Independent - Published





Farage says Brexit Party candidates under massive pressure to quit election

Brexit Party leader Nigel Farage said on Thursday that Prime Minister Boris Johnson's Conservative Party was using an array of "disgraceful" tactics to try to prevent his candidates from standing in..




Reuters - Published





No more surrender for Brexit Party's Farage in British election

Brexit Party leader Nigel Farage on Thursday rejected demands to further help British Prime Minister Boris Johnson by pulling out of contests with the opposition Labour Party, saying his aim was to win..




Reuters - Published





Brexit Party's Farage dismisses calls to stand down in Labour seats

Brexit Party leader Nigel Farage on Thursday dismissed demands to stand down candidates fighting the Labour Party, saying his main aim was to win seats in parliament to hold Prime Minister Boris..




Reuters - Published




Brexit Party's Farage turns down electoral pact offer from PM Johnson's Conservatives: report

Britain's ruling Conservative Party has made an offer of an electoral pact to Nigel Farage, which has been turned down by the Brexit Party leader, The Daily Telegraph newspaper reported.




Reuters - Published





Brexit Party's Farage says will stand down no more candidates

Brexit Party leader Nigel Farage said he would stand down no more candidates beyond the 317 Conservative seats his party has already withdrawn from.




Reuters - Published





Brexit donor Arron Banks urges Farage to stand down in Labour marginal seats

Arron Banks, one of the biggest financiers behind the campaign for Britain to leave the EU, said Brexit Party leader Nigel Farage should stand down candidates in opposition Labour marginal seats to..




Reuters - Published




General election: Senior Tories admit Farage right to say no-deal Brexit still 'on the table'

Deputy chairwoman acknowledges a crash-out is an option in little over a year's time - after Brexit Party leader claimed it was reason for his climbdown




Independent - Published





Brexit Party candidates furious after Nigel Farage announces they cannot contest 317 seats

'I don't understand why you build a dedicated new group, then sacrifice half of it without missing a step,' says spurned contender




Independent - Published





Nigel Farage vows to defy Conservative pressure to abandon entire Brexit Party election campaign over fears he will prevent Johnson majority

Nigel Farage has vowed to defy Conservative pressure to stand down all his Brexit Party candidates, insisting he will fight on to win Labour-held seats.




Independent - Published