Nigel Farage
Leader of the Brexit Party and former commodity broker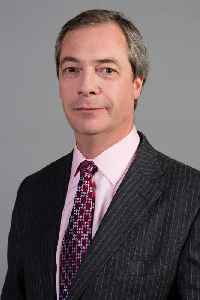 Nigel Paul Farage is a British politician, broadcaster, and political analyst serving as Leader of the Brexit Party since 2019, and has served as Member of the European Parliament (MEP) for South East England since 1999. Outside of his Brexit Party and MEP duties, he also serves as a Vice-Chairman of the pro-Brexit organisation Leave Means Leave, and is the host of a radio phone-in on the Global-owned talk radio station LBC.


Meghan has made Prince Harry less popular, says Farage
The Brexit Party leader said Prince Harry's popularity has "fallen off a cliff" since he met Meghan.
BBC News - Published
Brexit Party's Farage ridicules Harry and Meghan with jibe at UK royals: Guardian
Nigel Farage, the leader of Britain's Brexit Party, has lambasted Prince Harry and his American wife Meghan along with other members of the royal family in a speech in Australia, the Guardian newspaper..
Reuters - Published
Activists in Brexiteer masks warn no-deal could break Union
Young activists have gathered outside the Scottish Tory headquarters in Edinburgh to warn against the threat of a no-deal Brexit to the UK. The demonstrators from pro-EU campaign group Our Future, Our..
Credit: PA - Press Association STUDIO Duration: 00:38Published
Nigel Farage launches attack on Emmanuel Macron and Ursula von der Leyen
Brexit Party leader launches an attack on European Commission presidential candidate Ursula von der Leyen and French president Emmanuel Macron during his speech at the European Parliament. MEPs will..
Credit: PA - Press Association STUDIO Duration: 01:20Published
Farage tells Euronews he won't show respect for foreign anthems 'forced upon us'
The leader of the Brexit Party sparked criticism at the opening of the EU Parliament, where he and his 28 fellow MEPs turned their backs as the EU's unofficial anthem — Beethoven's Ode to Joy — was..
Credit: euronews (in English) Duration: 05:44Published
Farage calls for postal vote shake-up
Nigel Farage's Brexit Party has called for an investigation into allegations of impropriety during Labour's slim victory in the Peterborough by-election.
Credit: PA - Press Association STUDIO Duration: 00:58Published
Search this site and the web:
You Might Like