Oxford Street
Major road in the City of Westminster in London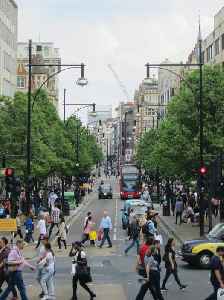 Oxford Street is a major road in the City of Westminster in the West End of London, running from Tottenham Court Road to Marble Arch via Oxford Circus. It is Europe's busiest shopping street, with around half a million daily visitors, and as of 2012 had approximately 300 shops. It is designated as part of the A40, a major road between London and Fishguard, though it is not signed as such, and traffic is regularly restricted to buses and taxis.


Extinction Rebellion: Hundreds of officers sent to help Met with protests
Oxford Circus has been cleared of climate change protesters but they continue to occupy Waterloo Bridge.
BBC News - Published
Extinction Rebellion: Dame Emma Thompson speaks to Oxford Circus protesters
The actress said she felt inspired to support the Extinction Rebellion movement in London.
BBC News - Published
Climate-Change Protesters Glue Themselves To London Stock Exchange
According to a report by Reuters, on Thursday, environmental activists glued themselves to the London Stock Exchange, blocking roads near the Bank of England and protesting outside banks like Goldman..
Credit: Wochit News Duration: 00:46Published
Environmental activists disrupt London rush hour, again
Protesters from the "Extinction Rebellion" group climbed onto the roof of a train and glued themselves to the London Stock Exchange on what is said to be their final day of protests. Rough cut (no..
Credit: Reuters Studio Duration: 01:00Published
Actress Emma Thompson joins Oxford Circus climate protest
Climate change activists protested in central London on Friday (April 19) which have caused transport issues in the capital. Rough cut (no reporter narration)
Credit: Reuters Studio Duration: 01:10Published
London eco-activists turn to superglue
Environmental activists glued themselves to a train, lorry, building and to each other in a series of protests to force Britain to take more radical measures to avert climate change.
Credit: Reuters Studio Duration: 01:04Published
Climate change protesters glue themselves to London train
Environmental activists climbed onto the roof and glued themselves to a train in London's Canary Wharf financial district on Wednesday as part of a third day of action to force Britain to take more..
Credit: Reuters Studio Duration: 00:58Published
Environmental protesters block five central London locations
The campaign group Extinction Rebellion leads a a global campaign demanding that the Government declares a climate emergency. Protesters set up camps and roadblocks at Marble Arch, Oxford Circus,..
Credit: PA - Press Association STUDIO Duration: 00:44Published
London braces for rail disruption by climate-change protesters
London was bracing for disruption by climate-change activists to underground train services on Wednesday after protesters blocked some of London's most important junctions including Oxford Circus and..
Reuters - Published
Search this site and the web:
You Might Like