Nottingham
City and unitary authority area in England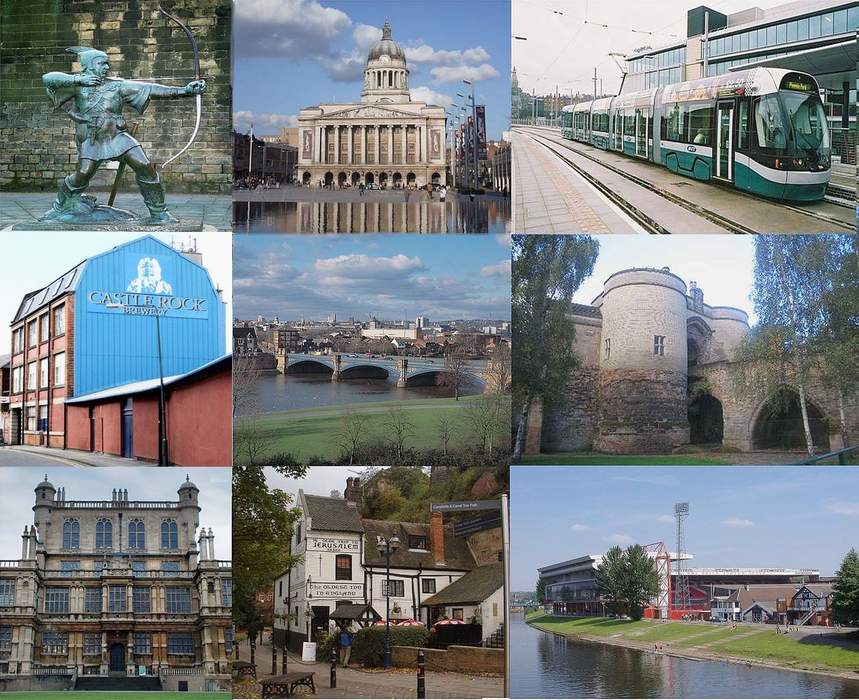 Nottingham is a city and unitary authority area in Nottinghamshire, England. Part of the East Midlands region, it is 128 miles (206 km) north of London and 45 miles (72 km) northeast of Birmingham.


Students disregard rules as Nottingham moves into Tier 3

A gathering of youngsters in the streets of Nottingham gets out of hand aheadof the implementation of Tier 3 restrictions. It took place on St James Streetin Nottingham city centre which has a number..
Credit: PA - Press Association STUDIO Duration: 01:41
Published
Nottingham prepares for highest band of Covid-19 restrictions

Residents in Nottingham and surrounding boroughs have been urged to keepshowing "resilience" ahead of new Tier 3 controls coming into force. TougherCovid-19 rules for Nottingham city and the..
Credit: PA - Press Association STUDIO Duration: 01:04
Published
Coronavirus lockdown in England: Nottingham prepares for Tier 3

A look at the breakdown of which areas are in what tier of coronavirusrestrictions, and what that means, as Nottingham prepares to move into thestrictest set of restrictions.
Credit: PA - Press Association STUDIO Duration: 00:40
Published
Banksy claims hula-hooping girl street art

The elusive British street artist Banksy confirmed on Saturday that a new artwork that appeared on a wall in Nottingham, central England, depicting a young girl using a bicycle tyre as a hula-hoop is..
Credit: Reuters Studio Duration: 00:51
Published
Banksy confirms he is behind new Nottingham mural

Banksy has posted a mural of a little girl hula hooping with a bike tyre onhis Instagram account, ending speculation over whether he was behind the work.The piece appeared last Tuesday on the corner of..
Credit: PA - Press Association STUDIO Duration: 00:45
Published
Coronavirus hotspots: Nottingham seeing 689.1 cases per 100,000 population

Here is the latest update of the rolling seven-day rate of new cases ofCovid-19, showing the top five local authorities. Nottingham now has thehighest rate in England, with 2,294 new cases recorded in..
Credit: PA - Press Association STUDIO Duration: 00:39
Published
You Might Like



Banksy: Bike from Nottingham hula-hooping girl replaced

The bike vanished from its post outside a beauty parlour in Nottingham over the weekend.




BBC News - Published




Rapper Kaide, 10, on mission to end knife crime

Kaide is also an ambassador for a knife crime charity in Nottingham.




BBC News - Published





Nottingham single mother 'overdosed after benefits cut'

Philippa Day's family says a cut in payments led to her mental health deteriorating.




BBC News - Published





Nottingham child rapist jailed for further attacks

Ralph Stevenson, 76, is jailed for 22 years, to follow his current 18-year sentence.




BBC News - Published





Covid: Delays in Nottingham tier 3 details 'unacceptable'

People and businesses "deserve clarity in difficult times", a council leader says.




BBC News - Published





Covid: Nottingham to move into tier 3

Some parts of the surrounding county will also face the toughest Covid rules.




BBC News - Published





Nottingham student calls for sign language at music gigs

Deaf music lover Owen Brindley wants bands to include signing.




BBC News - Published





What happens when a Banksy appears?

Nottingham residents are excited about the arrival of a Banksy mural - but what will happen to it?




BBC News - Published





Nottingham hospitals cancel surgery as Covid cases rise

Some non-urgent surgery will be postponed until at least 6 November, a trust says.




BBC News - Published





'Banksy' artwork appears on Nottingham wall

The mural in Nottingham mirrors the elusive artist's famous style but has not been authenticated.




BBC News - Published





Second murder arrest after Nottingham city centre stabbing

A 19-year-old is being questioned after the death of a man who was attacked on Monday afternoon.




BBC News - Published





Coronavirus: Nottingham students 'question logic' of university return

Self-isolating students at the University of Nottingham say managers "don't care" about them.




BBC News - Published





Coronavirus: Nottingham post box 'filled to brim' with test kits

Royal Mail said the post box in Nottingham had "larger than usual volumes of completed test kits".




BBC News - Published





Nottingham students unhappy with conditions in 'prison' halls

The Nottingham students cite unreliable food deliveries, lack of communication and "oppressive" security.




BBC News - Published





Nottinghamshire firefighters remain at 200-tonne rubbish blaze

Firefighters expect to be at the scene of the blaze in Nottingham for a "long time".




BBC News - Published





Coronavirus: 'Use Scottish postcode,' test centre told visitors

Two mothers have said they were able to get a Covid-19 test in Nottingham using Scottish postcodes.




BBC News - Published





Coronavirus: Was £10,000 student party fine too harsh?

A 19-year-old from Nottingham was handed the large penalty after his party breached Covid-19 rules.




BBC News - Published





Coronavirus: Nottingham house party host fined £10K

A man, 19, is issued with a fixed penalty notice after allowing more than 50 people to his home.




BBC News - Published





'Multiple injuries' in Nottingham Argos store bus crash

Police say two buses hit each other before one crashed into a Nottingham branch of Argos.




BBC News - Published





Jemima, 11, 'speechless' after NHS T-shirts raise £10,000

Jemima, from Nottingham, has raised £10,000 for the NHS with a Clap for Carers T-shirt.




BBC News - Published





Nottingham council 'sorry' as Robin Hood Energy collapses

The council leader admits selling the customer base will not make back the millions it invested.




BBC News - Published





Man charged with theft of ice cream van in Nottingham

The pink super-whippy van was reported stolen and found in the early hours of Thursday by police.




BBC News - Published





Police chase pink ice cream van through Nottingham

The "unusual getaway vehicle" made it easier for officers to spot in the night, police say.




BBC News - Published





Three men, woman and girl arrested after man found fatally stabbed in Birmingham

Men held at addresses in Nottingham after woman and teenager detained at scene




Independent - Published





Search for Joseph Chattaway after Nottingham attack on parents

Nottinghamshire Police urged anyone who saw Joseph Chattaway not to approach him but to call 999.




BBC News - Published





Nottingham city centre road layout works to begin

The city council says the works are the "most significant changes to a city centre road layout for 15 years".




BBC News - Published





Man arrested after woman dies in Nottingham car park

The woman was given CPR by paramedics, but pronounced dead a short time later, police say.




BBC News - Published





Coronavirus: 'It reminds you why you want to be a vet'

Nottingham students are among the first in the UK to return to face-to-face classes since lockdown.




BBC News - Published





Ricky Gervais video appeal for Nottingham comedy club

The comedian did his first gig at the club which is now suffering financially due to coronavirus.




BBC News - Published





Nottingham postie leaves note suggesting door colour

The homeowner says finding the card recommending the "2nd green up from bottom" was "hilarious".




BBC News - Published




Nottingham student gives 'risky' kitchen problem the chop

A student hopes his gadget will save his grandmother further cuts while preparing food.




BBC News - Published





Coronavirus: Nottingham widow appeals for visa rule change

Donna Smith Fustiye's husband Ralston Fustiye died in April after contracting coronavirus.




BBC News - Published





Coronavirus: Thieves break into pregnant NHS worker's car

Becky Jones' car was broken into while she went for a meal in Nottingham with her boyfriend.




BBC News - Published





Nottingham schoolgirl creates Disney-style princess in glasses

Lowri Moore says the lack of glasses-wearing princesses makes her feel 'not beautiful enough'.




BBC News - Published





Leicester lockdown: Nottingham pubs to refuse entry to drinkers who cannot prove they are not from city next door

Door staff will demand driving licences, bank statements or utility bills in bid to deter those making border booze-dash




Independent - Published





UK weather: Rain, wind and flood warnings bring heatwave to an end

Yellow weather warnings have been issued in Staffordshire, Birmingham, Warwickshire, Loughborough and Nottingham




Independent - Published





Black Lives Matter: Nottingham protesters clean up graffiti

A group of teenagers spent hours cleaning up, saying they did not want the "true meaning" to be lost.




BBC News - Published





CCTV shows Nottingham burglars discussing what to steal

The 58-year-old victim told police he is "distraught" by the burglaries.




BBC News - Published





Man injured in Nottingham 'unprovoked' axe attack

A man carrying an axe approached three men riding bikes, police say.




BBC News - Published





Coronavirus: Men who stole bikes from Nottingham medics jailed

David Moran and Aaron Lancaster sold the bikes belonging to NHS staff to fuel their drug addictions.




BBC News - Published





Coronavirus: Nottingham junior doctor sings advice

Dr Maissa Rosie says she wrote the song after seeing people panic buying in a supermarket.




BBC News - Published





Hand sanitiser donated to homeless by Nottingham gym boss

Luke Willmott says it is important to "help each other" after supplies empty in supermarkets.




BBC News - Published





Nottingham knife-wielding man Tasered by police

Video shows Glen Burton being shot with a Taser after threatening police at his home in Nottingham.




BBC News - Published





Nottingham boy, 2, 'being spat at was hate crime'

Police are investigating how the boy was "spat at, threatened and racially abused" in Nottingham.




BBC News - Published





Boy, 2, 'spat at and racially abused' in Nottingham

The boy's mother says a man threatened to hurt her son and racially abused him in Nottingham.




BBC News - Published





Ezekiel Clarke stab death: Two charged with murder

Ezekiel Clarke, 17, was fatally stabbed near a retail park in the Radford area of Nottingham.




BBC News - Published





Nottingham fitness instructor 'on the pole between contractions'

Kat Bailey is pregnant with her second child and intends on continuing pole fitness until four weeks before her due date.




BBC News - Published





Arjun Singh: Man admits fatal attack on student in Nottingham

The Nottingham Trent University student died a day after being injured in the Long Row area of the city.




BBC News - Published





CCTV shows Nottingham shopkeeper grab gun off robber

Vijayakumar Gowsikan took the gun out of the attacker's pocket as he raided the cash register.




BBC News - Published





Premier League Darts: Fallon Sherrock says her gender is no longer a topic of conversation

Fallon Sherrock believes her gender is no longer a topic of conversation after her impressive Premier League debut appearance in Nottingham.




BBC News - Published