Christmas
Holiday originating in Christianity, usually celebrated on December 25 (in the Gregorian or Julian calendars)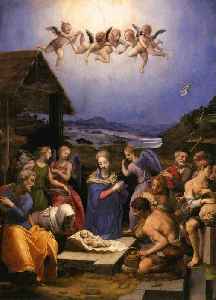 Christmas is an annual festival commemorating the birth of Jesus Christ, observed primarily on December 25 as a religious and cultural celebration among billions of people around the world. A feast central to the Christian liturgical year, it is preceded by the season of Advent or the Nativity Fast and initiates the season of Christmastide, which historically in the West lasts twelve days and culminates on Twelfth Night; in some traditions, Christmastide includes an octave. Christmas Day is a public holiday in many of the world's nations, is celebrated religiously by a majority of Christians, as well as culturally by many non-Christians, and forms an integral part of the holiday season centered around it.


China's Christmas city loses its seasonal cheer

Yiwu is the Santa's workshop of China, where some 80% of the world's Christmas goods are produced. But the health crisis has slashed demand from international buyers, leaving the city's factories and..
Credit: Reuters Studio Duration: 02:01
Published
Mariah Carey disappointed classic Christmas track wasn't used in Mean Girls

Mariah Carey is disappointed that Tina Fey didn't use her classic holiday tune All I Want for Christmas is You in her teen comedy Mean Girls.
Credit: Cover Video STUDIO Duration: 00:58
Published
Hancock: I want us to have "Christmas people yearn for"

Health Secretary Matt Hancock says that to have the "Christmas people yearn for" this year the public must adhere to social distancing and hygiene guidance to prevent a second wave of coronavirus..
Credit: ODN Duration: 01:00
Published
Labour warns against lifting ban on evictions

Shadow Housing Secretary Thangam Debbonaire has hit out at the government as the ban on automatic evictions of tenants comes to an end on Monday. Homelessness charities fear thousands of renters could..
Credit: ODN Duration: 00:44
Published
Hallmark Channel Will Include LGBTQ Stories In Christmas Lineup

The Hallmark Channel is making it's annual holiday movie celebration more inclusive this year. According to CNN, "Countdown to Christmas" and "Miracles of Christmas" lineups will include LGBTQ..
Credit: Wochit News Duration: 00:32
Published
You Might Like



EFL: Future of some Football League clubs beyond Christmas in doubt

Some English Football League clubs will struggle to stay afloat beyond Christmas if there is a delay to the wider rollout of fans and a financial rescue package is not secured urgently, BBC Sport has..




BBC News - Published





Leicester's Diwali lights switch-on event cancelled

The celebration and Christmas events in Leicester are called off due to coronavirus restrictions.




BBC News - Published





Flamur Beqiri murder: Kickboxer denies 'organised hit'

Anis Fouad Hemissi denies shooting Flamur Beqiri in front of his family on Christmas Eve.




BBC News - Published





Coronavirus: Birmingham Hippodrome cancels Christmas season

Birmingham Hippodrome has cancelled its Christmas programme and will not reopen in 2020.




BBC News - Published





'Imagine them pulling this at Christmas': Fury and frustration in Bradford at northern lockdown

New guidelines come into force on eve of major Islamic festival Eid al-Adha




Independent - Published





Britons do not believe life will go back to normal by Christmas, poll suggests

Public believe prime minister and government 'making up their coronavirus policies as they go along'




Independent - Published





Coronavirus will afflict UK until 'the middle of next year', Boris Johnson admits

Just seven days ago, the prime minister unveiled a plan promising a 'return to normality' by Christmas




Independent - Published





Jurgen Klopp: 'Lifting the Premier League trophy will be like Christmas'

Liverpool manager Jurgen Klopp says being able to lift the Premier League trophy at Anfield on Wednesday will be "like Christmas".




BBC News - Published





UK PM expects 'significant normality' by Christmas

Boris Johnson says employers will have more discretion to bring staff back to workplaces in England.




BBC News - Published





It'll be over by Christmas, says Boris Johnson, as long as you all wish hard enough

This is the same chap who bragged about going to hospital and shaking hands with coronavirus patients and ended up in intensive care




Independent - Published





Coronavirus: Boris Johnson sets out plan for 'significant normality' by Christmas

Boris Johnson says employers will have more discretion to bring staff back to workplaces in England.




BBC News - Published





'Hoping for the best': Boris Johnson admits he can't tell public they will be with family for Christmas

Boris Johnson said he was hoping for the best but planning for the worst as he admitted he cannot say if families will be able to be together this Christmas.




Independent - Published





Johnny Depp 'insulted by Amber Heard during Bahamas trip', says his employee

The sixth day of a libel case hears that Amber Heard "berated" her then partner on a Christmas trip.




BBC News - Published





Liverpool will not hand out appearances like 'Christmas presents' - Klopp

Liverpool will not give Premier League appearances like "Christmas presents" to young players despite having already won the title, says boss Jurgen Klopp.




BBC News - Published





First pantomimes cancelled ahead of make-or-break Christmas for theatres

There's a warning that if all Christmas shows are called off, many theatres "will go to the wall".




BBC News - Published





Parish council leader resigns over anti-racism vigil slurry threats

Will Gunn says threats to cancel Christmas if the peaceful display was held were "tongue-in-cheek".




BBC News - Published





Dutch PM Rutte sceptical about Black Pete tradition

PM Mark Rutte no longer sees the blackface Christmas character as a harmless Netherlands tradition.




BBC News - Published





Dutch PM now says 'Black Pete' tradition will disappear

Dutch Prime Minister Mark Rutte said his attitude towards "Black Pete", a figure from pre-Christmas celebrations that has been criticised as a racist caricature, had undergone "great changes" in recent..




Reuters - Published





Shropshire mum turns isolation into second Christmas

Three-year-old Thomas spent Christmas in hospital, so his family and neighbours gave him a special surprise.




BBC News - Published





Pope calls for world prayer to stop coronavirus, will deliver special blessing

Pope Francis said on Sunday he will this week deliver an extraordinary "Urbi et Orbi" (to the city and the world) blessing - normally given only at Christmas and Easter - and called for worldwide..




Reuters - Published




Therapy dog stolen from girl with autism found dead

Lottie, a three-year-old Dalmatian, was taken from a home in Leicestershire before Christmas.




BBC News - Published




Drug dealer who returned home for Christmas jailed

Alexander Cornish escaped to France from Devon for 14 years before being arrested at an airport.




BBC News - Published





A Guernsey boy and his pet dinosaur

The belated Christmas gift that was a bit bigger than expected.




BBC News - Published





Amazon Christmas sales soar as rivals struggle

Sales were up 20% over the festive season in sharp contrast to weakness at other retailers.




BBC News - Published





Family 'dumbfounded' by support for boy who got meningitis

Luke Mortimer lost his hands and legs to meningococcal meningitis when he fell ill before Christmas.




BBC News - Published





Fontainebleau palace 'plot': Chinese mafia link probed

French police hold six suspects after the alleged plot on Fontainebleau just after Christmas.




BBC News - Published





Skipton rugby player loses limbs to meningitis

More than £25,000 has been raised for seven-year-old Luke Mortimer who fell ill over Christmas.




BBC News - Published





Tear gas and water cannons: Hong Kong students brave the front lines to livestream the protests

It was holiday time at Hong Kong's sprawling Harbour City shopping mall, and shoppers posed for selfies next to giant presents wrapped in golden foil, while toddlers jumped into a ball pit filled with..




Reuters - Published





Stolen Colchester KFC Colonel Sanders found under bed

The colonel was stolen from the KFC in Colchester High Street over Christmas.




BBC News - Published





UK's Prince Harry and Meghan say 'thank you' to Canada after holiday

Britain's Prince Harry and his wife Meghan visited Canada House in London on Tuesday to thank the High Commissioner for the hospitality they received during their Christmas holiday.




Reuters - Published





Cat found after Birmingham to London drive to be rehomed

The cat, renamed Tinsel, was found on Christmas Day, but it has not been possible to trace an owner.




BBC News - Published




Tyne and Wear Metro drivers offered 18.5% pay rise

The 60-station network was hit by a two-day stoppage before Christmas.




BBC News - Published





Premier League fixture congestion 'absurd' as teams count Christmas cost

Aston Villa lost players for nearly 500 days and Newcastle felt the force of festive fixtures, but who else now has a busy treatment room?




BBC News - Published





Community 'reinvents Christmas' for ill girl

Melanie Moffatt says she became "miserable" after she spent the day alone with daughter Matilda.




BBC News - Published





Christmas rescues: RSPCA helps stuck deer and sick seal

More than 7,000 animals in need of help were reported to the RSPCA over Christmas.




BBC News - Published





Muslim women spread Christmas cheer in Gaza

Muslim women in the Palestinian Gaza Strip have been hand-crafting gifts for the approaching Orthodox Christmas as part of a project to empower a traditional community.




Reuters - Published





Hong Kong to end year with multiple protests, kick off 2020 with big march

Hong Kong will end 2019 with multiple protests planned for New Year's Eve and New Year's Day aimed at disrupting festivities and shopping in the Asian financial hub, which has seen a rise in clashes..




Reuters - Published




Hong Kong to end 2019 with multiple protests; big march planned for Jan. 1

Hong Kong will end 2019 with multiple protests planned for New Year's Eve and New Year's Day aimed at disrupting festivities and shopping in the Asian financial hub, which has seen a rise in clashes..




Reuters - Published




'He has a distinctive walk': Firefighter who went missing after pub crawl before Christmas 'seen in newly released CCTV footage'

Police say they will continue search for father of four until they get answers on disappearance




Independent - Published





Flamur Beqiri: Family of man shot on Christmas Eve 'in shock' after witnessing Battersea killing

'To have so much sadness at this time of the year is heartbreaking'




Independent - Published





Battersea fatal shooting: Flamur Beqiri's family speak of heartbreak

Swedish national Flamur Beqiri was killed in front of his wife and child in Battersea on Christmas Eve.




BBC News - Published





Single father wins £1m scratchcard jackpot and still turns up for Christmas Day shift at pub

'It's not my money really, it's all his,' Didzis Pirags says of his five-year-old son




Independent - Published





Shelter set up for pets left homeless by Chilean wildfire

A fire that swept through a poor community of the Chilean seaside city of Valparaiso on Christmas Eve has left not only people but hundreds of pets without homes.




Reuters - Published





Wider image: Mexico Mormon family has tearful Christmas after cartel murders

Surrounded by dozens of his descendants, Adrian LeBaron gave thanks to God as he prepared to celebrate Christmas for the first time since suspected Mexican drug cartel hitmen murdered his daughter and..




Reuters - Published




George Michael's sister Melanie died on Christmas Day, family says

George Michael's sister Melanie Panayiotou died on Christmas Day, the third anniversary of the pop singer's death, her family said on Friday.




Reuters - Published





Battersea fatal shooting: Flamur Beqiri 'may have had criminal links'

Swedish national Flamur Beqiri was killed in front of his family in Wandsworth on Christmas Eve.




BBC News - Published





Falling redwood kills hiker in California park on Christmas Eve

A Minnesota man visiting Muir Woods National Monument near San Francisco was killed by a falling redwood tree during a Christmas Eve hike with his sister and her boyfriend, the sheriff's department and..




Reuters - Published





Death toll reaches 28 as Philippines recovers from Christmas typhoon

The death toll from a Christmas typhoon that tore through the central Philippines rose to 28 on Friday, with 12 people missing, the disaster agency said, as authorities moved to restore power and..




Reuters - Published