Bank of America
American multinational banking and financial services corporation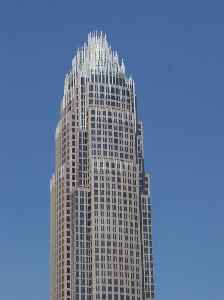 The Bank of America Corporation is an American multinational investment bank and financial services company based in Charlotte, North Carolina, with central hubs in New York City, London, Hong Kong, Minneapolis, and Toronto. Bank of America was formed through NationsBank's acquisition of BankAmerica in 1998. It is the second largest banking institution in the United States, after JPMorgan Chase. As a part of the Big Four, it services approximately 10.73% of all American bank deposits, in direct competition with Citigroup, Wells Fargo, and JPMorgan Chase. Its primary financial services revolve around commercial banking, wealth management, and investment banking.


Wall Street opens flat, investors shrug off bank results
U.S. stocks opened flat on Wednesday as trade worries and concerns about the balance of monetary policy and growth outweighed solid results from Bank of America and a boost to chipmakers from Dutch..
Reuters - Published
Bank of America trims net interest income guidance
Bank of America Corp lowered its annual net interest income guidance on Wednesday to reflect a weakened interest rate environment as the second-largest U.S. lender reported higher-than expected..
Reuters - Published
Wall Street falls as CSX drops
U.S. stock indexes fell on Wednesday as weak results from CSX stoked concerns that the U.S.-China trade war could dent corporate earnings. Fred Katayama reports.
Credit: Reuters Studio Duration: 01:16Published
Earnings rise at Citigroup
Citigroup's quarterly profit and revenue rose and beat expectations Monday as the bank kicked off earnings season for the second quarter. Fred Katayama reports.
Credit: Reuters Studio Duration: 00:51Published
Bank Of America Says It Will Stop Funding Private Prisons, Detention Centers
According to a report by Reuters, on Wednesday, Bank of America said that it will no longer finance the operators of private prisons and detention centers, joining peers in distancing itself from a..
Credit: Wochit News Duration: 00:38Published
Bank of America profit beats as healthy economy fuels loan growth
Bank of America Corp beat estimates for quarterly profit on Wednesday, as the United States' second-largest lender's loan book benefited from a healthy domestic economy.
Reuters - Published
Search this site and the web:
You Might Like