Saudi Arabia
Country in Southwestern Asia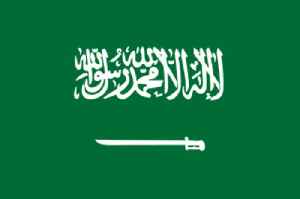 Saudi Arabia, officially the Kingdom of Saudi Arabia, is a country in Western Asia constituting the bulk of the Arabian Peninsula. With a land area of approximately 2,150,000 km2 (830,000 sq mi), Saudi Arabia is geographically the largest sovereign state in Western Asia, the second-largest in the Arab world, the fifth-largest in Asia, and the 12th-largest in the world. Saudi Arabia is bordered by Jordan and Iraq to the north, Kuwait to the northeast, Qatar, Bahrain, and the United Arab Emirates to the east, Oman to the southeast and Yemen to the south; it is separated from Egypt and Israel by the Gulf of Aqaba. It is the only country with both a Red Sea coast and a Persian Gulf coast, and most of its terrain consists of arid desert, lowland and mountains. As of October 2018, the Saudi economy was the largest in the Middle East and the 18th largest in the world. Saudi Arabia also has one of the world's youngest populations: 50 percent of its 33.4 million people are under 25 years old.


Custom team recovers approx 32 kgs of gold worth over Rs 15 crores from Jaipur International airport

14 Indian national passengers coming from UAE and Saudi Arabia were intercepted by the custom team on July 07. The incident took place at the Jaipur International airport. Over 31 kilograms of gold..
Credit: ANI Duration: 01:14
Published
UK sanctions Russians and Saudis under new human rights powers

The UK sanctions target alleged perpetrators in the killings of Saudi journalist Jamal Khashoggi and Russian lawyer Sergei Magnitsky, as well as others from Myanmar and North Korea. View on euronews
Credit: euronews (in English) Duration: 00:49
Published
UK sanctions Saudis, Russians under new Magnitsky powers

List of Saudi names includes former royal adviser Saud al-Qahtani, accused of role in journalist's grisly killing.
Credit: Al Jazeera STUDIO Duration: 02:32
Published
Dominic Raab announces UK's first sanctions for human rights abuse

The UK's first sanctions for human rights abuse will cover those involved in the deaths of the Russian lawyer Sergei Magnitsky and the Saudi journalist Jamal Khashoggi, the systematic killings of the..
Credit: PA - Press Association STUDIO Duration: 01:18
Published
Raab introduces sanctions against human right abusers

Foreign Secretary Dominic Raab introduces the UK's first sanctions regime that targets people who have committed the gravest human rights abuses. He mentions specifically those involved in the deaths..
Credit: ODN Duration: 01:26
Published
Hatice Cengiz appears at Jamal Khashoggi's murder trial in Turkey

Turkish court opens trial of 20 Saudi nationals, including two former aides to crown prince, over killing of journalist.
Credit: Al Jazeera STUDIO Duration: 02:36
Published
Khashoggi death: 20 go on trial in absentia

A Turkish court put 20 Saudi officials on trial in absentia on Friday for the gruesome killing of journalist Jamal Khashoggi, which sparked international outrage and tarnished the image of Saudi..
Credit: Reuters Studio Duration: 01:32
Published
Khashoggi killing: Turkish court puts Saudi suspects on trial in absentia

A Turkish court is trying in absentia two former aides of Saudi Crown Prince Mohammed bin Salman and 18 other Saudi nationals over the 2018 killing of Washington Post columnist Jamal Khashoggi.View on..
Credit: euronews (in English) Duration: 01:02
Published
Turkey trial of Saudi suspects in Jamal Khashoggi murder begins

Court to try Saudi suspects in absentia over killing of journalist in Saudi consulate in Istanbul in October 2018.
Credit: Al Jazeera STUDIO Duration: 02:49
Published
Excessive sugar intake linked with unhealthy fat deposits

Sugar consumption is linked with larger fat deposits around the heart and in the abdomen, which are risky for health, finds a new study. Excess sugar consumption is a worldwide problem. The six..
Credit: ANI Duration: 01:25
Published
Saudi Arabia To Limit Pilgrims To Perform Hajj

Saudi Arabia will strictly limit the number of people who can take part in this year's Hajj pilgrimage. The Hajj pilgrimage to Mecca will be limited because of the coronavirus, according to CNN. Saudi..
Credit: Wochit News Duration: 00:35
Published
UN slammed for taking Saudi coalition off child rights blacklist

HRW denounced Guterres for ignoring the UN's own evidence of continued grave violations against children in Yemen.
Credit: Al Jazeera STUDIO Duration: 02:28
Published
Yemen: UAE-backed separatists take control of Socotra

UAE-backed southern separatists in Yemen seize control of the strategic Socotra island from the Saudi Arabian-backed government.
Credit: Al Jazeera STUDIO Duration: 02:44
Published
Saudi coalition shoots down Houthi ballistic missiles and drones

Missiles and 'booby-trapped unmanned aircraft' from Yemen's Houthi rebels intercepted, including one fired on Riyadh.
Credit: Al Jazeera STUDIO Duration: 06:01
Published
Houthis launch missile, drone attack on Riyadh

Yemen's Iran-aligned Houthi movement said it launched a large missile and drone attack deep in Saudi Arabia on Tuesday that struck the defense ministry and a military base in Riyadh, but the kingdom..
Credit: Reuters Studio Duration: 01:24
Published
COVID-19: No Haj this year, application money to be fully refunded, informs Naqvi

Union Minister of Minority Affairs, Mukhtar Abbas Naqvi on June 23 said that the government has decided to cancel the Haj 2020 due to COVID-19 pandemic. He said, "We have decided that Haj pilgrims from..
Credit: ANI Duration: 01:23
Published
Monkeys enjoy a takeaway meal at an outdoor area in Saudi Arabia's Taif

A family in the Saudi city of Taif captured the moment of three monkeys enjoy drinking and eating a meal in Taif's Ash Shafa area. Video obtained by Reuters.
Credit: Reuters - Viral Video Duration: 00:42
Published
You Might Like



UK government accused of phoning Saudi Arabia to apologise after imposing human rights sanctions

Saudi Arabian media deports that UK defence minister called to praise government's work




Independent - Published





UK to resume arms sales to Saudi Arabia despite 'possible' war crimes in Yemen, government says

Government says possible war crimes commited by Saudi Arabia are 'isolated incidents' and resumes sales




Independent - Published





Khashoggi murder: Turkish trial of 20 Saudis opens

Two ex-aides of Crown Prince Mohammed bin Salman are among 20 on trial in absentia for the killing.




BBC News - Published





Middle East risks renewed arms race, US warns

The US and Saudi governments make a joint public appeal to extend an arms embargo on Iran.




BBC News - Published





Coronavirus: Saudi Arabia bars international pilgrims for Hajj

Only a very limited number of Muslims currently living in the kingdom will make the Hajj this year.




BBC News - Published





Saudi Arabian FA writes to sports bodies after WTO report

The Saudi Arabian Football Federation acknowledges it has a "responsibility" to help fight broadcasting piracy.




BBC News - Published





Saudi Arabia to lift coronavirus curfew

Religious pilgrimages remain banned but no announcement has yet been made about the annual Hajj.




BBC News - Published





Saudi proposes framework to end standoff between allies in southern Yemen: sources

Saudi Arabia has proposed a framework to end the latest standoff in southern Yemen between nominal allies under a Saudi-led coalition, three sources said, as violence escalates with the Iran-aligned..




Reuters - Published




Saudi-led coalition in Yemen denies killing civilians in Saada air strike

The Saudi-led coalition fighting in Yemen on Wednesday denied that an air strike it carried out earlier this week in Saada province had killed civilians, as alleged by Houthi authorities.




Reuters - Published





Saudi-led coalition asks U.N. to share details of child deaths in Yemen

A Saudi Arabia-led military coalition fighting in Yemen asked the United Nations on Tuesday to share details of its accusations that the coalition was responsible for 222 child deaths or injuries last..




Reuters - Published





Newcastle deal could be affected as WTO rules Saudi Arabia broke trade rules

Newcastle United's Saudi Arabian-led takeover could be complicated by a ruling that the country helped breach international piracy laws.




BBC News - Published





Newcastle takeover could be complicated by WTO ruling on Saudi Arabia

Newcastle United's Saudi Arabian-led takeover could be complicated by a ruling that the country helped breach international piracy laws.




BBC News - Published





Yemen war: UN takes Saudi-led coalition off child rights blacklist

Human rights groups accuse the secretary general of ignoring evidence of grave violations in Yemen.




BBC News - Published





Violence surges in Yemen after coronavirus truce expires

The Saudi-led coalition fighting in Yemen said it intercepted and destroyed a ballistic missile fired by the Iran-aligned Houthi movement towards the south of the kingdom on Tuesday after intercepting..




Reuters - Published





Saudi-led coalition cut from U.N. blacklist of warring parties killing children

U.N. Secretary-General Antonio Guterres on Monday removed a Saudi Arabia-led military coalition from a United Nations blacklist, several years after it was first named and shamed for killing and..




Reuters - Published




Separatists in south Yemen seize convoy with billions of riyals for central bank

Southern separatists in Yemen seized a consignment of billions of riyals intended for the central bank in Aden on Saturday, in a further attempt to wrench control from the Saudi-backed government since..




Reuters - Published





Saudi-led coalition in Yemen says it destroyed missile targeting Saudi Arabia

The Saudi-led military coalition in Yemen said on Saturday it had intercepted and destroyed a ballistic missile targeting the Saudi Arabian border city of Najran.




Reuters - Published





Iran rejects U.N. report that arms 'of Iranian origin' used in Saudi attacks

Iran on Friday rejected a United Nations report that said cruise missiles used in attacks on oil facilities and an airport in Saudi Arabia last year were of "Iranian origin", saying it had been drawn..




Reuters - Published




Arms seized by U.S., missiles used to attack Saudi Arabia 'of Iranian origin': U.N.

Cruise missiles used in several attacks on oil facilities and an international airport in Saudi Arabia last year were of "Iranian origin," U.N. Secretary-General Antonio Guterres told the Security..




Reuters - Published




Saudi Arabia will resume sports activities, without fans starting from June 21

Saudi Arabia will resume its sports activities without fans starting from June 21, taking all precautions and preventive measures, state media said on Friday.




Reuters - Published





State Dept. discouraged probe of Saudi arms sale, fired U.S. official says

A U.S. State Department inspector general fired by President Donald Trump told lawmakers the department discouraged him from investigating arms sales to Saudi Arabia before he was dismissed last month,..




Reuters - Published




Pompeo declined interview on Saudi arms sale, fired inspector general says

A State Department inspector general fired by President Donald Trump last month told lawmakers that Secretary of State Mike Pompeo would not sit for an interview about the decision to justify arms..




Reuters - Published




Spain ex-king Juan Carlos probed over Saudi rail deal

A Supreme Court inquiry aims to find out if the king received any undeclared payments.




BBC News - Published





Stocks rally on quick economic revival hopes, oil slides

Global equity markets surged on Monday, with the Nasdaq hitting a record high on hopes of a quick recovery from the coronavirus slump, while oil slid after Saudi Arabia said new output cuts by producer..




Reuters - Published




Saudi Arabia considers limiting haj pilgrims amid COVID-19 fears

Saudi Arabia could drastically limit numbers at the annual haj pilgrimage to prevent a further outbreak of coronavirus after cases in the country topped 100,000, sources familiar with the matter said..




Reuters - Published





Spain's supreme court investigates former king in Saudi case

Spain's supreme court prosecutor has opened an investigation into former King Juan Carlos in connection with a high-speed train contract in Saudi Arabia, piling pressure on a once-popular monarch who..




Reuters - Published




Saudi coronavirus cases exceed 100,000

The number of coronavirus cases in Saudi Arabia exceeded 100,000 on Sunday following a rise in new infections over the past ten days.




Reuters - Published





OPEC, allies coordinating to hold Saturday meeting: Saudi Arabia

Saudi Arabia's energy minister said on Friday that OPEC and its allies, a group known as OPEC+, were working to hold their oil output policy meeting on Saturday.




Reuters - Published





Saudi Arabia reimposes curfew in Jeddah for two weeks: SPA agency

Saudi Arabia has reimposed a curfew in the Red Sea city of Jeddah 3 p.m to 6 a.m for two weeks starting on Saturday due to the spread of the coronavirus, and suspended work in offices, state news..




Reuters - Published





Coronavirus frustrates Saudi women's push for financial independence

Abeer al-Howayan despaired of ever working after spending eight years trying to find a job that would put her chemistry degree to use in the Saudi Arabian town of Al Ula.




Reuters - Published





Fired U.S. State Department watchdog confirms probe of Saudi arms sale

A State Department inspector general abruptly fired by President Donald Trump last month confirmed on Wednesday that he was investigating the declaration of a "national emergency" to justify arms sales..




Reuters - Published




Yemen pledging drive hopes to raise $2.4 billion to save aid ops as virus spreads

The United Nations and Saudi Arabia host a pledging conference for war-ravaged Yemen on Tuesday to help raise some $2.4 billion as funding shortages imperil the world's biggest aid operation.




Reuters - Published





Saudi-led coalition says shot down two drones launched by Yemen's Houthis: agency

The Saudi-led coalition has shot down two drones launched by Yemen's Houthi group in the direction of Saudi Arabia, the state-run Saudi Press Agency said, citing a coalition spokesman.




Reuters - Published




Saudi Arabia reopens mosques with strict regulations for worshippers

Saudi Arabia's mosques opened their doors to worshippers on Sunday for the first time in more than two months as the kingdom, the birthplace of Islam, eased restrictions imposed to combat the..




Reuters - Published





Saudi Arabia confirms virtual donors conference for Yemen with U.N.

Saudi Arabia confirmed it will host a virtual donors conference next week for Yemen together with the United Nations which said the conflict-riven nation risked being overwhelmed by the coronavirus.




Reuters - Published




Six killed in Saudi Arabia in shooting incident: state news agency

Saudi Arabian police in Assir, a region close to the Yemeni border, are investigating after a shooting incident in which six citizens died on Tuesday, state-run news agency SPA reported on Wednesday.




Reuters - Published





Missile attack on Yemen army base in Marib kills seven: sources

Houthi fighters in Yemen fired missiles at a military base of the Saudi-backed government in Marib province, northeast of the capital Sanaa, on Tuesday, killing seven people including relatives of the..




Reuters - Published





Saudi Arabia allows mosques to open for Friday prayers

Saudi Arabia will allow mosques to open for Friday prayers, state TV reported on Tuesday, as the kingdom eases restrictions on movement to curb the spread of the coronavirus.




Reuters - Published





Saudi Arabia to end curfew on June 21, except in Mecca

Saudi Arabia will begin easing restrictions on movement and travel this week, more than two months after stringent measures were introduced to help curb the spread of the novel coronavirus.




Reuters - Published