Gulf of Oman
Gulf that connects the Arabian Sea with the Strait of Hormuz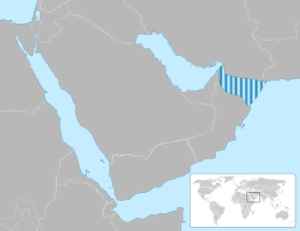 The Gulf of Oman or Sea of Oman, also known as Makran, is a gulf that connects the Arabian Sea with the Strait of Hormuz, which then runs to the Persian Gulf. It borders Iran and Pakistan on the north, Oman on the south, and the United Arab Emirates on the west.


Building a mega reef in the Gulf of Oman

In the Gulf of Oman, a group of local divers cut coral freshly removed from the reef into several pieces to be replanted in the waters below.
Credit: Reuters Studio Duration: 01:26
Published
You Might Like



At least one dead, several injured in Iranian naval accident: TV

At least one Iranian navy man was killed and several were injured in an incident on a military ship during a naval exercise in the Gulf of Oman, Iranian state TV reported on Monday.




Reuters - Published





Iran detained Hong Kong-flagged ship before letting it sail: sources

A Hong Kong-flagged tanker was briefly detained in Iran before being freed after armed Iranian guards in speedboats directed the vessel into its waters while it was sailing through the Gulf of Oman,..




Reuters - Published





Ship boarded by armed men in Gulf of Oman is released: UKMTO

Armed men boarded a vessel at anchor in the Gulf of Oman on Tuesday but the ship was later released, the United Kingdom Maritime Trade Operations (UKMTO) said.




Reuters - Published





Armed men board vessel in Gulf of Oman: UKMTO

Armed men boarded a vessel at anchor in the Gulf of Oman on Tuesday, the United Kingdom Maritime Trade Operations (UKMTO) said.




Reuters - Published





Japanese warship departs for Gulf to patrol oil lifeline

A Japanese destroyer left for the Gulf of Oman on Sunday amid simmering Middle East tension to guard sea lanes that supply nearly all the oil that powers the world's third-biggest economy.




Reuters - Published





Japanese warship departs for Gulf of Oman to protect commercial vessels

A Japanese warship left its port near Tokyo on Sunday on a mission to protect merchant ships and oil tankers passing through the Gulf of Oman that supply 90% of Japan's oil, as tension in the Middle..




Reuters - Published





U.S. FAA bans airlines from flying over Iraq, Iran after missile attack on U.S. troops

The U.S. Federal Aviation Administration said it would ban U.S. carriers from operating in the airspace over Iraq, Iran, the Gulf of Oman and the waters between Iran and Saudi Arabia after Iran..




Reuters - Published




Russia, China, Iran start joint naval drills in Indian Ocean

Iran, China and Russia began joint naval drills on Friday in the Indian Ocean and Gulf of Oman, an Iranian naval spokesman said.




Reuters - Published





China, Russia and Iran to hold joint naval drills from Friday

China, Iran and Russia will hold joint naval drills starting on Friday in the Indian Ocean and Gulf of Oman, China's defense ministry said on Thursday,amid heightened tension in the region between..




Reuters - Published




U.S. Navy warship seized missile parts suspected to be linked to Iran: officials

A U.S. Navy warship seized missile parts believed to be linked to Iran in the Gulf of Oman, U.S. officials said on Wednesday, as President Donald Trump's administration pressures Tehran to curb its..




Reuters - Published





Saudi Airlines shift flights away from Gulf of Oman, Strait of Hormuz

Saudi Arabian Airlines has altered the path of its international flights away from the Gulf of Oman and the Strait of Hormuz, Saudi-owned Al-Arabiya said on Sunday, citing its own correspondent.




Reuters - Published




Etihad Airways says suspends operations through Iran's Hormuz, Gulf of Oman airspace

Etihad Airways has suspended operations through Iranian airspace over the Strait of Hormuz and the Gulf of Oman, a spokeswoman said on Saturday.




Reuters - Published




International airlines' response to FAA on Iran airspace

The U.S. Federal Aviation Administration (FAA) issued an emergency order on Thursday prohibiting U.S. air carriers from flying in Iran-controlled airspace over the Strait of Hormuz and Gulf of Oman due..




Reuters - Published




Airlines avoid parts of Iran-controlled airspace after U.S. regulator's order

Some global airlines are re-routing flights to avoid Iran-controlled airspace over the Strait of Hormuz and Gulf of Oman, they said on Friday, after the U.S. aviation regulator barred its carriers from..




Reuters - Published




Australia's Qantas directs flights away from Strait of Hormuz

Australia's flag carrier, Qantas Airways Ltd, said on Friday that its flights over the Middle East would avoid the Strait of Hormuz and Gulf of Oman following the downing of a U.S. surveillance drone..




Reuters - Published




U.S. regulator bars airlines from flying over some Iran-controlled airspace

The U.S. Federal Aviation Administration on Thursday issued an emergency order prohibiting U.S. operators from flying in an overwater area of Tehran-controlled airspace over the Strait of Hormuz and..




Reuters - Published




India deploys two ships in Gulf of Oman after tanker attacks

India's navy has deployed two ships in the Gulf of Oman to ensure safe passage for Indian-flagged vessels, the country's defense ministry said late on Thursday, a week after two oil tankers were..




Reuters - Published





Gulf crisis: Close up to stricken oil tanker with the US Navy

The BBC's Mark Lowen sees the damage caused to one of the oil tankers attacked in the Gulf of Oman.




BBC News - Published





U.S. Navy says mine fragments, magnet point to Iran in Gulf tanker attack

The United States Navy on Wednesday displayed limpet mine fragments and a magnet it said it had removed from one of two oil tankers attacked in the Gulf of Oman last week, saying the mines bore a..




Reuters - Published




Gulf of Oman tanker attacks: What we know

It is the second time in a month that tankers have been targeted in the region.




BBC News - Published





Saudi cabinet urges world powers to safeguard navigation

Saudi Arabia's cabinet urged the international community on Tuesday to take firm measures to ensure the safety of navigation in waterways across the region, the state news agency said, a week after two..




Reuters - Published





China calls on U.S. to stop "extreme pressure" on Iran

The United States should not use "extreme pressure" to resolve issues with Iran, a senior Chinese diplomat said on Tuesday, amid a standoff following attacks on two oil tankers in the Gulf of Oman.




Reuters - Published




Senior Chinese diplomat urges all sides to ease Gulf region tension

China urges all sides to exercise restraint and ease tension in the Gulf region, a senior Chinese diplomat said on Tuesday, amid a standoff between Iran and United States following attacks on two oil..




Reuters - Published




US to deploy extra troops amid growing tension with Iran

The US releases new images from the Gulf of Oman tanker attacks and is sending 1,000 more troops.




BBC News - Published





U.S. military releases new images from oil tanker attacks

The U.S. military on Monday released new images it says showed Iran's Revolutionary Guard (IRGC) removing an unexploded limpet mine from a Japanese-owned tanker that was attacked on June 13 in the Gulf..




Reuters - Published




Iran says if it decides to block Strait of Hormuz, it will do it 'publicly': Fars

Iran's military denied on Monday being behind attacks on oil tankers in the Gulf of Oman last week, and said if it decided to block Strait of Hormuz, a vital gateway in the Gulf for the oil industry,..




Reuters - Published





Gulf of Oman: Unconvinced EU foreign ministers call for independent investigation after US claim Iran is behind tanker attack

Spectre of Iraq War intelligence misuse raised at EU council meeting




Independent - Published





Blast-hit tankers to be assessed off UAE coast

The two oil tankers crippled in attacks in the Gulf of Oman last week that Washington and Riyadh have blamed on Iran are being assessed off the coast off the United Arab Emirates before their cargos..




Reuters - Published




Pope urges restraint in Gulf after tanker attacks

Pope Francis called for restraint and a lowering of tensions in the Middle East on Sunday following attacks on two oil tankers in the Gulf of Oman that have raised fears of a broader confrontation in..




Reuters - Published




'Great risk' of drift towards war in Middle East after tanker attacks in Gulf of Oman incident, Jeremy Hunt warns

'We don't believe anyone else could have done this,' says foreign secretary




Independent - Published





Britain 'almost certain' Iran was behind tanker attacks: foreign minister Hunt

Foreign minister Jeremy Hunt said on Sunday Britain is "almost certain" Iran was behind attacks on oil tankers in the Gulf of Oman, adding that London did not believe anyone else could have done it.




Reuters - Published




Blast-hit Japanese tanker anchors off UAE coast: operator

One of two oil tankers crippled in attacks in the Gulf of Oman last week that Washington and Riyadh have blamed on Iran is now anchored off the coast of the United Arab Emirates with crew on board, the..




Reuters - Published