Wigan
Town in Greater Manchester, England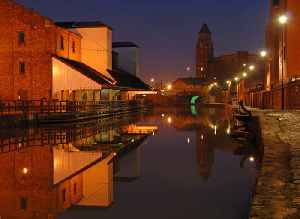 Wigan is a large town in Greater Manchester, England. It is situated on the River Douglas, 10 miles (16 km) south-west of Bolton, 12 miles (19 km) north of Warrington and 17 miles (27.4 km) west-northwest of Manchester. Wigan is the largest settlement in the Metropolitan Borough of Wigan and is its administrative centre. The town has a population of 103,608, whereas the wider borough has a population of 318,100. Wigan is in the historic county of Lancashire.


Wigan family tickled pink by £50,000 home transformation

A businesswoman who splurged an eye watering £50,000 transforming the decor ofher new build home so that it matches her blushes in every room told how sheis tickled pink by the no expense spared..
Credit: PA - Press Association STUDIO Duration: 01:49
Published
You Might Like



Wigan Athletic: Administrators confident a deal to sell club can go ahead

Wigan's administrators are confident a deal to sell the club can take place in time to start the 2020-21 League One season.




BBC News - Published





Northern lockdown: Coronavirus restrictions eased in Wigan, Rossendale and parts of Blackburn

Areas are first to have rules relaxed following implementation of measures amid rising infection rates last month




Independent - Published





Coronavirus: Lockdown eased in Wigan and parts of Lancashire

The leader of Wigan Council thanks residents for being "responsible, patient and kind".




BBC News - Published





Boy, 13, charged with murder in Wigan churchyard

The boy is accused of killing Steven McMyler, whose body was found outside Wigan Parish Church.




BBC News - Published

Also reported by •Independent


Steven McMyler murder suspect, 19, charged in Wigan

The man, 19, is accused of Steven McMyler's murder outside Wigan Parish Church, police confirm.




BBC News - Published





Wigan Athletic: Owners should 'never have been allowed to take over' - Sam Morsy

Wigan's owners should "never have been allowed to take over the club", says club captain Sam Morsy.




BBC News - Published





Wigan Athletic relegated after 1-1 draw with Fulham

Wigan are relegated after being held to a draw by a Fulham side who must be content with a place in the play-offs.




BBC News - Published





'English football disrespected' - EFL chairman Parry on Wigan crisis

Wigan's plight shows English football has been "disrespected", says EFL chairman Rick Parry in a Q&A with BBC sports editor Dan Roan.




BBC News - Published




Wigan Athletic: EFL chairman Rick Parry secretly filmed discussing Wigan rumours

EFL chairman Rick Parry is secretly recorded by a Wigan fan discussing rumours related to the club's administration.




BBC News - Published





Fire engulfs 200 tonnes of waste paper in Wigan

Residents are asked to keep their doors and windows closed as firefighters battle the blaze in Wigan.




BBC News - Published





Melissa Belshaw: Man, 36, charged with murder of woman at Wigan home

Man who tried to thwart attack on 32-year-old mother also remains in hospital after being stabbed




Independent - Published





Wigan double stabbing: Daughter witnessed mum's death

Two men who tried to help are dubbed "heroes" by police, who continue to question a murder suspect.




BBC News - Published





FA Cup: The inside story of Wigan's win over Manchester City in the 2013 final

How Wigan shocked Manchester City to win the 2013 FA Cup final - as told by the players, coaches and backroom staff who were at Wembley - and what happened next.




BBC News - Published





Challenge Cup: John Kear recalls when Sheffield Eagles stunned Wigan in final

John Kear recalls when his unfancied Sheffield Eagles side upset the odds and stunned Wigan in the 1998 Challenge Cup final.




BBC News - Published





Wigan Athletic: Players to defer part of wages for three months amid coronavirus

Wigan's first-team players and senior staff agree to defer part of their wages for three months due to the Covid-19 pandemic.




BBC News - Published





Coronavirus: Wigan girl's dream trip cancelled due to virus

Paige Brindle's mum says her "devastated" daughter has been "through anger, acceptance, disbelief".




BBC News - Published





Wigan 'coronavirus' crash man who hit nurse's car dies

Lucy Duncan took the elderly driver to hospital after the crash and spent hours in A&E with him.




BBC News - Published





Wigan's Robinson to have medical procedure to correct heart issue

Wigan's Antonee Robinson, who almost joined AC Milan in January, will have a procedure to correct an irregular heart rhythm.




BBC News - Published





Huddersfield come from behind to beat Saints

Huddersfield make amends for their heavy loss to Wigan as they come from behind to beat reigning Super League champions St Helens.




BBC News - Published





Wigan stun Championship leaders West Brom to boost survival bid

West Brom's lead at the top of the Championship is cut to a point as Sam Morsy's strike moves Wigan out of the relegation zone.




BBC News - Published





Super League: Wigan 32-10 Toronto - Wigan claim second victory as Toronto remain winless

Bevan French and Liam Farrell score two tries each as Wigan beat Toronto, who remain winless in their debut Super League season.




BBC News - Published




'Our future lies with Europe': Labour leadership candidate Lisa Nandy calls for close ties with EU

Party should be ready to tear up Boris Johnson deal and seek better access to single market, says MP for Wigan




Independent - Published





Lisa Nandy promises to let councillors nominate Labour leadership candidates

Wigan MP has place on ballot paper alongside Keir Starmer and Rebecca Long Bailey in race to succeed Jeremy Corbyn




Independent - Published





Wigan toddler died from 'catalogue of injuries'

Daniel Ashurst denies murdering his daughter inflicting multiple injuries on her at the family home.




BBC News - Published





Shaun Wane: Former Wigan boss to replace Wayne Bennett as England coach

Former Wigan boss Shaun Wane is set to leave his Scottish Rugby Union role to replace Wayne Bennett as new England rugby league coach.




BBC News - Published





EFL: Leeds United lose to Wigan, Bristol City win again & Colchester are beaten at last

BBC Sport talks you through five things you may have missed in the English Football League on Saturday.




BBC News - Published





Israel Folau: Wigan considered signing sacked rugby union international

Wigan considered signing Israel Folau but did not approach the sacked Australia rugby union international, says chairman Ian Lenagan.




BBC News - Published





Lisa Ashton becomes first woman to win PDC Tour card

Lisa Ashton becomes the first woman ever to win a PDC Tour card at the Q School in Wigan.




BBC News - Published





Bradley Dack: Blackburn Rovers midfielder's knee injury left players 'emotional'

Bradley Dack's knee injury in their draw with Wigan left his Blackburn teammates "emotional", says manager Tony Mowbray.




BBC News - Published





Blackburn Rovers 0-0 Wigan Athletic: Bradley Dack stretchered off in stalemate

Blackburn top scorer Bradley Dack is stretchered off as struggling Wigan hold Rovers to move off the foot of the Championship.




BBC News - Published





Man released over partner's death in Wigan hospital

Staff had contacted police with concerns about the 69-year-old woman's death.




BBC News - Published




Wigan stabbing: Attempted murder arrest after attack

One woman was seriously injured and the other was arrested after being discharged from hospital.




BBC News - Published





Wigan stabbing: Two women in their 20s injured in Greater Manchester attack

Police not looking for anyone else in relation to the incident




Independent - Published

Also reported by •BBC News


Wigan Athletic 1-1 West Bromwich Albion: Charlie Austin rescues draw for Baggies

West Brom miss the chance to return to the top of the Championship but Charlie Austin's goal sees them salvage a draw at Wigan.




BBC News - Published





Woman falls to death from block of flats in Wigan

Paramedics unable to treat casualty in time




Independent - Published





Three arrested after woman raped in Wigan park

The victim, aged in her 30s, was assaulted by one man "while the other two men stood by", police say.




BBC News - Published





Pug puppy stolen during Wigan burglary prompts £5,000 reward offer

David and Natalie Taylor have offered the reward for the safe return of four-month-old Indie.




BBC News - Published





Sean O'Loughlin: Wigan & England captain to miss Great Britain Lions tour

Wigan and England captain Sean O'Loughlin will miss the Great Britain Lions tour to New Zealand and Papua New Guinea.




BBC News - Published





Wigan man runs five km every day for 1,000 days

Matthew Melling started running in 2017 and originally planned to run for 31 days in row.




BBC News - Published





St Helens thrash Wigan to reach Grand Final

St Helens reach their first Super League Grand Final since 2014 as they thrash reigning champions Wigan.




BBC News - Published




Super League: Wigan Warriors beat Hull KR 36-18 to go third

Liam Farrell scores two of Wigan's six tries as the Super League champions beat relegation-threatened Hull KR.




BBC News - Published





Sean O'Loughlin: Wigan captain could miss the rest of the season with pectoral injury

Wigan captain Sean O'Loughlin may miss the rest of the season after sustaining a pectoral injury in their win at Hull FC.




BBC News - Published





George Williams: Canberra Raiders confirm signing of Wigan stand-off

Wigan and England stand-off George Williams is to join National Rugby League side Canberra Raiders at the end of the season.




BBC News - Published





Wigan hospital boss slams patient who demanded 'white doctor'

The patient walked into Wigan's A&E department in June then complained when their demand was not met.




BBC News - Published