Sunderland
Human settlement in England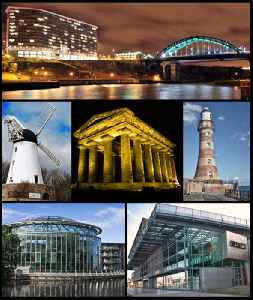 Sunderland is a city at the centre of the City of Sunderland metropolitan borough, in Tyne and Wear, England, 12 miles northeast of Durham and 10 miles southeast of Newcastle upon Tyne, at the mouth of the River Wear.


Man jailed for stealing police lights

David McBeth has been jailed after stealing the police lights from a car in Sunderland.
Credit: Bang Media World Duration: 00:59
Published
Ministers gather in Sunderland for symbolic Cabinet meeting

Prime Minister Boris Johnson has hosted the final Cabinet meeting prior to the UK's departure from the EU in Sunderland, which was the first constituency in the United Kingdom to return a leave vote in..
Credit: ODN Duration: 01:04
Published
Boris Johnson holds Cabinet meeting on Brexit day

Boris Johnson spoke to local business leaders before holding a Cabinet meeting in Sunderland. The Cabinet met at the National Glass Centre on the banks of the Wear amid tight security, with metal..
Credit: PA - Press Association STUDIO Duration: 00:40
Published
Boris Johnson visits Sunderland on Brexit day

Prime Minister Boris Johnson visited Sunderland University's automotive and manufacturing centre. As he squeezed himself into a racing car, he joked that his new motorbike was evidence he was going..
Credit: PA - Press Association STUDIO Duration: 00:34
Published
You Might Like