Robert Buckland
British Conservative politician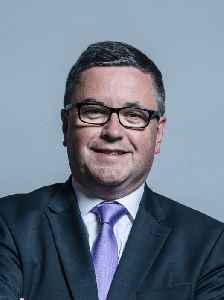 Robert James Buckland is a Welsh Conservative Party politician and barrister serving as Secretary of State for Justice and Lord Chancellor since 2019. He has been the Member of Parliament (MP) for South Swindon since 2010.


You Might Like
UK courts prepare fast-track prosecutions for Black Lives Matter protests: The Times
British courts are preparing to fast-track prosecutions for the Black Lives Matter protests, as justice secretary Robert Buckland has told magistrates to model the process along the lines of the..
Reuters - Published
Wendell Baker: 'Double jeopardy' rapist release to be reviewed
Robert Buckland says the decision to free Wendell Baker should be reconsidered by the Parole Board.
BBC News - Published
'I don't know': Plans to reopen schools next month up in the air after minister admits growing revolt
Robert Buckland rows back from target date – less than two weeks' away – acknowledging worried town halls can keep some schools closed
Independent - Published
Britain could miss COVID-19 testing target, says minister
Britain could miss its target of carrying out 100,000 coronavirus tests a day by the end of April, Justice Minister Robert Buckland said on Thursday.
Reuters - Published
Coronavirus: Public must risk prosecution to challenge lockdown fines, justice secretary says
Robert Buckland says people have a right to 'fair trial' if they believe they were wrongly fined
Independent - Published
Calls to release children in custody as coronavirus regime change could 'drive up self-harm'
'There is no doubt that increased staff sickness will lead to more children spending extended periods isolated in their cells with the ever present risk of self-harm and suicide,' states letter to..
Independent - Published
UK to introduce emergency law to prevent early release of convicted terrorists
Britain will introduce emergency legislation to prevent convicted terrorists automatically being released from prison half way through their sentence, justice minister Robert Buckland said on Monday.
Reuters - Published
Helen McCourt: Release of killer Ian Simms to be reviewed
The Justice Secretary Robert Buckland has requested the parole board reconsider its decision.
BBC News - Published
Boris Johnson gave an 'unforced and natural' apology over refusal to look at photo of child on NHS hospital floor, minister says
Justice Secretary Robert Buckland claimed that protesters who heckled Matt Hancock were engaged in 'public disorder'
Independent - Published
UK minister Buckland offers assurance to wavering lawmakers on Brexit transition
British justice minister Robert Buckland said on Tuesday the government would bring forward a change to Brexit legislation to allow parliament a say on the merits of an extension to the transition..
Reuters - Published
Brexit: Justice Secretary refuses to rule out shutting down parliament again and casts doubt on Queen's Speech
Asked if a second prorogation is 'remotely conceivable', Robert Buckland says events are too volatile to make predictions
Independent - Published
Justice secretary's call for rape suspect anonymity 'not government policy', Downing Street says amid outrage
Robert Buckland QC is heavily criticised for suggesting ban on naming suspects of 'good character' before charge
Independent - Published