Thames Water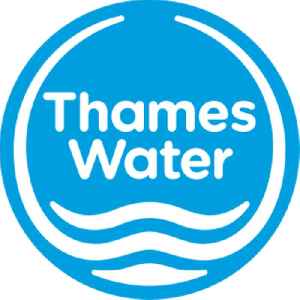 Thames Water Utilities Ltd, known as Thames Water, is the monopoly private utility company responsible for the public water supply and waste water treatment in large parts of Greater London, Luton, the Thames Valley, Surrey, Gloucestershire, Wiltshire, Kent, and some other areas of the United Kingdom. Thames Water is the UK's largest water and wastewater services company, and supplies 2.6 billion litres of drinking water per day, and treats 4.4 billion litres of wastewater per day. Thames Water's 15 million customers comprise 27% of the UK population.


Families in temporary homes after floods
Thames Water say a temporary fix has been put in place after a 36-inch main burst in Finsbury Park.
BBC News - Published
Water firms told to tackle billing and service complaints
Thames Water, Northumbrian Water, Essex and Suffolk Water and Hafren Dyfrdwy must improve services.
BBC News - Published
Thames Water plans to cut 650 jobs to reduce costs
The UK's largest water company says most of the cuts are in management and support functions.
BBC News - Published
Thames Water: Supplies restored after Hampton burst pipe
Schools were closed and hospital appointments cancelled after a water pipe burst in Hampton.
BBC News - Published
Thames Water: Burst pipe in Hampton affects capital
Schools close and hospital appointments are cancelled due to a burst water pipe in Hampton.
BBC News - Published
Oxfordshire water pipe work uncovers ancient skeletons
Thames Water found the remains during work to protect a rare chalk stream in Oxfordshire.
BBC News - Published
You Might Like