United States Capitol
Seat of the United States Congress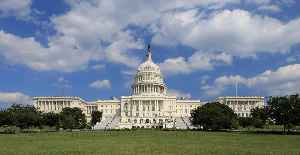 The United States Capitol, often called the Capitol Building, is the home of the United States Congress and the seat of the legislative branch of the U.S. federal government. It is located on Capitol Hill at the eastern end of the National Mall in Washington, D.C. Though no longer at the geographic center of the Federal District, the Capitol forms the origin point for the District's street-numbering system and the District's four quadrants.


Oregon state senator faces hearing on 'heavily armed' comment
An Oregon state senator who was among Republican lawmakers who fled the Capitol last month to scuttle a vote on a bill to fight climate change faces a conduct hearing over remarks tinged with threats..
Reuters - Published
Democrats read Mueller report aloud in U.S. Capitol hearing room
Democrats in the U.S. House of Representatives on Thursday held a marathon reading of the redacted version of Special Counsel Robert Mueller's 448-page assessment of Russian interference in the 2016..
Reuters - Published
Painting of migrant children will hang in US Capitol
A painting of two migrant children will hand in the US Capitol after winning a competition
BBC News - Published
Trump still plans to deliver Jan. 29 State of the Union address: official
U.S. President Donald Trump still plans to deliver his annual State of the Union address from the Capitol later this month as scheduled, a Trump administration official said on Tuesday as the federal..
Reuters - Published
Search this site and the web:
You Might Like