Transport for London
Local government body responsible for the transport system in Greater London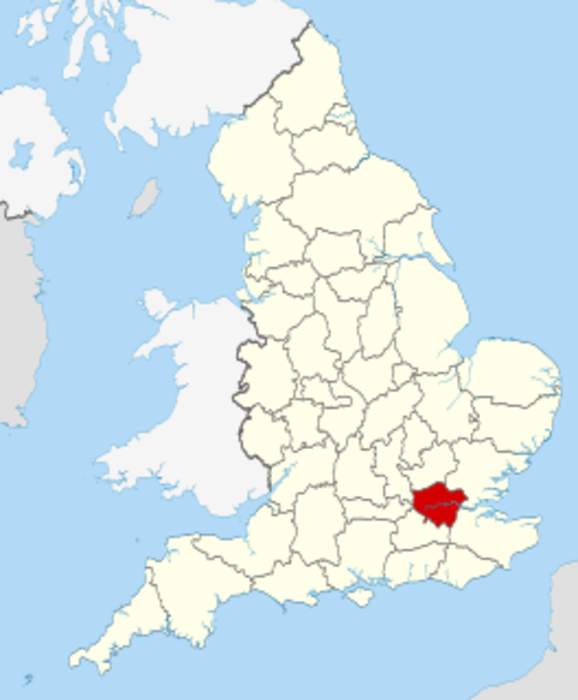 Transport for London (TfL) is a local government body responsible for the transport system in Greater London, England.


Passenger fined for not wearing a face covering on London's Tube

A joint operation between Transport for London's enforcement officers andBritish Transport Police takes place on London's Tube network at King's CrossSt Pancras. Officers ensure that people are..
Credit: PA - Press Association STUDIO Duration: 00:42
Published
You Might Like



Coronavirus: TfL will need future bailouts, says credits agency

Moody's recently downgraded TfL's long-term ratings, making it more expensive to borrow money.




BBC News - Published





Tory mayor candidate attacked over 'TfL facts' website

The Transport for London Bailout Facts website is run by Shaun Bailey's campaign for Mayor of London




BBC News - Published





Bailout for London transport after fares collapse

Transport for London has secured a six-month deal to keep services running until March 2021.




BBC News - Published





Coronavirus: Transport for London secures emergency £1.8bn bailout

Transport for London has secured a six-month deal to keep services running until March 2021.




BBC News - Published




Why Transport for London's finances are far from healthy

The prime minister and London's mayor have clashed over TfL's finances. What is the bigger picture?




BBC News - Published





Driverless trains 'poor value' says leaked TfL study

Boris Johnson is calling for driverless trains to be a condition of future funding for TfL




BBC News - Published





Covid-19: TfL issues almost 500 fines to passengers not wearing masks

Transport for London issues nearly 500 fines of £100 to people not wearing face coverings.




BBC News - Published





Banksy painting Tube carriage shows London Underground 'not safe', RMT says

Transport for London refuses to release a report into a Banksy artwork, citing security concerns.




BBC News - Published





Sadiq Khan condemns 'draconian' conditions of TfL rescue

Sadiq Khan says Londoners face a "triple whammy" of higher costs in the government's rescue plan.




BBC News - Published





Ola: London bans Uber rival over safety concerns

Transport for London said the firm made more than 1,000 trips made by unlicensed drivers.




BBC News - Published





Coronavirus: London transport 'will shut without second bailout'

Transport for London warns Tube and bus services will shut in a "doomsday scenario".




BBC News - Published





Coronavirus: Train passenger headbutted for asking man to wear mask

The assault happened onboard a Transport for London (TfL) service between Slough and Langley.




BBC News - Published





Banksy's new face mask-themed artwork removed from London Underground carriage by Transport for London

TfL says piece violates 'strict anti-graffiti policy' but invites artist to recreate message 'in a suitable location'




Independent - Published





Boris Johnson demands driverless trains as condition of future TfL bailout

PM reignites row with unions after giving TfL a £1.6bn support package in May




Independent - Published





'Train Daddy' Andy Byford named new TfL commissioner after stint trying to fix New York subway

Andy Byford finished working for the New York City Transit Authority earlier this year




Independent - Published





London bus fares to be reintroduced from Saturday

TfL says payments will return on all routes once 'further safety measures' are in place




Independent - Published





Sadiq Khan accuses government over 'misleading' bailout statement

Sadiq Khan claims the government made a "misleading" statement about the reason for the TfL bailout.




BBC News - Published





Coronavirus: TfL reveals 20 busiest Tube stations 'to avoid'

Mayor of London Sadiq Khan says using public transport should remain "a lost resort".




BBC News - Published





Coronavirus: Transport for London expects to lose £4bn

During the lockdown Transport for London has lost 90% of its overall income, new documents reveal




BBC News - Published





Coronavirus: London commuters 'should wear face masks'

Transport for London says services will only be able to carry 13-15% of passengers compared to normal.




BBC News - Published





Wear face coverings, carry hand sanitiser and wash hands before and after travelling on public transport, TfL tells Londoners

All passengers using public transport in London should wear face coverings, carry hand sanitiser and wash hands before and after travel, Transport for London has said.




Independent - Published





Coronavirus: Transport for London furloughs 7,000 staff

London's transport commissioner says fare revenues have plummeted by 90% during the pandemic.




BBC News - Published





Coronavirus: London bus travel now free and as passengers told to used middle-doors after 26 TfL staff die from virus

London mayor Sadiq Khan hails 'heroic' transport workers – and says he's heartbroken over bus drivers who have died from Covid-19




Independent - Published





Coronavirus: TfL to ban front-door bus boarding

Passengers will only be allowed to board through the middle doors of vehicles during the pandemic.




BBC News - Published





Coronavirus: Tube full for second day of lockdown as Matt Hancock and Sadiq Khan squabble over TfL services

'The tube is packed ... get your s*** together TfL,' says NHS worker who looks after cancer patients




Independent - Published





Person killed after being hit by train at Oxford Circus tube station, TfL says

Bakerloo line part suspended following fatality




Independent - Published





London Tube workers balloted over strikes in pay row

London Underground workers have been locked in more than a year of negotiations in a pay row with TfL.




BBC News - Published





Uber logs 28,000 safety complaints about London drivers

Nearly 28,000 concerns were raised with Uber in a six-month period, Transport for London reveals.




BBC News - Published





Transport for London sorry after woman who miscarried fined

London Mayor Sadiq Khan intervenes to waive a congestion charge fine given to woman who miscarried her baby.




BBC News - Published





UK power cuts - live updates: Major outages across country hits trains, ports and traffic lights

London and the South East have been hit by a massive power cut, with Transport for London warning some traffic lights have gone down in the capital.




Independent - Published





Transport for London to consider training shakeup for staff helping disabled passengers after The Independent highlights 'humiliating' treatment

Comes after columnist James Moore wrote about his experience during a recent tube journey




Independent - Published