Yorkshire
Historic county of Northern England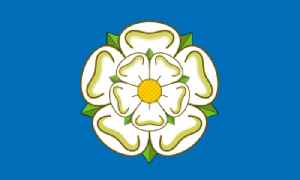 Yorkshire, formally known as the County of York, is a historic county of Northern England and the largest in the United Kingdom. Because of its great size in comparison to other English counties, functions have been undertaken over time by its subdivisions, which have also been subject to periodic reform. Throughout these changes, Yorkshire has continued to be recognised as a geographic territory and cultural region. The name is familiar and well understood across the United Kingdom and is in common use in the media and the military, and also features in the titles of current areas of civil administration such as North Yorkshire, South Yorkshire, West Yorkshire and East Riding of Yorkshire.


Last chance for much-loved lung transplant hopeful

must credit: Amy Brandis Ben Wolfenden was born with Cystic Fibrosis. Theyoung Yorkshire dad of two has been given just three months to live and hisonly hope or survival is a second transplant in..
Credit: PA - Press Association STUDIO Duration: 03:26
Published
Motorised wheelie bin and wheelchair set new world records

Two men have set new world records for the fastest times recorded in amotorised wheelie bin and wheelchair, at the Straightliners land speed recordevent at Elvington Airfield, Yorkshire. Jason..
Credit: PA - Press Association STUDIO Duration: 00:55
Published
You Might Like



Adil Rashid: Yorkshire's England all-rounder signs new white-ball deal

England all-rounder Adil Rashid signs a new one-year white-ball contract with Yorkshire.




BBC News - Published





Bamford's late header seals Leeds win at Sheffield United

Patrick Bamford scores a late header to earn Leeds United victory in the Yorkshire derby against Sheffield United at Bramall Lane.




BBC News - Published





'Seal selfies' harming animals on Yorkshire coast, charity says

A rise in people wanting to photograph seals can see the animals getting hurt and needing rescue.




BBC News - Published





Rana Naved-ul-Hasan: Second player alleges Yorkshire racism after Azeem Rafiq

Ex-Pakistan seamer Rana Naved-ul-Hasan has become the second player to allege racism at Yorkshire saying "systematic taunting" occurred at the club.




BBC News - Published





Yorkshire coach Andrew Gale waits on player's Covid-19 test after selection disruption

Yorkshire coach Andrew Gale hopes to have his absent players back quickly after four missed Monday's T20 Blast game with Lancashire under Covid-19 guidelines.




BBC News - Published





Cambridge United League Two & Yorkshire T20 Blast fan pilot events cancelled

Supporter pilot events planned for a League Two match at Cambridge and T20 Blast game at Yorkshire are both cancelled.




BBC News - Published





Azeem Rafiq: Yorkshire ask independent law firm to investigate racism allegations

Allegations of racism at Yorkshire, made by former player Azeem Rafiq, are being investigated by an independent law firm.




BBC News - Published





Azeem Rafiq: Yorkshire's former spinner on 'dreading every second' of playing for the county

Azeem Rafiq says while people thought he was "living a dream" in reality he was "dreading every second" of his time at Yorkshire.




BBC News - Published





Former spinner Rafiq claims 'institutional racism' at Yorkshire

Ex-Yorkshire spinner Azeem Rafiq says that "institutional racism" at the club left him close to taking his own life.




BBC News - Published




Dom Bess: Yorkshire sign England and Somerset spinner on four-year contract

England spinner Dom Bess agrees to join Yorkshire from Somerset on a four-year deal after the 2020 season.




BBC News - Published





T20 Blast: Joe Root makes 65 in Yorkshire defeat after England squad omission

Joe Root hits 65 after being left out of England's T20 squad but can not stop Yorkshire losing at Notts in the T20 Blast.




BBC News - Published





T20 Blast: England Test captain Joe Root makes 64 as Yorkshire thump Derbyshire

Joe Root scores a fifty on his return for Yorkshire Vikings, while Surrey and Essex share another tie in the T20 Blast.




BBC News - Published





Yorkshire: Man 'shot dead' near Redcar with four people arrested

Four people have been arrested on suspicion of murder after a man was killed in a suspected shooting in a North Yorkshire village.




Independent - Published





Highland polar bear Hamish to leave Scotland

Hamish, the first polar bear to be born in the UK in 25 years, is to be moved to a park in Yorkshire




BBC News - Published





Bob Willis Trophy round-up - Malan, Overton & Garton star on day three

Yorkshire's Dawid Malan, Somerset's Jamie Overton and Sussex's George Garton all impress on day three of the Bob Willis Trophy




BBC News - Published





Captain Tom Moore: Airedale General Hospital garden funded

A Yorkshire hospital used some of the money to create a wellbeing garden for staff.




BBC News - Published





Minke whales filmed breaching off coast of Yorkshire in 'wonderful spectacle'

Group of whales were feeding less than half a kilometre from coast




Independent - Published





Bob Willis Trophy: Stone & Coad get delayed county cricket season off to bright start

Warwickshire's Olly Stone and Yorkshire's Ben Coad both take four wickets on the long-awaited opening day of the 2020 season.




BBC News - Published





East Yorkshire coastguard rescue watcher falls down cliff

Yorkshire coastguard said they were winching the first victim to safety as the second person fell.




BBC News - Published





Coronavirus: New lockdown restrictions put in place in parts of north of England following spike in Covid transmission

No indoor meetings in pubs, restaurants and homes in Greater Manchester and parts of Yorkshire and Lancashire




Independent - Published





Coronavirus: Yorkshire outbreaks spark 'growing concern' about spread of infection

Wakefield could be identified as 'area of concern'




Independent - Published





Bearded vulture spotted in the Peak District

The bird, more used to the Alps, has ended up on the Derbyshire and Yorkshire border.




BBC News - Published





Tim Bresnan: Warwickshire sign ex-England all-rounder after Yorkshire exit

Warwickshire sign former Yorkshire and England all-rounder Tim Bresnan on an initial loan, followed by a two-year deal.




BBC News - Published




"Why weren't we told?": Anger in Yorkshire town at centre of major coronavirus outbreak kept secret by council

Some 60 workers at Cleckheaton meat packing plant found to have deadly bug – but authorities tried to keep explosion of cases 'hush hush'




Independent - Published





Coronavirus: Yorkshire meat factory locked down after becoming centre of outbreak

Unclear if any fatalities following Covid cases at Asda-owned plant




Independent - Published





Coronavirus: 'Outbreak' reports in Leicester and Cleckheaton

Leicester sees hundreds of confirmed cases in two weeks, while an outbreak in Yorkshire is reported.




BBC News - Published





Coronavirus: Day trippers told to stop littering Yorkshire countryside

National Park bosses are urging visitors to enjoy the area responsibly and keep social distancing.




BBC News - Published





George Floyd death: People protest at events across Yorkshire

Protests over George Floyd's death were held in cities across the county, including York, Leeds and Bradford.




BBC News - Published





Chelsea Flower Show: Yorkshire garden voted best of decade

It is voted as the best garden to be featured at the Chelsea Flower Show over the last 10 years.




BBC News - Published





Litter and toilet roll left at Yorkshire beauty spots

Parts of Yorkshire have been left an "eyesore" by an influx of visitors




BBC News - Published





Barbecue stabbing: Victim drove to Yorkshire with friends

The man was with several others at Barden Bridge when he was attacked.




BBC News - Published





Yorkshire pub landlord surprises key workers with gifts

Scott Westlake has been handing presents to key workers across Meanwood in Leeds.




BBC News - Published





Hebridean pilot draws 'NHS' message above Yorkshire

The Hebridean pilot used a routine maintenance flight from Leeds to give his tribute to the NHS.




BBC News - Published





Yorkshire players and staff accept wage cut of up to 20% from 1 June

Yorkshire players and staff take a wage cut of up to 20% to help the county recover from the impact of coronavirus.




BBC News - Published





Stay away from us, say seaside resorts

Coastal communities in Yorkshire and Lincolnshire express their fears over an influx of visitors.




BBC News - Published





VE Day 2020: 'You heard it on the radio that war is over'

People from Yorkshire and Lincolnshire share their memories of VE Day




BBC News - Published





72-year-old man arrested after human bones discovered on remote farm in Yorkshire

Remains are male and more than half a century old, forensic experts say




Independent - Published





Coronavirus: Capt Tom guest of honour at Harrogate hospital opening

The 99-year-old will join the opening of a Nightingale hospital in Yorkshire via video link.




BBC News - Published




Coronavirus: Yorkshire hospitals 'major concern' over gown shortage

Trust chief Martin Barkley is unaware when more gowns will arrive at three West Yorkshire hospitals.




BBC News - Published





Rare white hare filmed in Yorkshire

The unusual "magical" creature was seen by wildlife artist Robert E Fuller in Yorkshire.




BBC News - Published





Coronavirus: Drone footage shows Yorkshire in lockdown

Once-bustling streets are still while formerly congested roads are clear and beaches lay empty across North and West Yorkshire.




BBC News - Published




Yorkshire: Players and coaches placed on furlough leave at Headingley

Yorkshire are the first county to announce players and coaches have been placed on furlough leave.




BBC News - Published





Coronavirus: Three elderly hospital patients die in Yorkshire

A man and a woman were being treated at Mid Yorkshire Hospitals NHS Trust and another in Harrogate.




BBC News - Published





Adil Rashid: Yorkshire and England spinner hopeful of red-ball return

Yorkshire and England spinner Adil Rashid is hopeful of a return to red-ball cricket but says his shoulder injury means he has "no idea" when that might be.




BBC News - Published





Yorkshire flood damage 'will take a lot of recovery'

Kevin Lorryman's home was completely engulfed by floodwater with only the solar-panelled roof visible.




BBC News - Published





River Aire flooding: Homes evacuated as Yorkshire river burst banks and sweeps cars off roads

Residents of Snaith in East Yorkshire are being forced to abandon their homes after the River Aire burst its banks following three weeks of heavy rain.




Independent - Published





Kitten joins owners on walks around Yorkshire

Arlo has climbed Scafell Pike and visited Hardcastle Crag at the end of his owner's lead




BBC News - Published





Adil Rashid: Yorkshire limited-overs contract for England leg-spinner

England spinner Adil Rashid agrees a new one-year limited-overs deal with Yorkshire - but insists he still has Test ambitions.




BBC News - Published





Flood fears as Storm Dennis continues to lash UK

Soldiers are sent to shore up defences in Yorkshire as experts warn floods could be worse than Ciara.




BBC News - Published





Flood-hit communities in Yorkshire prepare for more devastation

Storm Dennis threatens a further deluge to areas already devastated by flooding.




BBC News - Published