Alps
Major mountain range system in Central Europe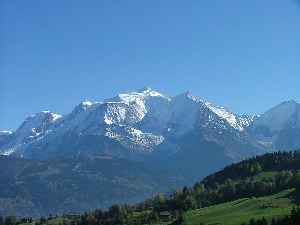 The Alps are the highest and most extensive mountain range system that lies entirely in Europe, separating Southern from Central and Western Europe and stretching approximately 1,200 kilometres (750 mi) across eight Alpine countries : France, Switzerland, Italy, Monaco, Liechtenstein, Austria, Germany, and Slovenia. The mountains were formed over tens of millions of years as the African and Eurasian tectonic plates collided. Extreme shortening caused by the event resulted in marine sedimentary rocks rising by thrusting and folding into high mountain peaks such as Mont Blanc and the Matterhorn. Mont Blanc spans the French–Italian border, and at 4,810 m (15,781 ft) is the highest mountain in the Alps. The Alpine region area contains about a hundred peaks higher than 4,000 metres (13,000 ft).


Dr Robert Bailey: Body found in Alps search for British GP
Robert Bailey had been missing since he went walking in the French Alps in March.
BBC News - Published
Search this site and the web:
You Might Like