Statue of Liberty
Colossal neoclassical sculpture on Liberty Island in New York Harbor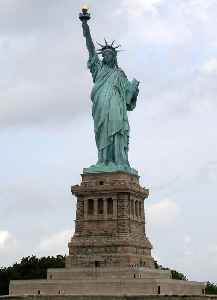 The Statue of Liberty is a colossal neoclassical sculpture on Liberty Island in New York Harbor in New York, in the United States. The copper statue, a gift from the people of France to the people of the United States, was designed by French sculptor Frédéric Auguste Bartholdi and its metal framework was built by Gustave Eiffel. The statue was dedicated on October 28, 1886.


Trump official revises Statue of Liberty poem to defend migrant rule change
He alters the passage: "Give me your tired, your poor, your huddled masses yearning to breath free".
BBC News - Published
Statue of Liberty climber sentenced to community service, probation
A woman convicted of trespassing and disorderly conduct after she climbed the Statue of Liberty's stone pedestal on July 4 last year to protest U.S. immigration policy was sentenced to 200 hours of..
Reuters - Published
Castro slams Cuccinelli over Statue of Liberty remark
Democratic presidential candidate Julian Castro slammed Ken Cuccinelli, the acting director of U.S. Citizenship and Immigration Services on Wednesday for saying that the Statue of Liberty poem refers..
Credit: Reuters Studio Duration: 00:41Published
NYC's largest rooftop farm grows in Brooklyn
Brooklyn Grange's newest rooftop farm in Sunset Park spans 55,000 square feet of cultivated space. Rough Cut (no reporter narration).
Credit: Reuters Studio Duration: 02:19Published
Trump says he's 'tired' of taypayers paying for immigrants
President Trump says he is 'tired' of seeing people immigrate to the United States and immediately go on welfare, in the face of the poem on the Statue of Libery, which says in part, "give me your..
Credit: Reuters Studio Duration: 00:49Published
Search this site and the web:
You Might Like