United Nations
Intergovernmental organization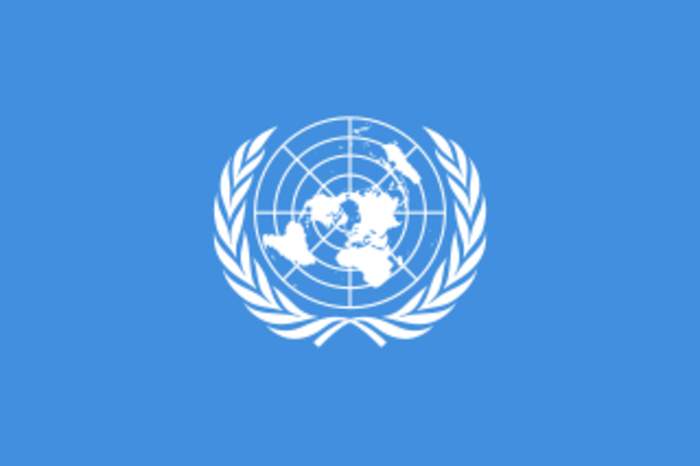 The United Nations (UN) is an intergovernmental organization that aims to maintain international peace and security, develop friendly relations among nations, achieve international cooperation, and be a centre for harmonizing the actions of nations. It is the largest, most familiar, most internationally represented and most powerful intergovernmental organization in the world. The UN is headquartered on international territory in New York City, with its other main offices in Geneva, Nairobi, Vienna, and The Hague.


Ethiopia-Tigray conflict: UN warns of 'humanitarian disaster'


Credit: FRANCE 24 English Duration: 01:32
Published
Blinken is Biden's secretary of state pick: source

Joe Biden will pick Antony Blinken as U.S. secretary of state, a person close to the president-elect's transition said on Sunday (November 22). Gloria Tso reports.
Credit: Reuters - Politics Duration: 01:31
Published
Not just isolate, impose sanctions on nations sponsoring terrorism: VP Naidu

Vice President M Venkaiah Naidu on November 21 called upon the world to come together to isolate nations that sponsor terrorism and impose sanctions against them. "No religion preaches terrorism. It's..
Credit: ANI Duration: 01:24
Published
Terrorist safe havens, sanctuaries operating across Durand Line must end for peace in Afghanistan: India

India on November 20 at the United Nations (UN) said that as peace process and violence cannot go together, therefore for durable peace in Afghanistan there must be "an end to terrorist safe havens and..
Credit: ANI Duration: 03:42
Published
UN's Libya envoy voices hope for peace deal

UN Security Council members told peace could be on the horizon after rival sides met in Tunisia last week to discuss ending the war.
Credit: Al Jazeera STUDIO Duration: 02:37
Published
Why Trump overstepped the UN resolutions to recognise the Golan Heights as part of Israel?


Credit: FRANCE 24 English Duration: 01:35
Published
Syria's last rebel stronghold risks COVID-19 crisis

The United Nations says daily infections have increased by 300 percent in the last month.
Credit: Al Jazeera STUDIO Duration: 06:56
Published
UN should take shortcomings seriously: EAM Jaishankar

Addressing at Centre for European Policy Studies virtually on November 17, External Affairs Minister S Jaishankar said that UN should take seriously that different people in the world are pointing out..
Credit: ANI Duration: 01:00
Published
UN warns of 'full-scale humanitarian crisis' in Ethiopia conflict


Credit: FRANCE 24 English Duration: 04:00
Published
Mock Cop26 - Young activists hold alternative summit

Young climate activists frustrated by postponement of the UN climate talks,have organised their own virtual conference between November 19 and December1. Josh Tregale from Dorset is 18-years-old and..
Credit: PA - Press Association STUDIO Duration: 02:24
Published
Cultural Minister, ambassadors join Diwali celebrations with Indian community in Madagascar

Minister of Culture of Madagascar, prominent members of Indian community, ambassadors of several countries including United States, Russia, Japan, European Union, South Africa, Iran among others, UN..
Credit: ANI Duration: 02:10
Published
Yemenis "being starved", UN humanitarian chief warns

A stark warning from the UN that 80 percent of Yemenis will face starvation within months.
Credit: Al Jazeera STUDIO Duration: 01:29
Published
UN launches new Libya talks amid cautious optimism

Dialogue that opened on Monday follows months of relative calm in war-torn Libya.
Credit: Al Jazeera STUDIO Duration: 02:32
Published
Myanmar votes in election likely to favor Suu Kyi

Myanmar's democracy icon Aung San Suu Kyi looks likely to win a second term for her National league for Democracy despite the collapse of her reputation overseas amid allegations of genocide. David..
Credit: Reuters - Politics Duration: 01:43
Published
Lebanon's economy: Syrian refugees among worst affected by crisis

The United Nations says 16,000 of them were directly affected by the Beirut port explosion in August.
Credit: Al Jazeera STUDIO Duration: 02:30
Published
UN chief 'deeply alarmed' by armed clashes in northern Ethiopia


Credit: FRANCE 24 English Duration: 03:07
Published
'Pakistan took advantage of pandemic to push cross-border terror': India at UN

India lashed out at Pakistan over cross-border terrorism and other issues at the United Nations. 'While world has come to a standstill due to COVID, Pakistan has enhanced support to cross border..
Credit: HT Digital Content Duration: 01:54
Published
Pak trying to create divisions among religious communities: First Secy of India's Permanent Mission at UN

While interacting with Special Rapporteur on contemporary forms of racism, xenophobia, related intolerance, First Secretary of India's permanent mission at UN, Ashish Sharma said, "While world has come..
Credit: ANI Duration: 01:31
Published
No country has locus standi to comment on India's internal affairs: MEA on JandK's new land laws

Ministry of External Affairs (MEA) held press conference on Oct 29. MEA spokesperson Anurag Srivastava said, "The whole world knows the truth about Pakistan and its role in supporting terrorism. No..
Credit: ANI Duration: 01:46
Published
You Might Like



Coronavirus and gender: More chores for women set back gains in equality

Women take on the burden of unpaid chores during Covid, UN data shows, threatening gender equality.




BBC News - Published





Ethiopia's Tigray crisis: UN warns of war crimes as deadline looms

The UN condemns "aggressive rhetoric" that could risk lives in the conflict-torn Tigray region.




BBC News - Published





Ethiopia's Tigray crisis: UN urges protection of civilians

People in the region's capital are told to "save themselves" as the army advances on the city.




BBC News - Published





'We think of all our players as Irish' - Murphy responds to England boss Jones' remarks

Kicking coach Richie Murphy says he considers every member of Ireland's squad to be Irish after England coach Eddie Jones referenced Saturday's opponents as the 'United Nations'.




BBC News - Published





Egypt arrests: UN condemns detention of human rights advocates

Three members of the Egyptian Initiative for Personal Rights, including its head, have been detained.




BBC News - Published





Ethiopia Tigray crisis: UN says full-scale humanitarian situation unfolding

Thousands are fleeing every day from the Tigray region and the UN says its teams are overwhelmed.




BBC News - Published





Arsenal: Premier League club join UN climate action plan

Arsenal believe they can inspire fans across the globe to be more sustainable after signing up to a United Nations plan to help tackle climate change.




BBC News - Published





Ethiopia Tigray crisis: Rights commission to investigate 'mass killings'

It comes as the UN's human rights chief warns of possible war crimes happening in northern Tigray state.




BBC News - Published





Europe migrant crisis: Scores die in shipwreck off Libya - UN

The UN says nations must take decisive action to stem a "mounting loss of life in the Mediterranean".




BBC News - Published




Ethiopia's Tigray crisis: UN warns aid could run out

Flour and fuel shortages are being reported in Tigray, where federal and regional forces are fighting.




BBC News - Published





Loujain al-Hathloul: UN experts alarmed by jailed Saudi activist's health

Loujain al-Hathloul began a hunger strike last month in protest at her conditions in detention.




BBC News - Published





Israel rebuked for 'biggest demolition of Palestinian homes in years'

The UN rebukes Israel for carrying out what it says was the biggest such demolition for a decade.




BBC News - Published





At least 140 migrants drown off Senegal coast, UN says

A boat carrying 200 people caught fire and capsized on Saturday after setting off from West Africa.




BBC News - Published





Al-Qaeda still 'heavily embedded' within Taliban in Afghanistan, UN official warns

A senior UN official says the Taliban is still tied to al-Qaeda in Afghanistan, in spite of US deal.




BBC News - Published





Nuclear weapons treaty: Campaigners hail new era for nuclear disarmament

A 50th nation ratifies a key UN treaty and it will come into force - but five major powers are missing.




BBC News - Published





United Nations at 75 plagued by new crises and cash crunch

Faced with wars, climate change and a pandemic, the United Nations is struggling to make an impact.




BBC News - Published





Covid: US gives full approval for antiviral remdesivir drug

The drug will be given to patients in hospitals, but the UN health agency says it has little effect.




BBC News - Published





Libya detains notorious people smuggler Abd al-Rahman al-Milad

Abd al-Rahman al-Milad was sanctioned by the UN in 2018 for violence against migrants in Libya.




BBC News - Published





World Food Programme: What is the UN body and what does it do?

The WFP has been awarded the 2020 Nobel Peace Prize for its work to eradicate hunger and build peace.




BBC News - Published





Is the world entering a new Cold War?

The recent US-China tensions were laid bare in speeches by Trump and Xi at the UN in New York.




BBC News - Published





Climate change: China aims for 'carbon neutrality by 2060'

China's surprise announcement of a long-term goal to curb emissions boosts UN climate talks.




BBC News - Published





Iran nuclear deal: US unveils new sanctions targeting arms sales

The move comes after other world powers rejected President Trump's demand to reinstate UN measures.




BBC News - Published





How Mali's coup affects the fight against jihadists

Thousands of UN, French and regional soldiers are in Mali fighting Islamist militants - what difference will the coup make?




BBC News - Published





Venezuela: UN investigators accuse authorities of crimes against humanity

Human rights investigators say authorities have committed "egregious violations" since 2014.




BBC News - Published





Extinction: Urgent change needed to save species, says UN

Humanity is at a crossroads and action is needed to slow nature's accelerating decline, says the UN.




BBC News - Published





Migrants allowed off Maersk tanker after 40 days at sea

The migrants land in Sicily after what the UN called "a diplomatic game of pass the parcel".




BBC News - Published





UN calls for inquiry after girls killed in Paraguay raid

Two 11-year-old girls were shot dead in a raid by the Paraguayan security forces on a rebel camp.




BBC News - Published





Iran's enriched uranium stockpile '10 times limit'

Tehran has continued to enrich uranium in breach of a nuclear deal, the UN nuclear watchdog warns.




BBC News - Published





Belarus: Tikhanovskaya urges UN intervention to stop violence

Svetlana Tikhanovskaya says options should include sanctions on those close to Alexander Lukashenko.




BBC News - Published





Hong Kong security law: UN experts voice deep concerns

In a letter to China experts say the law poses a serious risk to Hong Kong's freedoms.




BBC News - Published





UK seeks to prevent space arms race after Russia launches anti-satellite missiles

Britain introduces UN resolution on 'responsible and threatening behaviour' with aim of reaching global consensus




Independent - Published





Coronavirus pandemic: Masks should be worn from the age of 12 - WHO

The UN health body says there is some evidence teenagers can infect others in the same way as adults.




BBC News - Published





Libya crisis: Rival authorities announce ceasefire

The announcement for a nation riven by violence since 2011 is hailed by the UN.




BBC News - Published





Mali coup: UN joins global condemnation of military takeover

President Keïta was forced to resign after being detained by soldiers.




BBC News - Published





Channel crossings: No plans for Royal Navy to block migrants after UN warns ships could cause 'fatal incidents'

The Royal Navy has no current plans to deploy ships in the English Channel to stop migrant boat crossings, it has announced.




Independent - Published





Beirut explosion: UN warns of Lebanon humanitarian crisis

Agencies send urgent support to help hundreds of thousands of people affected by Tuesday's explosion.




BBC News - Published





UN pledges to help Mali rebuild heritage sites damaged in conflict

Parts of the life and culture of the country's Land of the Dogon have been destroyed in conflict.




BBC News - Published





UK government gives green light to more tear gas sales to US police despite UN warning over violence

Rubber bullets and tear gas among British exports to US security forces




Independent - Published





Sudan to send more troops to Darfur after deadly attacks

More than 80 people were killed in two attacks in Sudan's restive western region, the UN says.




BBC News - Published





South China Sea dispute: Australia says Beijing's claims have no legal basis

Australia tells the UN the claims have "no legal basis" as it aligns itself more closely with the US.




BBC News - Published





Coronavirus: UN makes record $10.3M appeal for pandemic fight

The UN says up to 265 million people could face starvation because of the impact of Covid-19.




BBC News - Published





Child vaccinations fall sharply amid pandemic, UN says

The decline in immunisations against some diseases is the first in nearly 30 years, the UN says.




BBC News - Published





Qasem Soleimani: US strike on Iran general was unlawful, UN expert says

A report says the US failed to provide sufficient evidence to justify killing the Iranian general.




BBC News - Published





Coronavirus: Trump moves to pull US out of World Health Organization

The president follows up his vow to leave the world health body by formally notifying the UN.




BBC News - Published





Syria conflict: 'Flagrant' war crimes committed in Idlib battle, UN says

Syrian civilians endured "unfathomable suffering" at the hands of troops and jihadists, the UN says.




BBC News - Published





Hisham al-Hashimi: Leading Iraqi expert on armed groups killed in Baghdad

The US and UN condemn the murder of Hisham al-Hashimi, who was shot outside his Baghdad home.




BBC News - Published





Yemen: Coronavirus aid loss 'harming millions of children'

"Huge shortfalls" in aid due to coronavirus could lead to mass starvation, UN charity warns.




BBC News - Published





Coronavirus: UN condemns Afghan healthcare attacks amid pandemic

A report finds health workers and facilities have been deliberately targeted during the pandemic.




BBC News - Published





Iran foreign minister: An 'agreeable solution' possible for IAEA inspection request

Iranian Foreign Minister Mohammad Javad Zarif tweeted that "an agreeable solution is possible" for the United Nations nuclear watchdog's request for access to two nuclear sites in the country.




Reuters - Published





Discord thwarts U.N. nuclear watchdog's plans for virtual Iran meeting

Opposition led by China to a planned resolution rebuking Iran at the U.N. nuclear watchdog's 35-nation board has forced it to call an in-person session after four days of meeting online because of the..




Reuters - Published