United Nations
Intergovernmental organization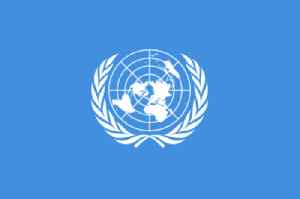 The United Nations (UN) is an intergovernmental organization that aims to maintain international peace and security, develop friendly relations among nations, achieve international cooperation, and be a centre for harmonizing the actions of nations. It is the largest, most familiar, most internationally represented and most powerful intergovernmental organization in the world. The UN is headquartered on international territory in New York City, with its other main offices in Geneva, Nairobi, Vienna and The Hague.


U.N labels Syrian, Russian airstrikes war crimes

Syrian and Russian planes have carried out deadly aerial strikes amounting to war crimes on schools, hospitals and markets in Idlib province, U.N. investigators said on Tuesday (July 7) in a report..
Credit: Reuters Studio Duration: 01:29
Published
'Closely monitoring the developments in Hong Kong': India's Ambassador to UN in Geneva

India's ambassador and permanent representative to the United Nations in Geneva, Rajiv Kumar Chander has commented on the ongoing developments in Hong Kong and stated that they are closely monitoring..
Credit: ANI Duration: 01:19
Published
Iran's Zarif says ending arms ban 'inseparable' from nuclear deal

As the US tries to rally support to extend UN arms embargo on Iran it faces scepticism from UNSC members.
Credit: Al Jazeera STUDIO Duration: 02:34
Published
Britain to talk to partners in UN over China law move

British foreign minister Dominic Raab said on Tuesday Britain would raise China's adoption of national security legislation for Hong Kong with "likeminded partners" in the United Nations human rights..
Credit: Reuters Studio Duration: 01:39
Published
Libya human rights abuses: UN considering a draft resolution

Commanders working for General Haftar are being investigated for possible war crimes by the International Criminal Court.
Credit: Al Jazeera STUDIO Duration: 02:11
Published
UN slammed for taking Saudi coalition off child rights blacklist

HRW denounced Guterres for ignoring the UN's own evidence of continued grave violations against children in Yemen.
Credit: Al Jazeera STUDIO Duration: 02:28
Published
United Nations orders probe into human rights abuses in Libya

Announcement comes after mass graves were discovered in the city of Tarhuna following retreat by eastern-based forces.
Credit: Al Jazeera STUDIO Duration: 02:56
Published
Syria's war: Activists call for release of political prisoners

UN investigators say tens of thousands of people have disappeared and they may be dead.
Credit: Al Jazeera STUDIO Duration: 02:32
Published
UN Syria envoy warns of nationwide economic crisis

The UN Special Envoy for Syria Geir Pedersen says the economic situation for the war-torn country is extremely grave.
Credit: Al Jazeera STUDIO Duration: 01:46
Published
Egypt calls on UN to intervene after impasse in Nile dam talks

Egypt appeals for UN Security Council help on Ethiopia's Nile dam after latest round of talks ended without a deal.
Credit: Al Jazeera STUDIO Duration: 02:15
Published
Silent protest held outside UN highlighting the plight of Christian persecution in Pakistan

A silent demonstration was held infront of the United Nations Office in Geneva alongside Broken Chair to raise a voice in solidarity to eradicate the malicious blasphemy law and forced conversions in..
Credit: ANI Duration: 01:01
Published
Refugee numbers have doubled in last decade - U.N.

Nearly 80 million people, half of them children, were displaced from their homes at the end of 2019, according to a new report by the United Nations refugee agency, released to coincide with World..
Credit: Reuters Studio Duration: 01:27
Published
U.N. Humiliates Trudeau

Prime Minister Justin Trudeau's bid to get Canada back on the United Nations Security Council was dashed Wednesday. Trudeau was humiliated. The UN dealt a decisive and embarrassing loss to him and..
Credit: Wochit News Duration: 00:29
Published
U.S. hits Syria with toughest sanctions yet

The United States imposed its toughest sanctions yet on Syria on Wednesday, aiming to choke off revenue for Syrian President Bashar al-Assad's government in an effort to force the country back to..
Credit: Reuters - Politics Duration: 01:49
Published
Combating terrorism going to be priority for us in Security Council: India's Envoy to UN

The India's Permanent Representative to the United Nations, Ambassador TS Tirumurti informed on June 18 that the United Nations member States elected India for non-permanent seat in the Security..
Credit: ANI Duration: 01:32
Published
India secures UNSC seat, sails through with 184 out of 192 valid votes polled

India on June 17 secured a comfortable victory in the United Nations Security Council elections to join the powerful 15-nation body as a non-permanent member for the 2021-22 term. With 184 votes out of..
Credit: ANI Duration: 01:03
Published
Brother of George Floyd urges U.N. probe into U.S. racism, violence

The brother of the late George Floyd, a black man whose death under the knee of a white officer roused world protests against racial injustice, urged the United Nations on Wednesday to investigate U.S...
Credit: Reuters Studio Duration: 01:20
Published
'You have the power to help us' -George Floyd's brother to the U.N.

The brother of the late George Floyd, Philonise Floyd, called on the top United Nations human rights body on Wednesday to investigate police brutality and racial discrimination in the United States.
Credit: Reuters Studio Duration: 02:02
Published
You Might Like



Coronavirus: Trump moves to pull US out of World Health Organization

The president follows up his vow to leave the world health body by formally notifying the UN.




BBC News - Published





Syria conflict: 'Flagrant' war crimes committed in Idlib battle, UN says

Syrian civilians endured "unfathomable suffering" at the hands of troops and jihadists, the UN says.




BBC News - Published





Hisham al-Hashimi: Leading Iraqi expert on armed groups killed in Baghdad

The US and UN condemn the murder of Hisham al-Hashimi, who was shot outside his Baghdad home.




BBC News - Published





Yemen: Coronavirus aid loss 'harming millions of children'

"Huge shortfalls" in aid due to coronavirus could lead to mass starvation, UN charity warns.




BBC News - Published





Coronavirus: UN condemns Afghan healthcare attacks amid pandemic

A report finds health workers and facilities have been deliberately targeted during the pandemic.




BBC News - Published





Iran foreign minister: An 'agreeable solution' possible for IAEA inspection request

Iranian Foreign Minister Mohammad Javad Zarif tweeted that "an agreeable solution is possible" for the United Nations nuclear watchdog's request for access to two nuclear sites in the country.




Reuters - Published





Discord thwarts U.N. nuclear watchdog's plans for virtual Iran meeting

Opposition led by China to a planned resolution rebuking Iran at the U.N. nuclear watchdog's 35-nation board has forced it to call an in-person session after four days of meeting online because of the..




Reuters - Published





U.N. mulls proposal to reopen Iraq crossing for pandemic aid to Syria

The United Nations Security Council is considered a proposal to reopen a border crossing from Iraq into Syria for six months to allow the delivery of humanitarian aid to help millions of Syrian..




Reuters - Published





Serbia ready to sacrifice EU membership over Kosovo deal

Serbian President Aleksandar Vucic said on Thursday he would reject European Union membership if Belgrade does not receive concessions in return for recognising Kosovo and dropping attempts to stop it..




Reuters - Published





Many Jordanians struggling as country emerges from COVID-19 lockdown, U.N. agency says

Many people in Jordan are struggling to meet basic needs after a more than two-month lockdown to fight the coronavirus pandemic, a United Nations Development Programme (UNDP) study said on Wednesday.




Reuters - Published





Mexico, India, Ireland, Norway elected to U.N. Security Council, one seat still open

Mexico, India, Ireland and Norway were elected to the United Nations Security Council on Wednesday, but the 193 U.N. member states must return on Thursday to continue voting to fill one more vacant..




Reuters - Published





France accuses Turkey of hostile acts to stop enforcement of Libya arms embargo

France accused Turkey's navy on Wednesday of acting in a "hostile and aggressive" manner towards its NATO allies to prevent them from enforcing a United Nations arms embargo on Libya.




Reuters - Published





Colombia's potential cocaine output up 1.5% in 2019, says U.N. drug agency

Potential production of pure cocaine hydrochloride in Colombia was up by 1.5% last year to 1,137 metric tonnes, the United Nations Office on Drugs and Crime (UNODC) said on Wednesday, even as the areas..




Reuters - Published





George Floyd protests: Brother makes impassioned plea to UN

Philonise Floyd urges the UN to investigate the deaths of black people at the hands of US police.




BBC News - Published





Brother of George Floyd urges U.N. probe into U.S. racism, violence

The brother of the late George Floyd called on the top U.N. human rights body on Wednesday to investigate police brutality and racial discrimination in the United States.




Reuters - Published




Defend seafaring workers hit hard by pandemic, Pope says

Pope Francis paid tribute on Wednesday to hundreds of thousands of seafarers stuck on ships due to the coronavirus pandemic, a situation the United Nations has said poses a risk to the safe operation..




Reuters - Published





U.S. hits Syria with toughest sanctions yet to push Assad to end war

The United States on Wednesday imposed its toughest sanctions ever targeting Syrian President Bashar al-Assad to choke off revenue for his government in a bid to force it back to United Nations-led..




Reuters - Published





U.S. 'not above scrutiny', urges other states to be open on racism: statement

The United States is grappling with racial discrimination and implementing police reforms after the killing of George Floyd, but other countries should show the same level of openness, a U.S. envoy..




Reuters - Published




U.S. 'not above scrutiny', seeks openness on rights issues at U.N.: statement

The United States is grappling with racial discrimination and implementing police reforms after the killing of George Floyd, but other countries should show the same level of openness, the U.S. envoy..




Reuters - Published




Saudi-led coalition asks U.N. to share details of child deaths in Yemen

A Saudi Arabia-led military coalition fighting in Yemen asked the United Nations on Tuesday to share details of its accusations that the coalition was responsible for 222 child deaths or injuries last..




Reuters - Published





Turkey accuses France of exacerbating Libya crisis

Turkey angrily accused France on Tuesday of exacerbating the crisis in Libya and violating U.N. and NATO decisions by supporting the forces of Khalifa Haftar against the internationally recognised..




Reuters - Published





France says working with partners to pressure Iran at IAEA on inspector access

France said it was working with Britain and Germany to see the U.N.'s nuclear watchdog board of governors push Iran this week to cooperate fully and immediately to grant its inspectors access to sites..




Reuters - Published





U.S. to impose sanctions aimed at blocking Syria military victory

The United States will impose sanctions on Wednesday aimed at cutting off revenue for Syrian President Bashar al Assad's government in a bid to push it back into United Nations-led negotiations and..




Reuters - Published




Israel's West Bank annexation plan condemned by UN experts

The rights experts say the plan amounts to a "vision of a 21st Century apartheid".




BBC News - Published





Britain warns at UN rights forum against security law for Hong Kong

Britain said on Tuesday that China's plan to impose national security legislation on Hong Kong would undermine the autonomy and freedoms of the former British colony.




Reuters - Published





Britain warns at U.N. on Hong Kong security law as North Korea defends China

Britain said on Tuesday that China's plan to impose national security legislation on Hong Kong would undermine the autonomy of its former colony and could threaten rights and freedoms there.




Reuters - Published





Yemen war: UN takes Saudi-led coalition off child rights blacklist

Human rights groups accuse the secretary general of ignoring evidence of grave violations in Yemen.




BBC News - Published





Amid U.S. standoff, WHO chief to address Chinese university graduates

The head of the WHO is due to give a speech to Beijing university students this week, as the U.N. body seeks to manage a resurgence of the coronavirus in China amid hostility from its biggest donor,..




Reuters - Published





U.N. rights experts condemn Israel's annexation plan and U.S. support

U.N. human rights experts said on Tuesday that Israel's plan to annex significant parts of the occupied West Bank would violate international law banning the taking of territory by force, and urged..




Reuters - Published





Europeans push for Iran rebuke at nuclear watchdog over inspections

Major European powers want to admonish Iran at the U.N. nuclear watchdog over its ongoing refusal to give access to inspectors at sites suspected of activities that may have been part of a nuclear..




Reuters - Published





Exclusive: African nations seek U.N. inquiry into U.S. racism, 'police brutality': text

African countries are lobbying to set up a U.N. inquiry into "systemic racism" and "police brutality" in the United States and elsewhere, aiming to defend the rights of people of African descent, a..




Reuters - Published




The lengths countries go to for a seat at UN top table

Canada, Norway and Ireland are in a tight race for two non-permanent seats on the security council.




BBC News - Published





Saudi-led coalition cut from U.N. blacklist of warring parties killing children

U.N. Secretary-General Antonio Guterres on Monday removed a Saudi Arabia-led military coalition from a United Nations blacklist, several years after it was first named and shamed for killing and..




Reuters - Published




U.N. rights body to examine 'systemic' U.S. racism and police brutality

The top U.N. human rights body will hold an urgent debate on allegations of "systemic racism, police brutality and violence against peaceful protests" in the United States on Wednesday, a statement..




Reuters - Published




Congo's gold being smuggled out by the tonne, U.N. report finds

Gold production in Democratic Republic of Congo continues to be systematically underreported while tonnes of the precious metal is smuggled into global supply chains through its eastern neighbours, a..




Reuters - Published




U.N. says two peacekeepers killed in an attack on a convoy in Mali

Two peacekeepers with United Nations (UN) forces in Mali were killed on Saturday in an attack on their convoy in the north of the west African nation, the U.N. mission in Mali said on Sunday.




Reuters - Published





Iran rejects U.N. report that arms 'of Iranian origin' used in Saudi attacks

Iran on Friday rejected a United Nations report that said cruise missiles used in attacks on oil facilities and an airport in Saudi Arabia last year were of "Iranian origin", saying it had been drawn..




Reuters - Published




U.N. chief calls for marine personnel be designated key workers

U.N. chief Antonio Guterres called on all countries on Friday to




Reuters - Published





Iran asks French experts to read black boxes of downed jet: official

Iranian investigators have asked France's BEA air accident agency to read black boxes from a downed Ukrainian jetliner, Iran's envoy to the United Nations aviation agency said.




Reuters - Published





U.N. regrets Trump move against ICC, says court must be protected

The U.N. human rights office on Friday regretted the impact that U.S. sanctions authorised by President Donald Trump may have on trials and investigations under way at the International Criminal Court..




Reuters - Published





Coronavirus: Domestic violence 'increases globally during lockdown'

The UN has described the worldwide increase in domestic abuse as a "shadow pandemic".




BBC News - Published