Calais
Subprefecture and commune in Hauts-de-France, France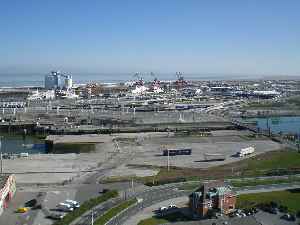 Calais is a city and major ferry port in northern France in the department of Pas-de-Calais, of which it is a sub-prefecture. Although Calais is by far the largest city in Pas-de-Calais, the department's prefecture is its third-largest city of Arras. The population of the city proper is 73,911, and that of the urban area is 128,931 (2017). Calais overlooks the Strait of Dover, the narrowest point in the English Channel, which is only 34 km (21 mi) wide here, and is the closest French town to England. The White Cliffs of Dover can easily be seen on a clear day from Calais. Calais is a major port for ferries between France and England, and since 1994, the Channel Tunnel has linked nearby Coquelles to Folkestone by rail.


Labour: Drowning of child refugee a "tragedy"

Shadow Home Secretary Nick Thomas-Symonds has described the death of a Sudanese teenager, whose body was swept ashore at Calais, as an "absolute tragedy". Mr Thomas-Symonds said the case highlighted..
Credit: ODN Duration: 02:23
Published
Endurance swimmer Chloe McCardel completes record-breaking Channel crossing

Endurance swimmer Chloe McCardel has completed a record-breaking crossing ofthe English Channel, landing in Calais, France, just before 7am on Sunday. The35-year-old Australian took 10 hours and 40..
Credit: PA - Press Association STUDIO Duration: 01:09
Published
You Might Like



Channel swimmer rescued after eight-hour search

The lone man had been trying to swim to Calais but was eventually found 500m off the coast of Dover.




BBC News - Published





Channel crossings: Body of teenage migrant found on French beach

The 16-year-old from Sudan, whose body was found at Sangatte, Calais, reportedly went missing at sea.




BBC News - Published





Calais mayor says Boris Johnson needs to 'calm down' over migrant crossings, as 70% of Britons back deploying navy

Natacha Bouchart says prime minister's pronouncements amount to 'provocation'




Independent - Published





Migrant crossings: Mayor of Calais calls use of Navy ships to block Channel 'a declaration of war'

Attack comes as Royal Air Force plane sent to patrol the waters – in response to Priti Patel's request for military help




Independent - Published





Migrant crossings: Use of navy ships to stop boats 'dangerous'

A Calais politician says the measures to stop boats crossing the Channel "won't change anything".




BBC News - Published





The 18-year-old volunteering at Calais' camps

Tia has decided to work at a migrant camp in Calais instead of returning home to her family during lockdown.




BBC News - Published





French port town dreams of becoming post-Brexit duty-free haven

Authorities in Calais are lobbying the French government to create a duty-free zone for British shoppers that would cover the entire port town in northern France if a future trade deal between Britain..




Reuters - Published





Calais to Dover lorry drivers on migrant security risks

UK lorry drivers describe the rigorous steps they take to avoid migrants getting on board in France.




BBC News - Published





French coastguards rescue 12 migrants trying to cross Channel

French coastguards on Monday rescued 12 migrants trying to cross the English Channel, a few kilometers off the coast of the port of Calais in northern France, local authorities said.




Reuters - Published





Man arrested at Calais while boarding car ferry with dead mother in passenger seat

Simon Odgers was arrested with mother's corpse in his car, reports claim




Independent - Published





Man 'tried to board Calais ferry with dead mum in car'

A British man is arrested in France after his 86-year-old mother was found dead, local media say.




BBC News - Published





UK truck deaths highlight shift in migrant route after closure of French camp

When France shut the Calais shanty town known as the Jungle in 2016, migrants seeking entry to Britain were forced to look for less safe passage up the coast in Belgium - the route taken by a truck in..




Reuters - Published




Truck deaths underscore shift in UK-bound migrant route after Jungle camp closure

When France shut the Calais shanty town known as the Jungle in 2016, migrants seeking entry to Britain were forced to look for less safe passage up the coast in Belgium - the route taken by a truck in..




Reuters - Published




Newbury couple 'shocked' over migrant in car roof box

A couple returned home from Calais to find two feet sticking out of the compartment.




BBC News - Published





How migrants cross the Channel from Calais

The BBC's Gavin Lee boards a small boat to see some of the dangers face by migrants who cross the English Channel.




BBC News - Published




'Brutal' border policies in Calais condemned after surge in attempted Channel crossings

Boris Johnson warns migrants attempting to cross to UK will be 'sent back'




Independent - Published





Calais: Dublin man charged with 'largest UK port gun seizure'

Man is due in court on Monday after guns were found in a Volkswagen Passat coming from Dover.




BBC News - Published