Tommy Robinson (activist)
English far-right activist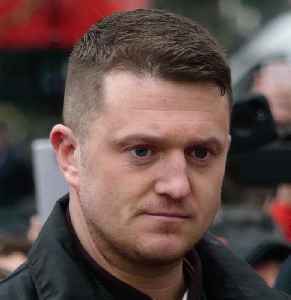 Stephen Christopher Yaxley-Lennon, known as Tommy Robinson, is a British far-right and anti-Islam activist. He is the co-founder and former leader of the English Defence League, and later served as a political advisor to former UKIP leader Gerard Batten.


Tommy Robinson held by police investigating 'assault'

Former English Defence League leader Tommy Robinson has been arrested on suspicion of assault. Robinson, 37, was detained after police received a report of an assault on a man at Hollywood Retail Park..
Credit: PA - Press Association STUDIO Duration: 00:53
Published
You Might Like



Tommy Robinson released on bail following arrest on suspicion of assault

Former English Defence League leader says he was in Cumbria to investigate 'grooming gang'




Independent - Published




Tommy Robinson arrested in Barrow for assaulting 'spitting man'

The former English Defence League leader said he acted in self-defence after a man spat in his face.




BBC News - Published





Tommy Robinson libel hearing: 'Remarks led to far-right targeting family'

Tommy Robinson is being sued for remarks he made about an attack on a refuge boy at a school.




BBC News - Published





Tommy Robinson charged with common assault after Center Parcs swimming pool fight

He is due to appear in court on 2 April




Independent - Published

Also reported by •BBC News


Tommy Robinson: 20 suspects charged with violent disorder at Oldham European elections rally

Police said 'large scale disturbance' broke out after group calling themselves Muslim Defence League reached supporters' event




Independent - Published





Tommy Robinson 'arrested over assault at Center Parcs pool'

English Defence League founded reportedly confronted another man before punching him in the face




Independent - Published





Mohiussunnath Chowdhury: How jihadi used signed copy of Tommy Robinson book and far-right websites to justify terror attack plans

Terrorist claimed English Defence League founder 'understands jihadi doctrine' when questioned in court




Independent - Published





Tommy Robinson cries in TV prison documentary with Ross Kemp after complaining about solitary confinement

'It's not a box with nothing in it,' the presenter says




Independent - Published





Tommy Robinson: 13 suspects arrested over disorder by 'Muslim Defence League' at election rally

Investigators release photos of 26 people they want to speak to over 'serious public disorder'




Independent - Published





General election: Boris Johnson condemned after Tommy Robinson endorses him for general election

Jo Swinson pens letter to PM urging him to disavow EDL founder's 'dog-whistle politics'




Independent - Published





Tommy Robinson appears in High Court over 'very serious allegations' about Syrian child bullied in viral video

English Defence League founder says he will defend truth of his statements




Independent - Published





Tommy Robinson supporters sought by police after officers attacked at London protest

More than 20 officers injured by metal barriers, glass bottles and scaffolding




Independent - Published





Police attempt to ban Tommy Robinson from England games

Police have applied for a football banning order after Mr Robinson punched a fellow England fan.




BBC News - Published





Tommy Robinson could be banned from all football matches under police push

Far-right agitator faces bar from England games abroad




Independent - Published





Seven jailed over London 'free Tommy Robinson' protest

Thousands gathered in June 2018 to demand the release of the ex-English Defence League leader from prison.




BBC News - Published





Tommy Robinson supporter weeps in court after being spared jail over 'disgraceful violence' at protest

Judge spares mother immediate custody because she is sole carer of children




Independent - Published





Boris Johnson hailed by far-right extremists for 'brilliant' performance in parliament

Tommy Robinson among those celebrating prime minister's comments to 'traitor MPs' amid widespread condemnation




Independent - Published





Man at Tommy Robinson demonstration hunted by police over attack on officer

Police officer 'violently pushed by one or more people', Scotland Yard says




Independent - Published





Tommy Robinson announces support for Julian Assange after 'talking to Wikileaks founder in prison'

Anti-Islam activist claims pair spoke through a window at HMP Belmarsh




Independent - Published





Tommy Robinson released from prison 'looking a mess'

'First stop hairdressers,' says far-right activist after spending nine weeks at HMP Belmarsh for contempt of court




Independent - Published





Tommy Robinson endorses Boris Johnson

'We back Boris, now just get us out of the EU,' message on far-right activist's Telegram channel reads




Independent - Published





Liberal Democrat peer calls protester in Tommy Robinson shirt a 'Nazi' over mosque row

'I do not apologise for doing that. I consider that [Stephen] Yaxley-Lennon...is a neo-Nazi street thug'




Independent - Published





Ukip leader: Richard Braine elected as Gerard Batten's successor after EU election wipeout

New leader described controversial figures Tommy Robinson, Katie Hopkins and Milo Yiannopoulos as 'cutting edge free-speech advocates' in his campaign poster




Independent - Published





Tommy Robinson: Man hands himself in after medic kicked in head at London protest

Police hunt second person after Oxford Circus demonstration turns violent




Independent - Published





Tommy Robinson: Police hunting two protesters after medic dragged to ground and kicked in head

Police are searching for two men after a medic was dragged to the ground and kicked in the head during a demonstration against Tommy Robinson's imprisonment.




Independent - Published





Tommy Robinson: Four arrested for assaulting police officer during London protests

Total of 24 people detained during demonstrations following EDL founder's return to prison




Independent - Published





Tommy Robinson: Tense standoff with police as supporters demand release of jailed activist

Officers separate activist's followers from counter-demonstrators in London's busy Oxford Circus




Independent - Published





Boris Johnson's social media chief called far-right Tommy Robinson associate a 'hero'

No 10 digital adviser praised Anne Marie Waters in 2016 social media post




Independent - Published





Supporters of jailed UK far-right activist march on parliament

Dozens of angry supporters of British far-right activist Stephen Yaxley-Lennon scuffled with police and marched on parliament after he was jailed on Thursday for contempt of court.




Reuters - Published





British far-right activist jailed for contempt of court

British far-right activist Stephen Yaxley-Lennon was jailed on Thursday for committing contempt of court after he filmed defendants during a trial last year and posted the footage on social media.




Reuters - Published





Tommy Robinson supporters hurl missiles at police as violence flares after EDL founder jailed for contempt

Stephen Yaxley-Lennon lied to court and 'sought to portray himself as the victim', says judge




Independent - Published





Tommy Robinson jailed for contempt of court

Tommy Robinson has been sentenced to nine months in prison for committing contempt of court.




Independent - Published





Tommy Robinson case - live: EDL founder faces jail at sentencing for contempt of court

Live updates from Old Bailey hearing




Independent - Published




Tommy Robinson admits being jailed would be a 'win' for his cause as he appeals for donations

'My support will be stronger than ever ... either way I win,' activist said before sentencing




Independent - Published





Tommy Robinson 'encouraged vigilante action' with Facebook video outside court, judges say

Grooming gang member applied to overturn rape conviction because of Robinson's video, judgment reveals




Independent - Published





Tommy Robinson case: Judges to reveal exactly why EDL founder is guilty of contempt of court

EDL founder begged Donald Trump for asylum as he faces up to three years in prison




Independent - Published





Tommy Robinson begs Donald Trump to grant him political asylum in US

'I beg Donald Trump, I beg the American government, to look at my case,' says activist following contempt of court conviction




Independent - Published





Tommy Robinson case: Supporters hurl beer cans at journalists as tensions flare over judge's decision

Chants of 'shame on you' and 'scum' outside Old Bailey as news of contempt of court verdict reaches supporters




Independent - Published





UK far-right activist Tommy Robinson convicted in contempt-of-court case

Judges on Friday found British far-right activist Tommy Robinson to be in contempt of court after he filmed defendants during a trial last year and posted the footage on social media, breaching..




Reuters - Published





Tommy Robinson: How close EDL founder came to collapsing Huddersfield grooming gang trial

Exclusive: Five defence lawyers applied for jury to be dismissed over Robinson's Facebook live video




Independent - Published





Tommy Robinson faces up to two years in prison after judges rule him in contempt of court

Tommy Robinson faces up to two years in prison after being found in contempt of court for livestreaming outside a grooming trial.




Independent - Published





Tommy Robinson bus given parking ticket outside court

Supporters boo as double-decker bus screening pro-Robinson films is slapped with fine




Independent - Published





Tommy Robinson case - live updates: EDL founder to hear verdict in contempt of court hearing that could see him jailed

Two judges are expected to make their decision on Friday afternoon




Independent - Published




Tommy Robinson urged his followers to harass grooming trial defendants during 'reckless' live video, court hears

EDL founder broke reporting restrictions designed to ensure fair trial, it is claimed




Independent - Published