People's Vote
UK campaign group calling for a further public vote on Brexit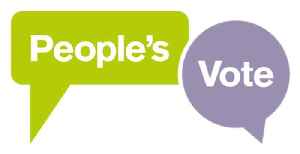 People's Vote is a United Kingdom campaign group calling for a public vote on the final Brexit deal between the United Kingdom and the European Union. The group was launched in April 2018 at an event at which four Members of Parliament spoke, along with the actor Patrick Stewart and other public figures.


Brexit: Second referendum campaigners to target 100 seats at next election in bid for Commons majority
People's Vote campaign to mobilise activists and funds to help oust Tory Brexiteers and support pro-Final Say MPs
Independent - Published
Brexit latest: Emily Thornberry breaks from Labour policy to say party should campaign for Remain in any new vote
Speaking at People's Vote rally in Boris Johnson's constituency, the shadow foreign secretary denounces the probable new PM as 'dangerous and lazy'
Independent - Published
Brexit march: UK-wide push for Final Say to culminate in major London rally two weeks before exit deadline
12 October 'march of our lives' will be climax of The Independent and People's Vote campaign for a fresh referendum, with rallies across Britain this summer
Independent - Published
Labour expels Blair top ex-aide Campbell
Tony Blair's former spin doctor and People's Vote campaigner was kicked out after voting Lib Dem.
BBC News - Published
Search this site and the web:
You Might Like