Downing Street
Street in London, England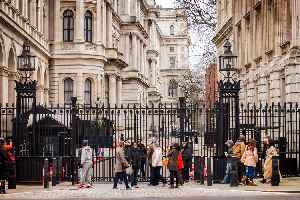 Downing Street is a street in central London that houses the official residences and offices of the Prime Minister of the United Kingdom and the Chancellor of the Exchequer. Situated off Whitehall, a few minutes' walk from the Houses of Parliament, Downing Street was built in the 1680s by Sir George Downing.


Key information from September 3 coronavirus briefing

The Government's chief medical and scientific advisers have held a coronavirusbriefing at Downing Street to explain how the virus is spreading in the UK andwhat could happen as winter approaches...
Credit: PA - Press Association STUDIO Duration: 03:07
Published
Vallance and Whitty arrive ahead of Downing Street briefing

The government's Chief Scientific Advisor Sir Patrick Vallance and Chief Medical Officer (CMO) for England Professor Chris Whitty have arrived at 10 Downing Street ahead of their televised briefing...
Credit: ODN Duration: 01:14
Published
Ministers arrive for cabinet ahead of Brexit talks

Ministers have arrived to Downing Street to attend the weekly cabinet meeting as the latest round of Brexit negotiations get underway and the government prepare a new bill which could see amendments..
Credit: ODN Duration: 01:48
Published
Julian Assange petition taken to Downing Street

Stella Moris has arrived at Downing Street to deliver a petition against the extradition of her fiancé Julian Assange. Ms Moris was accompanied by Rebecca Vincent from Reporters Without Borders. Both..
Credit: ODN Duration: 01:06
Published
UK will get first access to Oxford vaccine, No 10 says

The UK would be first in line for a coronavirus vaccine developed by OxfordUniversity if it was proven to be effective, Downing Street has said. It comesafter reports Donald Trump is considering..
Credit: PA - Press Association STUDIO Duration: 02:20
Published
Students protest outside the Department for Education

*Pressure is mounting on the Government over its handling of the exams system after thousands of pupils in England had their results downgraded. It comes as protesters gathered outside Downing Street..
Credit: PA - Press Association STUDIO Duration: 01:01
Published
International Cat Day: Larry poses for photo shoot in Downing Street

A photographer has been snapping one of London's most famous felines ahead of International Cat Day on Saturday (August 8).View on euronews
Credit: euronews (in English) Duration: 00:50
Published
Boris Johnson on Covid lockdown measures in northern England

The Prime Minister Boris Johnson has set out the reasons behind the latest lockdown restrictions to be introduced across large parts of northern England – during a press conference in Downing Street..
Credit: ODN Duration: 00:47
Published
NHS workers march on Downing Street to demand pay rise

NHS staff made their way to Whitehall on Wednesday evening, carrying bannersthat said "Clapping won't pay my bills" and "We helped you survive, now helpus survive", as they demanded a pay..
Credit: PA - Press Association STUDIO Duration: 01:14
Published
You Might Like



Downing Street denies claims Boris Johnson could quit as prime minister due to ongoing health problems from coronavirus

Father-in-law of top aide Dominic Cummings told visitor PM was struggling and could be gone in six months




Independent - Published





Boris Johnson 'sorry for any distress' caused by exam results confusion, Downing Street says

Prime minister initially insisted that A-level outcomes produced by algorithm were 'robust'




Independent - Published





'No plans' for random drug tests of cabinet ministers, Downing Street says

Tory candidate for London mayor Shaun Bailey wants the capital's big companies to undertake tests on workers




Independent - Published





'Too little too late': Protesters to call for Gavin Williamson to resign, as tens of thousands await BTec results

Demonstrators will meet outside Downing Street on Friday




Independent - Published





A-level results: Students protest outside Downing Street as they call for Gavin Williamson to resign

More demonstrations planned over next few days




Independent - Published





Coronavirus: Pubs could have to close to keep schools open in local lockdowns, No 10 says

Pubs will have to close to keep schools open if there is a local outbreak of Covid-19 next month, No 10 has confirmed. Schools will be the "absolute last" group to close in a local lockdown, Downing..




Independent - Published





Coronavirus: Johnson calls school closures 'morally indefensible' despite union safety concerns

Push for return comes as Downing Street says PM would sooner close pubs than schools in second lockdown




Independent - Published





Dominic Cummings lockdown trip 'witnesses' complain to police watchdog about investigation

Downing Street urged to prove evidence of Johnson adviser's whereabouts after new Durham sightings reported




Independent - Published





'We're angry': Hundreds of NHS staff march on Downing Street to demand pay rise

'We've been let down by our government... It feels like a kick in the teeth,' say nurses at protest




Independent - Published





Parents to create wind-farm outside Downing Street to urge coronavirus recovery tackles climate change

Julie Walters and Lily Cole sign open letter urging green policies in response to pandemic




Independent - Published





Prescriptions for cycling rolled out as government tells public to lose weight ahead of potential second wave

Downing Street aims to target 35 million as part of Boris Johnson's obesity strategy




Independent - Published





Downing Street concedes that only 'outlines' of Brexit trade deal may be possible this year

Little progress has been made in talks with clock ticking down to no-deal




Independent - Published





Attorney general claims tweet supporting Dominic Cummings was 'not a legal view'

Suella Braverman appeared to back Downing Street statment claiming adviser had 'behaved reasonably and legally'




Independent - Published





Boris Johnson pictured with son Wilfred for the first time

Downing Street releases image of baby in arms of mother Carrie Symonds




Independent - Published





Julian Lewis loses Tory whip after beating Chris Grayling to intelligence committee chairmanship

Julian Lewis is reportedly to lose the Tory whip after winning the chairmanship of the intelligence committee, snatching it from the hands of Downing Street's preferred choice, Chris Grayling.




Independent - Published





Labour demands release of Priti Patel bullying report, amid claims of 'political interference'

Senior civil servant is refusing to exonerate the home secretary as Downing Street is demanding, it is alleged




Independent - Published





Long-delayed report into Russian influence on UK politics could soon be cleared for publication

Downing Street has approved list of nominees for membership of Westminster committee which scrutinises work of security and intelligence agencies




Independent - Published





Boris Johnson to 'introduce White House-style televised press briefings' in overhaul of No 10 communications

Downing Street is expected to recruit experienced broadcaster to front questions from press




Independent - Published





UK PM plans daily White House-style press briefings

The televised format is expected to be brought in by October, a Downing Street source says.




BBC News - Published





Coronavirus: Parents should 'control their teenagers' to prevent second wave, top medical adviser urges

Future pandemic spike cannot be ruled out, deputy chief medical officer warns at Downing Street briefing




Independent - Published





Coronavirus: Downing Street blames councils for failure to receive key outbreak information

Town hall bosses failing to return data privacy paperwork, says Boris Johnson's spokesman




Independent - Published





Boris Johnson to urge Britain's drinkers not to 'overdo it' when pubs reopen on 4 July

Prime minister returns to Downing Street lectern 10 days after daily press conferences were halted




Independent - Published





Coronavirus: Government can't say how many test results are coming back within 24 hours - one day before deadline

Downing Street cannot say how many coronavirus test results are coming back within 24 hours – one day before Boris Johnson's deadline for all to be returned that quickly.




Independent - Published





Mark Sedwill: Cabinet secretary and top civil servant to step down in September

The most senior civil servant in Boris Johnson's government, Sir Mark Sedwill, is to stand down as cabinet secretary and national security adviser in September, Downing Street has announced.




Independent - Published





Dominic Cummings: Private prosecution has 'reasonable prospect' of convicting PM's adviser of lockdown breaches, QC says

Law graduate crowdfunding case over Downing Street aide's trip to Durham




Independent - Published





Government not planning to close beaches to prevent crowds gathering, says Downing Street

It is local councils' job to control numbers, says Downing Street, after thousands crammed onto the sands to soak up the sun




Independent - Published





Boris Johnson has 'full confidence' in beleaguered Housing Secretary Robert Jenrick, Downing Street says

Affair calls PM's judgement into question, says Labour leader Starmer




Independent - Published





Coronavirus daily briefings to end after today, No 10 announces as lockdown eased

Daily televised Downing Street coronavirus briefings are to end after this evening, with prime minister Boris Johnson leading the last one alongside chief medical officer Chris Whitty and chief..




Independent - Published





Four French resistance fighters to receive honorary MBEs as Macron visits UK

Johnson and Macron to hold talks in Downing Street




Independent - Published





Government has 'no plans' to break manifesto pledge and scrap pension triple lock

Downing Street does not rule out suspending policy that guarantees annual state pension rise amid fears costs could spiral




Independent - Published





No 10 refuses to say whether Boris Johnson has had contact with Richard Desmond PM

A senior Downing Street source today refused three times to say whether Boris Johnson has had contact with property developer Richard Desmond while prime minister, amid continuing controversy over a..




Independent - Published





Black Lives Matter: Government's review into racial equality will also look at 'white working class boys', says No 10

Boris Johnson's promised review into racial inequalities will also consider wider disparities such as issues facing white working class boys, Downing Street has said.




Independent - Published





Coronavirus: Two-metre rule may not be reviewed in time for 4 July pubs reopening date, No 10 says

A review of the two-metre social distancing rule may not be completed in time for the 4 July date for the proposed reopening of pubs and restaurants, Downing Street has indicated.




Independent - Published





Chief nurse dropped from Downing Street coronavirus briefing 'after refusing to back Dominic Cummings'

Exclusive: Ruth May stopped from appearing shortly before press conference was due to take place




Independent - Published





Coronavirus: Government too slow to expand testing, Whitty says as Boris Johnson dodges question over regrets

Chief medical officer Chris Whitty has told the daily Downing Street briefing that he wishes the UK had expanded coronavirus testing more quickly at the start of the outbreak, but Boris Johnson refused..




Independent - Published





George Floyd: London anti-racism protests leave 27 officers hurt

Protests in London have been largely peaceful but were marred by scuffles outside Downing Street.




BBC News - Published





Coronavirus: More than third of Wednesday's tests were postal kits, No 10 admits

More than a third of the 170,000 coronavirus tests claimed by the government on Wednesday were in fact kits sent out in the post, Downing Street has revealed.




Independent - Published





Coronavirus: Alok Sharma held 'socially distanced' meeting with Boris Johnson and Rishi Sunak before falling ill to suspected Covid-19

Business secretary Alok Sharma had a meeting with Boris Johnson and chancellor Rishi Sunak shortly before falling ill with suspected coronavirus on Wednesday, but the talks in No 10's cabinet room were..




Independent - Published





Scuffles break out during anti-racism protest in London

Brief scuffles broke out between police and protesters close to British Prime Minister Boris Johnson's Downing Street office on Wednesday during a march against racism prompted by the death of George..




Reuters - Published





Coronavirus: Boris Johnson under fire over reports that he is 'taking control' of Downing Street's response to pandemic

Labour MP asks: 'So he hasn't been in control up to now? Who has?'




Independent - Published





Two centrally run committees to shape UK's COVID-19 approach in shake-up: Telegraph

British Prime Minister Boris Johnson is aiming to take "direct control" of the government's handling of the coronavirus outbreak in a Downing Street shake-up, The Telegraph newspaper reported late on..




Reuters - Published





Coronavirus: Government scraps weekend briefings over 'low ratings'

Downing Street is to scrap ministerial coronavirus briefings at the weekend, blaming poor TV viewing figures.




Independent - Published





UK ready to use veto to block Russia's readmission to G7 after Trump said he wanted to invite Putin

The UK will oppose any proposal to readmit Russia to the G7, Downing Street has said, after US President Donald Trump floated an expansion of the group of major international powers.




Independent - Published





No 10 urges public to follow two-metre social distancing rules as crowds flock to beaches and parks

Restrictions could be reimposed at local level if new cases emerge, warns Downing Street




Independent - Published





Teachers can stay away when schools reopen if they have safety fears, Downing Street indicates

They are not 'obliged' to go back on Monday and will not be 'in breach' of their contracts, Boris Johnson's spokesman suggests




Independent - Published





Boris Johnson accused of launching broken test-and-trace system before it was ready to distract from Dominic Cummings scandal

Durham Police contradicted Downing Street's claim Mr Cummings had not broken lockdown rules




Independent - Published





Teacher who saw Cummings in woods 'feels vindicated'

A former teacher who spotted Cummings in County Durham says Downing Street initially rejected his account.




BBC News - Published





Downing Street refuses to answer further questions on Dominic Cummings and says adviser has given 'full and detailed account'

Downing Street has blocked further questions about Dominic Cummings apparent breaches of lockdown rules, insisting he has given a "full and detailed account".




Independent - Published





Dominic Cummings says he does not regret breaking lockdown by travelling to Durham

Dominic Cummings has said he has no regrets about breaking the lockdown and driving to Durham after his wife had fallen ill with coronavirus, in a briefing at Downing Street.




Independent - Published





Dominic Cummings says he left Durham self-isolation to drive to Barnard Castle to 'test his eyesight'

Visit to popular Teesdale beauty spot is one of the most controversial elements of the Downing Street aide's story




Independent - Published