Cat
Domesticated feline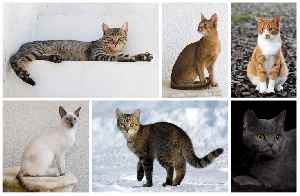 The cat is a small carnivorous mammal. It is the only domesticated species in the family Felidae and often referred to as the domestic cat to distinguish it from wild members of the family. The cat is either a house cat, kept as a pet, or a feral cat, freely ranging and avoiding human contact. A house cat is valued by humans for companionship and for its ability to hunt rodents. About 60 cat breeds are recognized by various cat registries.


St. Pancras piano man's video with Cats star vocal goes viral
Ceili O'Connor - from West End musical Cats - joined Denis Robinson, 91, as he played at St Pancras.
BBC News - Published
Search this site and the web:
You Might Like