Abuja
Capital of Nigeria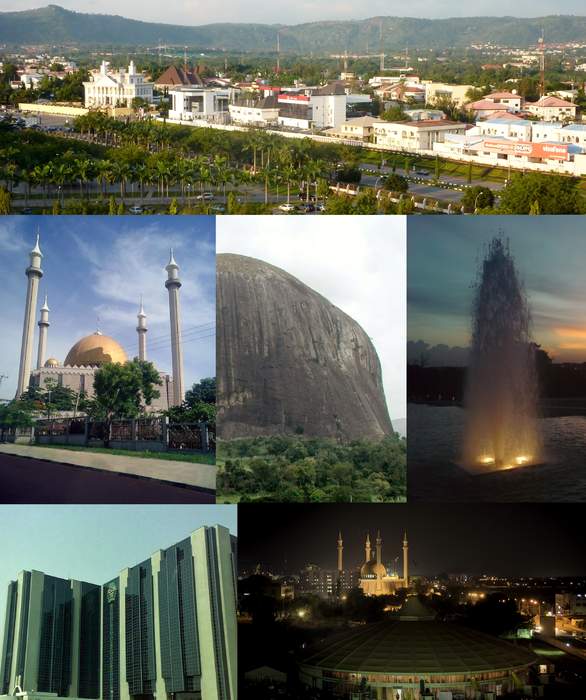 Abuja is the capital city of Nigeria located in the centre of the country within the Federal Capital Territory (FCT). It is a planned city and was built mainly in the 1980s, replacing the country's most populous city of Lagos as the capital on 12 December 1991. Abuja's geography is defined by Aso Rock, a 400-metre (1,300 ft) monolith left by water erosion. The Presidential Complex, National Assembly, Supreme Court and much of the city extend to the south of the rock. Zuma Rock, a 792-metre (2,598 ft) monolith, lies just north of the city on the expressway to Kaduna.


Hundreds loot warehouse as Nigeria protests continue

Hundreds of people carried sacks from a warehouse in Bukuru, near Abuja in Nigeria on Saturday, despite the president's call for calm in the country after unrest sparked by police brutality in the..
Credit: Reuters Studio Duration: 00:51
Published
You Might Like



Mpape Crushed Rock: Nigerians flock to new beauty spot

Nigeria's Mpape Crushed Rock is an unlikely tourist sensation for fun-seekers near the capital, Abuja.




BBC News - Published





Nigerian campaigners stage protest over sexual violence

Nigerian rights campaigners took to the streets of the capital Abuja on Friday to raise awareness about sexual violence in the West African country after a series of high-profile rape cases.




Reuters - Published





Nigeria reopens main cities Lagos and Abuja as lockdowns phased out

Nigeria began easing restrictions on Monday in its capital Abuja and in largest city Lagos, heralding the reopening of Africa's biggest economy after more than four weeks of lockdowns imposed to..




Reuters - Published





Coronavirus: Nigeria to ease Abuja and Lagos lockdowns on 4 May

There will be new nationwide measures, including a night-time curfew and mandatory face masks.




BBC News - Published





Nigeria to begin 'phased and gradual' easing of lockdowns in Lagos, Abuja

Nigeria will begin a "phased and gradual" easing of more than four weeks of lockdowns on May 4, President Muhammadu Buhari said in an address on Monday.




Reuters - Published





Nigeria to extend coronavirus lockdowns for 14 more days: President Buhari

Nigeria will extend lockdowns in Lagos, Abuja and Ogun states for an additional 14 days to combat the new coronavirus, President Muhammadu Buhari said in an address to the nation on Monday.




Reuters - Published





Africa's biggest city Lagos locks down to defend against coronavirus

Lagos, Africa's largest city of at least 20 million people, ground to a halt on Tuesday as it and the Nigerian capital Abuja entered a two-week lockdown to stop the spread of the coronavirus.




Reuters - Published





The story of the aeroplane house in Nigeria's capital Abuja

Said Jammal has spent 20 years building the family's unusual home in the Nigerian capital Abuja.




BBC News - Published





Nigerian anti-graft office charges two Britons in connection with failed gas deal

Nigeria's anti-fraud office on Monday charged two Britons in the capital, Abuja, for alleged money laundering in connection with an ill-fated gas deal that has left the government facing a disputed..




Reuters - Published





Nigerian activist Sowore pleads not guilty to treason charges

Nigerian activist and former presidential candidate Omoyele Sowore pleaded not guilty at a court in Abuja on Monday to charges of treason, money laundering and harassing the president.




Reuters - Published





Abuja crime: Is Nigeria's capital city 'one of the safest in the world'?

Is the country's police chief right about the low level of crime in Abuja?




BBC News - Published





West African slavery lives on, 400 years after transatlantic trade began

Blessing was only six years old when her mother arranged for her to become an unpaid housemaid for a family in the Nigerian city of Abuja, on the promise they would put her through school.




Reuters - Published





At least 20 members of Nigerian Shi'ite group dead after protests: spokesmen

At least 20 members of a Nigerian Shi'ite organization have died after protests in the capital Abuja this week led to clashes with police, spokesmen for the group said on Friday.




Reuters - Published





Shi'ite protesters clash with Nigeria military, police in Abuja

Nigerian troops and police clashed on Tuesday with Shi'ite Muslim marchers in the capital Abuja and gunfire could be heard, according to a Reuters witness.




Reuters - Published





Nigerian military, police clash with Shi'ite protesters in Abuja: witnesses

Nigerian troops and police clashed on Tuesday with Shi'ite Muslim marchers in the capital Abuja and gunfire could be heard, two witnesses told Reuters.




Reuters - Published





Nigerian police, Shi'ite group clash in capital, at least three dead

Nigerian police and Shi'ite Muslim protesters clashed in the capital Abuja on Monday, with at least one demonstrator, one journalist and a senior policeman killed, highlighting one of the security..




Reuters - Published




Nigeria police say senior officer killed as Shi'ite protest turns violent

Nigerian police said a senior officer was killed and three other policemen were injured on Monday as a Shi'ite Muslim protest in the capital city of Abuja turned violent.




Reuters - Published





Police fire guns during Shi'ite protest in Nigeria capital: witness

Police fired guns and teargas in a clash with a protesting Shi'ite Muslim group in Nigeria's capital city Abuja, Reuters witnesses saw on Thursday.




Reuters - Published




Nigerian Shi'ite group says police shot at them outside parliament

Nigerian police shot at Shi'ite protesters outside the National Assembly in Abuja on Tuesday but the protesters did not shoot back, a spokesman for the Shi'ite group, the Islamic Movement of Nigeria..




Reuters - Published