Kent
County of England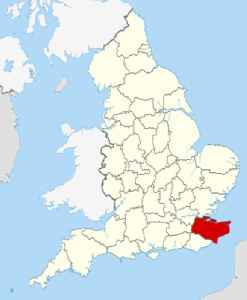 Kent is a county in South East England and one of the home counties. It borders Greater London to the north-west, Surrey to the west and East Sussex to the south-west. The county also shares borders with Essex along the estuary of the River Thames, and with the French department of Pas-de-Calais through the Channel Tunnel. The county town is Maidstone.


Pub manages to open despite car crashing into front

A pub has managed to open despite a car crashing into its front in the early hours, the landlord said. The Swan Inn at Little Chart, near Ashford in Kent, will still be able to serve pints to customers..
Credit: PA - Press Association STUDIO Duration: 00:28
Published
Miracle baby who weighed just 1lb at birth now embracing life

A baby who was so tiny when she was born three months early that she was dwarfed by her father's hand is now thriving - two years after leaving hospital on her mother's birthday. Struck down by..
Credit: PA - Press Association STUDIO Duration: 00:55
Published
VE Day: Veteran recalls moment peace was declared in Europe 75 years ago

A Second World War veteran has spoken about the moment he learned of the Allies' victory in Europe 75 years ago. Charles Boyer, 94, lied about his age to join the Army in 1942, and served in the Royal..
Credit: PA - Press Association STUDIO Duration: 02:00
Published
You Might Like



Ex-councillor who sprayed 'Dickens racist' on museum celebrating author says he will not apologise

Ian Driver says he is campaigning against institutional racism in Thanet, Kent




Independent - Published





Six migrant boats intercepted off Kent coast

Seventy-nine men and three women are found on boats travelling from France to the UK.




BBC News - Published





Sick puppies sold at Maidstone Services on M20

Authorities are investigating after a £2,150 dog dies just days after being sold in Kent.




BBC News - Published





Woman's body found on M20 motorway

The woman, in her 20s, was found lying on the M20 near Willesborough, Kent, in the early hours.




BBC News - Published





Grosser Kurfürst: 19th Century warship wreck off Kent protected

The SMS Grosser Kurfürst sank off the Kent coast when it was rammed by a fellow German ship.




BBC News - Published





Eastchurch cliff fall: House hanging over edge after second collapse

A car and garage slide down a cliff face in Kent as a further landfall leaves homes at risk.




BBC News - Published





Kent cliff collapse forces families from homes in Eastchurch

People were moved from around 20 properties, fire service says




Independent - Published





Lullingstone Castle: Man died 'confronting poachers'

A who died in the grounds of a medieval estate in Kent is named locally as Charles Hilder.




BBC News - Published





More migrants intercepted at Dover amid lockdown spike

Border Force officials are dealing "with a number of small boat incidents" off Kent, officials say.




BBC News - Published





Border Force intercepts 49 migrants off Kent coast

The nationalities and medical conditions of the 43 male and six female passengers are not yet known.




BBC News - Published





Coronavirus: Kent couple fined for Falmouth lockdown 'mini-break'

The Kent couple also had their car seized after they were found asleep in the vehicle in Cornwall.




BBC News - Published





Police arrest suspected armed man following incident in English town

British police said they had arrested a man after armed officers responded to reports that of a suspect brandishing weapons on the balcony of a block of apartments in Chatham, Kent, southeast England.




Reuters - Published





Man 'seen with weapons' on Chatham balcony

Armed officers have swooped in on an area of Chatham in Kent and urged the public to stay away.




BBC News - Published





Police in English town warn public about man with weapon: BBC

The police in Kent, southeast England, have warned the public to stay away from an area in the town of Chatham where a man with weapons has been seen on a balcony, the BBC reported on Wednesday.




Reuters - Published





Chatham: Armed police at Kent shopping outlet after witnesses report 'man firing gun from balcony'

Armed police have been called to a shopping centre in Kent after witnesses reported an armed man on a balcony.




Independent - Published





Coronavirus: 150 people break lockdown advice to attend a funeral in Kent

Two men arrested as large number of motorcyclists gather for ceremony in Sittingbourne




Independent - Published





Woman guilty of Miss England finalist glass attack

China Gold is found guilty of causing "horrific" injuries to Olivia Cooke at a pub in Kent.




BBC News - Published





Richborough Roman amphitheatre dig: 'Once in lifetime' opportunity

The Roman arena in Kent once held wild animal hunts, executions and gladiatorial combat.




BBC News - Published




Curling: 'It's not just chucking stones down the ice'

Felix Price, who plays for England's junior team, earns a living as a coach at an ice rink in Kent.




BBC News - Published





M20: Operation Brock replaced by quicker barrier scheme

A moveable concrete barrier will be instead deployed in the event of congestion on the M20 in Kent.




BBC News - Published





Body found in search for man who fell from ship off Kent coast

A body has been found following reports that a man had fallen off a boat around the Kent coast, according to HM Coastguard.




Independent - Published





Storm Dennis: Royal Navy ship searching for man in sea off Kent coast as rough weather moves in

Helicopter and police boat has also been dispatched, authorities say




Independent - Published





Twins found dead in suspected double suicide appeared in My Big Fat Gypsy Wedding

Police called after Billy and Joe Smith, 32, discovered in woodland in Sevenoaks, Kent




Independent - Published





Britain rescues at least 15 suspected migrants off Kent - TV

British border and coastguards rescued at least 15 suspected migrants on Thursday off the Kent coast in southeastern England, Sky News reported.




Reuters - Published





Roads and trains in Kent, Surrey and Sussex are closed by rain

The M23 was closed both ways near Gatwick, with landslips shutting train lines.




BBC News - Published





Littlebrook Power Station: Towering chimney demolished

The landmark in Dartford, Kent, collapsed after a "powerful boom" from a controlled explosion.




BBC News - Published





Channel migrants: 'Multiple' boats spotted off the Kent coast

Border Force is dealing with a "number of incidents" as a dinghy is found on the beach at Kingsdown.




BBC News - Published





Black henna: Kent children 'blistered and scarred' after Egypt trip

Twins from Margate could be left permanently scarred after getting black henna tattoos in Egypt.




BBC News - Published





Police find nine people alive in back of truck in Kent, England: Sky News

Police in Kent, southeast England, found nine people alive in the back of a truck on the M20 motorway on Wednesday, Sky News reported.




Reuters - Published




Nine people found in back of lorry on M20 in Kent

They are being checked over by paramedics before being passed to immigration officers, police say




Independent - Published





Channel migrants: Boat containing 13 people intercepted

Thirteen migrants, including children, were transferred to a Border Force vessel off the Kent coast.




BBC News - Published





Another whale dies in the Kent stretch of the River Thames

The body of the mammal, thought to be a fin whale, was spotted in the water near Gravesend.




BBC News - Published





Channel migrants: Border Force intercepts boats

Boats carrying suspected migrants are being dealt with off the Kent coast.




BBC News - Published




Council chief demands police from across Britain are sent to Kent to control traffic tailbacks in no-deal Brexit

'Boots on the ground' vital to help with traffic chaos if Britain leaves EU with no deal says Kent council boss




Independent - Published





Channel migrants: Sixty six people found in small boats

A number of small boats carrying migrants towards the Kent coast were intercepted after searches.




BBC News - Published





Channel migrants: Searches on Kent coast as eight held

The coastguard is looking for a "number" of boats off the coast of Kent.




BBC News - Published





The trailer came loose on the M25 at the Kent-Surrey border

Highways England is warning drivers to make sure trailers are secure before setting off.




BBC News - Published





Lucas Dobson: River Stour search for missing boy enters fourth day

Lucas Dobson, six, fell into the River Stour in Kent while fishing on Saturday and has not been seen since.




BBC News - Published




Sandwich River Stour search resumes for boy aged 6

The child fell into the River Stour in Sandwich, Kent, on Saturday lunchtime.




BBC News - Published





T20 Blast: Tom Banton leads Somerset to win over Kent

Tom Banton hits a century as Somerset beat Kent to boost their hopes of reaching the T20 Blast quarter-finals.




BBC News - Published





Border Force and coastguard conduct search and rescue mission off Kent coast

Border Force patrol boats are responding to a number of small boat "incidents" off the Kent coast.




Independent - Published





Almost 40 migrants intercepted around Kent and Sussex

Iraqi and Iranian nationals were intercepted around Kent and Sussex coast.




BBC News - Published





T20 Blast: Kent's five-game winning run ends at Sussex and Somerset stun Surrey

Sussex end Kent's unbeaten start and Somerset's batsmen stun Surrey - what happened in Friday's T20 Blast?




BBC News - Published





Benny the beluga whale 'left Thames in January'

The beluga whale was regularly spotted along the Kent stretch of the River Thames.




BBC News - Published





Lightning strikes over Kent and Sussex caught on camera

People in Kent and Sussex captured footage of lightning in the skies in the wake of torrential rain.




BBC News - Published





Somerset hammer Kent by 10 wickets to extend Championship lead

Lewis Gregory takes 11-53 in the match as County Championship leaders Somerset bowl out Kent for 59 to win at Canterbury.




BBC News - Published





UK weather: Sinkholes close M25 in Kent amid heavy downpours

Thirty-one flood alerts are in place across England, with some areas set to see up to 60mm of rain.




BBC News - Published





M25 killer Kenneth Noye released from prison

Kenneth Noye was jailed for life for the murder of Stephen Cameron on a slip road of the M25 in Kent.




BBC News - Published





'Record number' of migrant boats spotted off Kent coast, say reports

A number of small migrant boats have reportedly been spotted off the Kent coast this morning.




Independent - Published