World War II
1939–1945 global war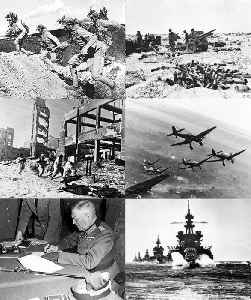 World War II, also known as the Second World War, was a global war that lasted from 1939 to 1945. The vast majority of the world's countries—including all the great powers—eventually formed two opposing military alliances: the Allies and the Axis. A state of total war emerged, directly involving more than 100 million people from over 30 countries. The major participants threw their entire economic, industrial, and scientific capabilities behind the war effort, blurring the distinction between civilian and military resources. World War II was the deadliest conflict in human history, marked by 50 to 85 million fatalities, most of whom were civilians in the Soviet Union and China. It included massacres, the genocide of the Holocaust, strategic bombing, premeditated death from starvation and disease, and the only use of nuclear weapons in war.


Bangka Island: The WW2 massacre and a 'truth too awful to speak'
Twenty-one Australian nurses died at Bangka Island, but a historian says there's more to the story.
BBC News - Published
Polish MP calls for new push for WW2 reparations from Germany
Poland should follow Greece in stepping up pressure on Germany to pay billions of euros in damages for Nazi occupation during World War Two, a lawmaker in charge of Warsaw's reparations campaign said..
Reuters - Published
Greece parliament demand Germany pay WWII reparations
Prime Minister Alexis Tsipras said demanding reparations is "a historic and moral duty and a duty in memory of the heroes of the past."
Credit: euronews (in English) Duration: 04:58Published
Beto O'Rourke: Green New Deal Will Spur As Much 'Sacrifice' As World War Two
Beto O'Rourke suggested the Green New Deal spurs the same 'sacrifice' as World War Two when it refers to the 'challenges' that the world faces today.
Credit: Newsweek Duration: 00:51Published
Swiss Government Announces Coffee Stockpiling To Come To An End
According to a report by Reuters, on Wednesday, Switzerland announced plans to abolish the nation's emergency stockpile of coffee after declaring that the beans are not vital for human survival...
Credit: Wochit News Duration: 00:37Published
Here's How Much Movie Dates Cost since WWII
A movie for two these days can cost more than dinner for two. Here's how much it's cost over 50 years.
Credit: Wochit News Duration: 00:44Published
People race in 'patriotic run' in honor of Soviet soldiers
Competitors race through obstacles resembling a war zone to win a ride atop an armored vehicle speeding through a World War II theme park in Belarus.
Credit: Reuters Studio Duration: 00:38Published
NATO chief set to address Congress amid tensions
U.S. President Donald Trump said on Tuesday his pressure on NATO nations to pay more for their defense is leading to tens of billions of dollars more in contributions, but the allies may need to boost..
Credit: Reuters Studio Duration: 02:09Published
NASA Releases Images Of A Giant Meteor Explosion Over Earth
NASA has released images of a huge meteor that exploded over Earth last year with more than 10 times the energy of the atomic bomb dropped on Hiroshima during World War II. The "fireball," NASA's..
Credit: Wochit News Duration: 00:53Published
UK at risk of being forced to take part in European parliamentary elections - Barclay
Brexit Secretary Steve Barclay urged politicians to get behind Prime Minister Theresa May, saying her twice-rejected deal is the best option for the country. Rough cut (no reporter narration)
Credit: Reuters Studio Duration: 01:02Published
Vatican to Open Archives on WWII-Era Pope Pius XII
The secret archives will be open to researchers beginning in March 2020.
Credit: Newsy Studio Duration: 01:03Published
Pope to open secret WW2 archive for Jewish groups
Some Jewish groups have long alleged that the Vatican turned a blind eye to the Holocaust. Now Pope Francis plans to open the secret archives of his predecessor Pius XII, stating, "the Church is not..
Credit: Reuters Studio Duration: 01:19Published
Mass World War Two graves found at Belarus building site
Building workers in Belarus have uncovered the remains of almost 800 bodies in a mass grave at a site of a former Jewish ghetto
Credit: euronews (in English) Duration: 01:28Published
Remains of hundreds of Jews unearthed in Nazi-era mass grave in Belarus
Soldiers in Belarus have unearthed the bones of hundreds of people shot during World War Two from a mass grave discovered at the site of a ghetto where Jews lived under the Nazis.
Credit: euronews (in English) Duration: 00:24Published
Macron: Anti-Semitism At Its Worst Since WWII
CNN reports French President Emmanuel Macron has announced a crackdown on the "scourge" of anti-Semitism, days after protesters held rallies against a rise in anti-Semitic incidents across the..
Credit: Wochit News Duration: 00:47Published
Greek parliament calls on Germany to pay WW2 reparations
The Greek parliament voted on Wednesday to launch a diplomatic campaign to press Germany to cough up billions of euros in damages for the Nazi occupation of the country in World War Two, an issue..
Reuters - Published
Greek parliament debates war reparations claim against Germany
The Greek parliament will vote Wednesday on whether Greece should pursue billions of euros in reparations from Germany for the Nazi occupation during World War Two, an issue Germany says was settled..
Reuters - Published
Norfolk man's seven-year garden Spitfire restoration nearly complete
The Second World War fighter replica will now go display at a local aviation museum.
BBC News - Published
Norfolk man restores Spitfire in front garden over seven years
Paul Linsell's World War Two replica, which he spent seven years restoring, is going on display at a museum.
BBC News - Published
Hungary Holocaust march honours Scottish missionary
Thousands of Hungarians attended the annual March of the Living in Budapest on Sunday to commemorate victims of the Holocaust, including Jane Haining, a Scottish missionary who refused to abandon her..
Reuters - Published
World War Two bomb detonated in Frankfurt's river
Some 600 people are evacuated from parts of the German city as experts explode a device underwater.
BBC News - Published
Brazil president raises eyebrows saying Holocaust can be forgiven
Brazilian President Jair Bolsonaro drew veiled rebukes from Israel on Saturday after saying the Nazi genocide of the Jews during World War Two could be forgiven.
Reuters - Published
You Might Like