Glasgow
City and council area in Scotland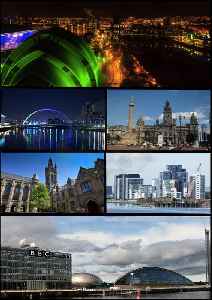 Glasgow is the most populous city in Scotland, and the third most populous city in the United Kingdom, as of the 2017 estimated city population of 621,020. Historically part of Lanarkshire, the city now forms the Glasgow City council area, one of the 32 council areas of Scotland; the local authority is Glasgow City Council. Glasgow is situated on the River Clyde in the country's West Central Lowlands. Inhabitants of the city are referred to as "Glaswegians" or "Weegies". It is the fourth most visited city in the UK. Glasgow is also known for the Glasgow patter, a distinct dialect of the Scots language that is noted for being difficult to understand by those from outside the city.


Seven-try Glasgow rout Ulster to reach Pro14 final
Glasgow Warriors are in irresistible form as they score seven tries to brush aside Ulster and book a place in next week's Pro14 final at Celtic Park.
BBC News - Published
Glasgow gang members jailed for total of 104 years after 'war zone' feud
'Sophisticated' murder plot involved tracker devices and encrypted mobile phones, judge says
Independent - Published
Brown: Finances of Farage and Brexit Party must be investigated
Gordon Brown has called for an investigation to be carried out into the finances of Nigel Farage and the Brexit Party. Mr Brown, speaking in Glasgow on Monday, said that democracy would continue to be..
Credit: PA - Press Association STUDIO Duration: 01:09Published
Uber And Lyft Strike Explained
On Wednesday Uber and Lyft drivers around the world are planning work stoppages and demonstrations to demand higher wages from the ride-hailing companies ahead of Uber's massive initial public..
Credit: Wochit News Duration: 00:47Published
Mourners gather in Glasgow for McNeill funeral
Kenny Dalglish was among the mourners gathering to pay their respects to former Celtic captain and manager Billy McNeill.
Credit: PA - Press Association STUDIO Duration: 01:05Published
Tyrannosaurus rex ready to meet visitors in Glasgow
A 39ft Tyrannosaurus rex is unveiled on the only UK stop of its European tour. Experts spent three days piecing together the 300 bones that make up the skeleton, which will be on display at Kelvin Hall..
Credit: PA - Press Association STUDIO Duration: 00:34Published
A380 superjumbo touches down in Glasgow
The world's largest commercial passenger aircraft touched down in Glasgow on Tuesday, marking the start of a regular scheduled service between the city and Dubai. Glasgow Airport has spent more than..
Credit: PA - Press Association STUDIO Duration: 00:51Published
British space industry taking off in Glasgow
High hopes - Glasgow proves a lucrative hub for the British private spaceflight industry. Katie Gregory reports.
Credit: Reuters Studio Duration: 02:11Published
Clutha inquiry hears of helicopter's final seconds before crash
An inquiry into the crash has begun in a temporary court at Hampden Park in Glasgow. The first witness of the case described the plane "spluttering" before crashing.
Credit: PA - Press Association STUDIO Duration: 00:58Published
Glasgow puts itself on the map in the space race
Scotland is famous for several things: the beautiful scenery, whisky and of course smoked salmon. But now they've got another industry to gloat about. Katie Gregory has been finding out what's fuelling..
Credit: Reuters Studio Duration: 02:14Published
Search this site and the web:
You Might Like