Ruth Davidson
British politician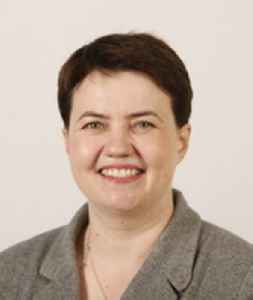 Ruth Elizabeth Davidson is a Scottish politician who served as Leader of the Scottish Conservative Party from 2011 to 2019, and has served as Member of the Scottish Parliament (MSP) for Edinburgh Central since 2016.


Scottish Tory leader turns back on Ruth Davidson pledge to fight no-deal Brexit
'Ruth has got very firm views. Everyone has views on Brexit'
Independent - Published
Boris Johnson's Tories face wipe-out in Scotland if general election is called, poll suggests
Ruth Davidson's former pollster warns party could be 'eliminated' north of the border, as voters turn against hardline Brexit stance
Independent - Published
Resigning Scottish Conservative leader calls for respect to heal Brexit UK
The unity of the United Kingdom depends on mutual respect that has been lacking in political debate over Brexit, resigning Scottish Conservative leader Ruth Davidson said on Thursday.
Reuters - Published
Scottish Conservative leader Davidson quits, citing Brexit and family
Ruth Davidson quit as leader of the Conservative Party in Scotland on Thursday, saying she could no longer juggle the demands of being a politician with family life and suggesting she would no longer..
Reuters - Published
Ruth Davidson resigns: Scottish Conservatives leader steps down day after Boris Johnson suspends parliament
Ruth Davidson has resigned as leader of the Scottish Conservatives in the aftermath of Boris Johnson's shock decision to suspend parliament.
Independent - Published
UK Conservatives' Scotland leader Davidson set to quit: media reports
Ruth Davidson, leader of the Conservative Party in Scotland, is set to quit due to political disagreements with Prime Minister Boris Johnson and the pressures of being a new mother, British media..
Reuters - Published
Ruth Davidson on verge of quitting as leader of Scottish Conservative Party
Scottish Tory leader has clashed with Boris Johnson over her refusal to support no-deal Brexit
Independent - Published
Boris Johnson booed and heckled on visit to Scotland
Scottish Tory leader Ruth Davidson made clear her opposition to a no-deal Brexit
Independent - Published
Scottish Tory leader Ruth Davidson goes to war with Boris Johnson: 'I won't support no-deal Brexit'
Warning follows Michael Gove's remarks that government is 'operating on assumption' of UK exiting EU without a deal
Independent - Published
Tory leadership race: Sajid Javid wins backing of Ruth Davidson as he pledges 'hundreds of millions' for Ireland to solve Brexit border problem
Home secretary 'embodies the Conservative values of aspiration, education, opportunity, hard work and just reward', says Scottish Conservative leader
Independent - Published
You Might Like