Dorset
County of England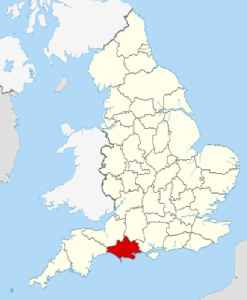 Dorset is a county in South West England on the English Channel coast. The ceremonial county comprises the unitary authority areas of Bournemouth, Christchurch and Poole and Dorset. Covering an area of 2,653 square kilometres (1,024 sq mi), Dorset borders Devon to the west, Somerset to the north-west, Wiltshire to the north-east, and Hampshire to the east. The county town is Dorchester which is in the south. After the reorganisation of local government in 1974, the county's border was extended eastward to incorporate the Hampshire towns of Bournemouth and Christchurch. Around half of the population lives in the South East Dorset conurbation, while the rest of the county is largely rural with a low population density.


Two sisters help to save lugger falcon

Two sisters from Dorset are helping to breed a threatened species of falcon which has seen its population decline by nearly 80% over the last 20 years. Six-year-old Elsie and her 10-year old sister..
Credit: ODN Duration: 01:25
Published
Crafty couple transform shack into hidden bar

A married couple have hand-built a secret speakeasy bar in their house –hidden behind a false wall – for just £500. When Suzi and Tom Strover firstmoved into their home in Southbourne, Dorset,..
Credit: PA - Press Association STUDIO Duration: 01:14
Published
You Might Like



Married police officer 'strangled lover after 10-year affair'

Timothy Brehmer is on trial accused of murdering Claire Parry at a pub car park in Dorset.




BBC News - Published





Swan shot with arrow in Poole released into wild

The bird was one of three that were shot in Poole Park in Dorset in recent weeks.




BBC News - Published





Coronavirus: Dorset festival artwork tribute to victims

In Memoriam has been created out of bed sheets and was installed on the beach at Sandbanks.




BBC News - Published





Swanage coast rescue: Fisherman pulled from water after boat sinks

A boat went to his aid after he made a mayday and let off flares off the Dorset coast, near Swanage.




BBC News - Published





Trevor Chadwick statue to show 'Purbeck Schindler's generous nature'

The Trevor Chadwick Memorial Trust is raising £80,000 for a statue to be placed in Swanage, Dorset.




BBC News - Published





Wareham Forest fire: Sand lizards released to combat falling numbers

The number of sand lizards in Dorset fell after hundreds were killed in the Wareham Forest fire.




BBC News - Published





Base jumper rescued from Dorset radio transmitter

One person is released and lowered from a pylon in Rampisham Down after getting stuck.




BBC News - Published





Paul Gascoigne 'heartbroken' over £140K jewellery theft

The theft happened at the former England footballer's home in Dorset.




BBC News - Published





Jurassic Coast cliff fall: Warnings after cliff collapse at Hive Beach

The cliff at Hive Beach is one of the Dorset coastline's best known landmarks.




BBC News - Published





Dashcam footage used to prosecute bad drivers in Dorset

Hundreds of motorists have submitted dashcam footage to police as part of Operation Snap.




BBC News - Published





Dorset homeless people face fines for sleeping in doorways

"Shopkeepers do not want people obstructing their doorways", a Tory councillor told a meeting.




BBC News - Published





Durdle Door beach rescue: Human chain 'saved man's life'

More than 20 people linked arms to help save a swimmer in difficulty in water off the Dorset coast.




BBC News - Published





Human chain formed to save swimmer threatened by strong winds on Dorset beach

Video shows joint effort to rescue someone in choppy water




Independent - Published





Guillemot chick on Dorset cliff ledge is snatched by gull

The struggling chick seems too scared to make the 50ft leap before it is grabbed by the gull.




BBC News - Published





Dolphins play with lifeboat crew during jet ski rescue in Dorset

Animals leapt out of sea in front rescue team




Independent - Published





Playful dolphins delight lifeboat crew

The small pod of dolphins surprise a lifeboat crew on an emergency call off the Dorset coast.




BBC News - Published





Famous seal hitches rides with paddleborders off Dorset coast

Animal still trusts humans despite being targeted by stone-throwers




Independent - Published





British beaches lined with rubbish, faeces, vomit and urine after thousands gather during weekend heatwave

Sites in Kent, Sussex, Dorset and Cornwall left filthy after daytrippers go home




Independent - Published





Dorset beach-goers urged to 'head home' amid hot weather

Some Dorset car parks were full by mid-morning, with four "hot spots" showing on a new mobile app.




BBC News - Published





Man and woman found dead inside car at Dorset park

A man and a woman have been found dead inside a car at a park in Dorset, according to police.




Independent - Published





Dorset writer trying to raise awareness of rural racism

Louisa Adjoa Parker hopes to raise awareness about the racism people can face in rural areas.




BBC News - Published





Visitors to Dorset beaches must act 'responsibly'

Dorset Police says it expects a surge in visitors to the county this weekend as lockdown eases.




BBC News - Published





Seahorses' return threatened by Dorset visitor influx

The Seahorse Trust says the creatures thrived during lockdown but are now under threat again.




BBC News - Published





Poole Park: Woman in 'desperate plea' over encampment mess

Up to 40 caravans and other vehicles left Dorset's Poole Park on Sunday after five days.




BBC News - Published





Coronavirus: Thousands flock to Dorset coast in heatwave

Tens of thousands of people flock to the Dorset coast as temperatures soar, sparking warnings.




BBC News - Published





Girl Guide's diary describes visiting Hitler in 1936

The book was found in Dorset and describes a visit to Bavaria and Austria in 1936.




BBC News - Published




Durdle Door: Body found in search for missing swimmer

Police say relatives of a man in his 20s reported missing off Dorset on Sunday have been informed.




BBC News - Published




Beach marshalls to stop repeat of Dorset coastal influx

Tens of thousands of people have flocked to the Dorset coast since lockdown restrictions were eased.




BBC News - Published





Coronavirus: Volunteers to help with Bournemouth beach patrols

Tens of thousands of people have flocked to the Dorset coast since lockdown restrictions were eased.




BBC News - Published





Coronavirus: Seahorses return to Dorset coast amid lockdown

The Seahorse Trust said the increase off the Dorset coast is due to less people, boats and anchors.




BBC News - Published





Durdle Door: Coastguard warns over tombstoning after three hurt jumping 70ft

The casualties had jumped into the sea from the Durdle Door arch in Lulworth Cove, Dorset.




BBC News - Published





Tombstoning warning as three hurt jumping from sea arch

The casualties had jumped into the sea from the Durdle Door arch in Lulworth Cove, Dorset.




BBC News - Published





Wareham fire crews 'stretched' at site of forest fire

About 550 acres (220 hectares) have now been damaged at Wareham Forest, in Dorset.




BBC News - Published





Dorset's young musicians form virtual orchestra

More than 30 young musicians across Dorset record their version of What A Wonderful World.




BBC News - Published





Wareham Forest wildfire: Cyclists and walkers warned again to stay away

Flames began ripping through Wareham Forest in Dorset on Monday, where 11 disposable BBQs were found.




BBC News - Published





Wareham Forest blaze 'started by disposable barbecue or camp-fire'

The fire which damaged much of Wareham Forest in Dorset is still burning after three days.




BBC News - Published





Kindertransport: Swanage statue for 'Purbeck Schindler' Trevor Chadwick

The Trevor Chadwick Memorial Trust is raising £80,000 for a statue to be placed in Swanage, Dorset.




BBC News - Published





Coronavirus: Long queues as recycling centres reopen

Long queues of cars build up outside household recycling centres in Dorset and Hampshire.




BBC News - Published





Day trip trio from Slough spark Dorset coast cliff rescue

Lifeboats, a helicopter, ambulance and police are involved as three people get cut off by the tide.




BBC News - Published





Coronavirus: Fishing 'struggling to survive' lockdown

Dorset fishermen say the coronavirus restrictions have led to plummeting prices.




BBC News - Published





Pine marten footage is thought to be first Dorset sighting

A video of a rare pine marten in Sandbanks is thought to be the first time the mammal has been seen in Dorset.




BBC News - Published





Coronavirus: Boy 'climbs Everest' for Dartmoor Zoo

Josh White, from Dorset, is climbing his stairs 3,400 times and has raised £13,000 so far.




BBC News - Published





Coronavirus: Dorset celebrant hosts handfastings online

A celebrant is hosting a virtual commitment ceremony for couples on their wedding days.




BBC News - Published





Coronavirus: GP who led village surgery for 30 years dies

Dr Craig Wakeham, 59, had been fighting the disease for "many days" in hospital in Dorset.




BBC News - Published





Coronavirus: Red Arrows fans stage DIY airshow

The Bridge family in Dorset put on its own show in tribute to its favourite aerobatic display team.




BBC News - Published





Dorset's winning £41m Euromillions ticket claimed

The ticket was bought somewhere in Dorset and was from the draw on 3 December.




BBC News - Published





Dorset caravan park owner jailed for shooting otter

Stuart Jones was reported by holidaymakers who witnessed the point-blank range execution.




BBC News - Published





Overhanging Jurassic Coast cliff collapses

The cliff at Hive Beach was one of the Dorset coastline's best known landmarks.




BBC News - Published





Dorset woman celebrates three decades of sphynx cats

Jan Plumb brought a hairless sphynx cat to the UK in 1988, when the breed was extremely rare.




BBC News - Published




Storm Ciara: Dorset sand drift clean-up will take weeks

Sand about 1ft (0.3m) deep is lying along along over 11 miles (18km) of the seafront promenade in Dorset.




BBC News - Published