Dorset
County of England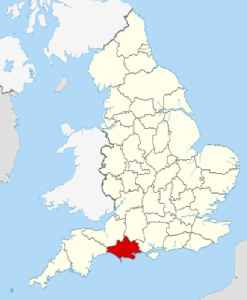 Dorset is a county in South West England on the English Channel coast. The ceremonial county comprises the unitary authority areas of Bournemouth, Christchurch and Poole and Dorset. Covering an area of 2,653 square kilometres (1,024 sq mi), Dorset borders Devon to the west, Somerset to the north-west, Wiltshire to the north-east, and Hampshire to the east. The county town is Dorchester which is in the south. After the reorganisation of local government in 1974 the county's border was extended eastward to incorporate the Hampshire towns of Bournemouth and Christchurch. Around half of the population lives in the South East Dorset conurbation, while the rest of the county is largely rural with a low population density.


Sun worshippers flock to beaches as heatwave peaks

The public have flocked to beaches across the UK, including Lyme Regis, Dorset, as temperatures are expected to enter the 30s. Report by Patelr. Like us on Facebook at http://www.facebook.com/itn and..
Credit: ODN Duration: 02:20
Published
Robert Baden-Powell statue boarded up

A statue of Robert Baden-Powell that was due to be removed has been boarded up by council workers. Bournemouth, Christchurch and Poole Council had announced that the statue of the founder of the Scout..
Credit: PA - Press Association STUDIO Duration: 00:36
Published
Public flock to UK beauty spots

Members of the public have flocked to UK beauty spots to enjoy the hot weather as lockdown measures are eased. Durdle Door in Dorset was busy for a second day despite attempts to close the beach.
Credit: PA - Press Association STUDIO Duration: 00:58
Published
You Might Like



Visitors to Dorset beaches must act 'responsibly'

Dorset Police says it expects a surge in visitors to the county this weekend as lockdown eases.




BBC News - Published





Seahorses' return threatened by Dorset visitor influx

The Seahorse Trust says the creatures thrived during lockdown but are now under threat again.




BBC News - Published





Poole Park: Woman in 'desperate plea' over encampment mess

Up to 40 caravans and other vehicles left Dorset's Poole Park on Sunday after five days.




BBC News - Published





Coronavirus: Thousands flock to Dorset coast in heatwave

Tens of thousands of people flock to the Dorset coast as temperatures soar, sparking warnings.




BBC News - Published





Girl Guide's diary describes visiting Hitler in 1936

The book was found in Dorset and describes a visit to Bavaria and Austria in 1936.




BBC News - Published




Durdle Door: Body found in search for missing swimmer

Police say relatives of a man in his 20s reported missing off Dorset on Sunday have been informed.




BBC News - Published




Beach marshalls to stop repeat of Dorset coastal influx

Tens of thousands of people have flocked to the Dorset coast since lockdown restrictions were eased.




BBC News - Published





Coronavirus: Volunteers to help with Bournemouth beach patrols

Tens of thousands of people have flocked to the Dorset coast since lockdown restrictions were eased.




BBC News - Published





Coronavirus: Seahorses return to Dorset coast amid lockdown

The Seahorse Trust said the increase off the Dorset coast is due to less people, boats and anchors.




BBC News - Published





Durdle Door: Coastguard warns over tombstoning after three hurt jumping 70ft

The casualties had jumped into the sea from the Durdle Door arch in Lulworth Cove, Dorset.




BBC News - Published





Tombstoning warning as three hurt jumping from sea arch

The casualties had jumped into the sea from the Durdle Door arch in Lulworth Cove, Dorset.




BBC News - Published





Wareham fire crews 'stretched' at site of forest fire

About 550 acres (220 hectares) have now been damaged at Wareham Forest, in Dorset.




BBC News - Published





Dorset's young musicians form virtual orchestra

More than 30 young musicians across Dorset record their version of What A Wonderful World.




BBC News - Published





Wareham Forest wildfire: Cyclists and walkers warned again to stay away

Flames began ripping through Wareham Forest in Dorset on Monday, where 11 disposable BBQs were found.




BBC News - Published





Wareham Forest blaze 'started by disposable barbecue or camp-fire'

The fire which damaged much of Wareham Forest in Dorset is still burning after three days.




BBC News - Published





Kindertransport: Swanage statue for 'Purbeck Schindler' Trevor Chadwick

The Trevor Chadwick Memorial Trust is raising £80,000 for a statue to be placed in Swanage, Dorset.




BBC News - Published





Coronavirus: Long queues as recycling centres reopen

Long queues of cars build up outside household recycling centres in Dorset and Hampshire.




BBC News - Published





Day trip trio from Slough spark Dorset coast cliff rescue

Lifeboats, a helicopter, ambulance and police are involved as three people get cut off by the tide.




BBC News - Published





Coronavirus: Fishing 'struggling to survive' lockdown

Dorset fishermen say the coronavirus restrictions have led to plummeting prices.




BBC News - Published





Pine marten footage is thought to be first Dorset sighting

A video of a rare pine marten in Sandbanks is thought to be the first time the mammal has been seen in Dorset.




BBC News - Published





Coronavirus: Boy 'climbs Everest' for Dartmoor Zoo

Josh White, from Dorset, is climbing his stairs 3,400 times and has raised £13,000 so far.




BBC News - Published





Coronavirus: Dorset celebrant hosts handfastings online

A celebrant is hosting a virtual commitment ceremony for couples on their wedding days.




BBC News - Published





Coronavirus: GP who led village surgery for 30 years dies

Dr Craig Wakeham, 59, had been fighting the disease for "many days" in hospital in Dorset.




BBC News - Published





Coronavirus: Red Arrows fans stage DIY airshow

The Bridge family in Dorset put on its own show in tribute to its favourite aerobatic display team.




BBC News - Published





Dorset's winning £41m Euromillions ticket claimed

The ticket was bought somewhere in Dorset and was from the draw on 3 December.




BBC News - Published





Dorset caravan park owner jailed for shooting otter

Stuart Jones was reported by holidaymakers who witnessed the point-blank range execution.




BBC News - Published





Overhanging Jurassic Coast cliff collapses

The cliff at Hive Beach was one of the Dorset coastline's best known landmarks.




BBC News - Published





Dorset woman celebrates three decades of sphynx cats

Jan Plumb brought a hairless sphynx cat to the UK in 1988, when the breed was extremely rare.




BBC News - Published




Storm Ciara: Dorset sand drift clean-up will take weeks

Sand about 1ft (0.3m) deep is lying along along over 11 miles (18km) of the seafront promenade in Dorset.




BBC News - Published





Storm Ciara: Deep sand drifts left on Bournemouth promenade

The storm has dumped up to 1ft (0.3m) of sand along the seafront at Bournemouth in Dorset.




BBC News - Published





CPR: School life-saving lessons help Dorset teenager save her father

Just two weeks after learning CPR at school, Ali Holborn had to use the skill to help save her dad's life.




BBC News - Published





Massive £41m won by UK lottery ticket buyer remains unclaimed – with a week until first deadline

If you've had a flutter in Dorset, you may be in for a very happy new year indeed




Independent - Published





Euromillions: Unclaimed winning £41m ticket bought in Dorset

The ticket was bought somewhere in Dorset and was from the Euromillions draw on 3 December.




BBC News - Published





Dorset clearance company sees rise in unwanted possessions

Baby boomers are finding that when it comes to their "stuff" the younger generations just don't want it.




BBC News - Published





Dorset art installation recreates Delhi and London smog

Pods allow visitors to experience the air quality in Delhi, London, Beijing, São Paulo and Norway.




BBC News - Published





Body found on Dorset beach after man in his 20s swept out to sea

Police make discovery at Hive shoreline near Bridport




Independent - Published





Village roadworks in Dorset create 41-mile diversion

A diversion around a 50m stretch of roadworks in Dorset could send lorry drivers on a 41-mile detour.




BBC News - Published





Cranborne Chase first entire AONB to be dark sky reserve

The night sky above parts of Wiltshire, Dorset, Hampshire and Somerset is granted special protection.




BBC News - Published





Dark sky reserve status for English area

The night sky above parts of Wiltshire, Dorset, Hampshire and Somerset is granted the protection.




BBC News - Published





Dorset grasstrack champion chases dad's record of wins

Josh Goodwin hopes to win the 500cc sidecar title at the British Grasstrack Championships in memory of his dad.




BBC News - Published





Beaminster school buys extra freezer amid Brexit food fears

A Dorset school for special needs children buys an extra freezer and stocks up on long-life food.




BBC News - Published





Sandbanks homeowner fined for pruning trees

Trevor Beale was trying to increase the value of his property in an exclusive area of Dorset.




BBC News - Published





Dorset chef says women could solve the curry crisis

Dorset chef Sarah Ali Choudhury wants to encourage more women to work in Indian restaurants.




BBC News - Published





Dorset murder: 75-year-old killed in seaside home, police say

Pensioner suffered injuries 'consistent with assault', post mortem finds




Independent - Published





Back-to-school uniform swap-shop is Dorset mum's mission

Laura Mulley started the swap shop after her children grew out of their good quality uniforms.




BBC News - Published





Snoopy Sloop Atlantic crossing bid fails

The unmanned Snoopy Sloop almost reaches France before being swept back to the Dorset coast.




BBC News - Published





Missing dog survives 45 days trapped on Dorset beach

Shadow had lost more than half his body weight and ate sticks and stones in a bid to survive.




BBC News - Published





'Ghost fishing gear' clear-up off Dorset to save sea life

Divers are working to clear discarded nets, line and rope endangering sea creatures off Dorset.




BBC News - Published





Dorset parkour athlete says public is more accepting of the sport

Professional parkour athlete Luke Stones says people have become more accepting of the sport.




BBC News - Published





Poole siblings lose 'neighbour torment' damages claim

The children were aged nine and seven when they were moved to the Dorset estate.




BBC News - Published