Oxfordshire
County of England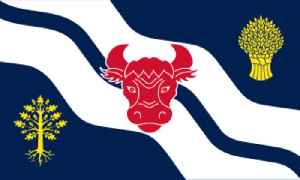 Oxfordshire is a county in South East England. The ceremonial county borders Warwickshire to the north-west, Northamptonshire to the north-east, Buckinghamshire to the east, Berkshire to the south, Wiltshire to the south-west and Gloucestershire to the west.


Musician battles against multiple sclerosis

A talented young singer and pianist is determined to still make music aftermultiple sclerosis robbed her of the ability to play the instrument she loves.After winning talent shows as a youngster and..
Credit: PA - Press Association STUDIO Duration: 02:10
Published
Luxury cars unveiled at Blenheim Palace

The Salon Prive luxury car event at Blenheim Palace, Oxfordshire, whereBentley unveiled their Continental GT Mulliner and Rolls-Royce revealed theirnew Ghost model.
Credit: PA - Press Association STUDIO Duration: 01:12
Published
Rare Footage of Prince Charles Flying Tiger Moth Biplane

We've found some rare archive footage of Prince Charles flying a pre-war Tiger Moth biplane at RAF Benson in Oxfordshire. Report by Shoulderg. Like us on Facebook at http://www.facebook.com/itn and..
Credit: ODN Duration: 01:09
Published
You Might Like



BMW Mini Oxford car plant set for hundreds of job losses

The number of shifts are to be reduced because of a "substantial" fall in customer demand.




BBC News - Published





Coronavirus: Oxfordshire care home enjoys visit from penguins

Humboldt penguins Charlie and Rupert visit residents of Enstone Care Home in Chipping Norton.




BBC News - Published





Bicester Village: Petition calls for closure over safety concerns

Pictures on social media appear to show big crowds at the popular designer outlet in Oxfordshire.




BBC News - Published





New evidence could solve 1990 Oxfordshire taxi murder

Lennie Gomm was 75 when he was stabbed directly through his heart after he had picked up a fare.




BBC News - Published





Coronavirus: Oxford photographer adds CGI virus to landscape

Photographer Richard Wakefield added CGI viruses to video footage of Oxfordshire in lockdown.




BBC News - Published





Oxfordshire council survey says motorcyclists 'danger to selves'

The Local Transport and Connectivity Plan has been criticised for being biased.




BBC News - Published





Coronavirus: Mystery man buys villagers fish and chips

The Oxfordshire villager has said he wants to bring his community together during the lockdown.




BBC News - Published





Leaplings: Oxfordshire pair meet to celebrate leap year birthday

Pip and Mike say that having a leap year birthday is "fantastic".




BBC News - Published





Hackett's cafe chain in Oxfordshire made decade of pay errors

Forty-one people who worked for Hackett's cafes in Oxfordshire complain about wage discrepancies.




BBC News - Published





Lasers target two aircraft flying in Oxfordshire

A 21-year-old is recovering from suffering a laser burn to his eye when a beam was shone at a plane.




BBC News - Published





Standlake's Kate Cumming fulfils dying wish to write song

Kate Cumming, from Oxfordshire, has not let cancer stop her fulfilling an ambition to write a song.




BBC News - Published





Hunt for fly-tipper filmed dumping dead fox and litter in gardens

Council appeals for information about suspect targeting residents in Abingdon, Oxfordshire




Independent - Published





Sea eagle settles with kites in Oxfordshire

One of six white-tailed eagles released on the Isle of Wight has been seen roosting with red kites.




BBC News - Published





More than 1,000 pigs rescued from Oxfordshire farm fire

Firefighters remove hundreds of hot hogs from their enclosures after 3,000 hay bales are set ablaze.




BBC News - Published





Blenheim Palace gold toilet theft: Three more people arrested

Two men and a woman, from Oxford, are held after the £4.8m artwork was taken from Blenheim Palace.




BBC News - Published





Herculaneum scroll: Shining a light on 2,000-year-old secrets

Scientists in Oxfordshire are trying to decipher scrolls buried when Mount Vesuvius erupted in AD79.




BBC News - Published




Nuclear fusion lab praised by Boris Johnson in Tory conference speech is funded mostly by EU

Oxfordshire reactor has been described as 'shining example of scientific co-operation between EU members'




Independent - Published





White baby rhino born at Cotswold Wildlife Park

White rhino Stella is the newest addition to the family at Cotswold Wildlife Park in Oxfordshire.




BBC News - Published





Gold toilet stolen in Blenheim Palace burglary

The artwork was taken from the Oxfordshire stately home in early hours of the morning, police say.




BBC News - Published





Blenheim Palace break-in investigated by police

The Oxfordshire stately home was burgled in early hours of the morning, police say.




BBC News - Published





Chinnor train driver takes photo of boy on tracks

Phil Marsh had to halt his locomotive to avoid hitting the boy on a line in Oxfordshire.




BBC News - Published





Scuba diver dies in Cornwall after being pulled from sea

A woman in her 50s from Oxfordshire has died after being pulled from the sea near St Keverne




BBC News - Published





Didcot: The power station that inspired poetry

Didcot Power Station's iconic towers will be demolished as Oxfordshire's skyline changes forever.




BBC News - Published




Winning £1m lottery ticket goes unclaimed in Oxfordshire

The ticket was bought in west Oxfordshire district and was from the Euromillions draw on 29 January.




BBC News - Published





Oxfordshire parents' court challenge over Christian assemblies

An Oxfordshire couple say "harmful aspects of evangelism" are spreading into their children's school.




BBC News - Published





Henley Royal Regatta 2019: Boats, blazers, beer and bubbles

Rowers will battle it out on the River Thames in Oxfordshire over the next five days.




BBC News - Published





Elizabethan map goes on display at Bodleian Libraries

The Sheldon Tapestry Map of Oxfordshire was woven in wool and silk and dates back to the 1590s.




BBC News - Published





Watlington bakery started by 15-year-old girl

Kitty Tait runs the Orange Bakery in Oxfordshire and says it has helped her overcome depression.




BBC News - Published