Cairo
Capital of Egypt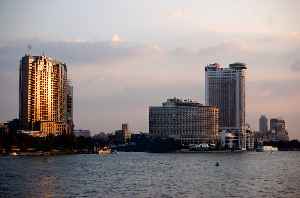 Cairo is the capital of Egypt and the largest city in the Arab world. Its metropolitan area, with a population of over 30 million, is the largest in Africa, the Arab world, and the Middle East, and the 6th-largest in the world. Cairo is associated with ancient Egypt, as the famous Giza pyramid complex and the ancient city of Memphis are located in its geographical area. Located near the Nile Delta, Cairo was founded in 969 AD by the Fatimid dynasty, but the land composing the present-day city was the site of ancient national capitals whose remnants remain visible in parts of Old Cairo. Cairo has long been a centre of the region's political and cultural life, and is titled "the city of a thousand minarets" for its preponderance of Islamic architecture. Cairo is considered a World City with a "Beta +" classification according to GaWC.


Egypt flyover 'a threat to residents' lives'

Egyptians are accusing the government of putting their lives at risk by building a flyover so close to their apartment block near the capital, Cairo.
Credit: Al Jazeera STUDIO Duration: 02:01
Published
Egypt presses on with new capital amid outbreak

While Egypt's economy has stumbled due to the coronavirus outbreak, construction at a new capital taking shape east of Cairo is continuing at full throttle after a short pause to adjust working..
Credit: Reuters Studio Duration: 00:45
Published
You Might Like



Egypt offers new Libya plan as Haftar offensive collapses

Libya's internationally recognised government attempted to make new advances on Saturday against the forces of retreating eastern commander Khalifa Haftar, who stood by in Cairo as his ally, Egyptian..




Reuters - Published




Egypt's wealth fund to develop Cairo Citadel district into tourist destination

Egypt's antiquities authority is to transfer Cairo's historic Bab al-Azab district - with Ottoman-era architecture and the medieval Citadel overlooking the capital - to its sovereign wealth fund to..




Reuters - Published





Some medics say they are muzzled in Egypt's coronavirus response

At dusk on April 10, police entered an apartment in Qalyubia province, north of Cairo, and arrested ophthalmologist Hany Bakr.




Reuters - Published





Don't abandon us, we don't transmit coronavirus, say Cairo dogs and cats

The doggies and kitties of a Cairo veterinary clinic have an important message, and they are taking it to the internet.




Reuters - Published





Egyptians rush to buy treats before Eid al-Fitr curfew

Families rushed to buy sweets and biscuits in Cairo on Friday as they prepared to celebrate the end of the Muslim fasting month of Ramadan under a tightened coronavirus curfew and lockdown.




Reuters - Published





A bridge too close: Cairo flyover angers residents

If Osama Fayez reaches out from his balcony he can touch a flyover that is cutting a swathe through a densely populated area of Giza, across the Nile from central Cairo.




Reuters - Published





Egypt presses on with new capital in the desert amid virus outbreak

While Egypt's economy has stumbled due to the coronavirus outbreak, construction at a new capital taking shape east of Cairo is continuing at full throttle after a short pause to adjust working..




Reuters - Published





Coronavirus means low-key, cost-saving wedding for one Egyptian couple

Mustafa Amin had looked forward to a regular Egyptian wedding party in a large Cairo reception hall packed with family and friends.




Reuters - Published





Fear of coronavirus haunts Egypt's cramped jails

Last April, medical student Mohamed Amashah stood on Cairo's Tahrir Square and held up a sign saying "Freedom for prisoners". He was detained.




Reuters - Published




Mime artist breaks silence to give coronavirus health tips in Cairo

Wearing white face paint, stripy top and bright red spectacle frames, Ahmed Naser stands in a street in Cairo distributing face masks and health advice to passing children.




Reuters - Published





Egyptian policeman, seven suspected militants killed in Cairo gunbattle

An Egyptian policeman and seven suspected militants were killed on Tuesday in an exchange of gunfire, the ministry of interior said in a statement late on Tuesday.




Reuters - Published





Egyptian policeman killed in Cairo gunbattle with suspected militants: state TV

An Egyptian policeman was killed and three others wounded on Tuesday in an exchange of gunfire with suspected militants near the centre of the capital Cairo, the public prosecutor said in a statement.




Reuters - Published




Egyptian security exchanges gunfire with a 'terrorist group' in Cairo: state TV

Egyptian security forces on Tuesday exchanged gunfire with a "terrorist group" near central Cairo, state TV said.




Reuters - Published





Coronavirus crisis spells trouble for many Egyptian breadwinners

Squatting with other day labourers under a bridge in Cairo, 48-year-old Yasser Nagi says he has waited in vain for two weeks for work on a construction site so he can feed his family.




Reuters - Published





Cairo, the city that never sleeps, shuts for coronavirus night-time curfew

Egypt and its capital Cairo, a mega-city home to some 20 million people, shut down on Wednesday evening as authorities launched a night-time curfew to tackle the spread of the coronavirus.




Reuters - Published





Egypt detains women who called for prisoner release amid coronavirus, lawyer says

Three of the four women detained by Egyptian security forces after demonstrating in central Cairo for the release of prisoners they said may be at risk from the coronavirus were released late on..




Reuters - Published





Egypt holds funeral for former president Mubarak

Egypt held a military funeral in Cairo on Wednesday to bury its former president Hosni Mubarak, who ruled for 30 years until he was ousted in a 2011 popular uprising against corruption.




Reuters - Published




Egypt to bury former president Mubarak in military funeral

Egypt will on Wednesday bury its former president Hosni Mubarak, who died at the age of 91, in a military funeral in Cairo.




Reuters - Published




Former Egyptian president Hosni Mubarak dies

Former Egyptian President Hosni Mubarak – ousted by the military in 2011 – has died in hospital in Cairo aged 91.




BBC News - Published





Arab League rejects Trump's Middle East plan: communique

The Arab League rejected U.S. President Donald Trump's Middle East peace plan at a meeting of foreign ministers in Cairo on Saturday, saying it would not lead to a just peace deal.




Reuters - Published




Egypt, Ethiopia, Sudan say final agreement on Blue Nile dam ready by next month

Ministers from Egypt, Ethiopia and Sudan said on Friday a final agreement will be signed by the end of February on the giant Blue Nile hydropower dam that sparked a years-long diplomatic crisis between..




Reuters - Published




Egypt's population nears 100 million, putting pressure on resources and jobs

Sitting in her sister's apartment on a noisy Cairo street, Rania Sayed one day hopes to leave a city that is becoming more congested as Egypt's population ticks up to 100 million, a milestone it will..




Reuters - Published





Egypt starts screening travelers from China for new coronavirus

Egypt's Cairo airport started screening passengers arriving from China for signs of the new coronavirus outbreak, airport sources said on Thursday.




Reuters - Published




Egypt orders release of Turkish news agency employees in Cairo after raid

Egypt's public prosecutor's office said on Thursday it had ordered the release of five people detained following a raid on Turkey's state-owned Anadolu news agency office in Cairo, and the company..




Reuters - Published





Egypt forms a new team to investigate the death of Italian student

Egypt formed a new team to investigate the death of an Italian student who was tortured and murdered in Cairo in 2016, Egypt's public prosecutor's office said on Wednesday.




Reuters - Published





Turkey says Egyptian security forces raid news agency in Cairo

Turkey summoned a senior Egyptian diplomat on Wednesday to protest what it said was a raid by Egyptian security forces on the Cairo office of Turkey's state-run news agency, in which four people were..




Reuters - Published





Turkey summons Egyptian envoy over raid of its state news agency office in Cairo: anadolu

Turkey summoned the Egyptian charges d'affaires in Ankara to the foreign ministry on Wednesday over a raid of its Anadolu state news agency office in Cairo, the agency reported.




Reuters - Published





Egyptian security raids Turkish news agency office in Cairo: agency

Egyptian security forces raided the office of the Turkish state-run Anadolu news agency in Cairo on Thursday and detained four of its staff, the agency said on Twitter.




Reuters - Published





U.S. confirms 'avoidable' death of Egyptian-American Kassem in custody

The United States on Monday confirmed the death of Egyptian-American Moustafa Kassem in a prison in Egypt where he had been in custody since 2013, and vowed to continue raising concerns over Cairo's..




Reuters - Published




Slain student caught in 'web' spun by Egyptian security services: Italian prosecutors

Giulio Regeni, an Italian student tortured and murdered in Cairo in 2016, was ensnared in a "spider's web" spun by the Egyptian security services in the weeks leading up to his death, Rome prosecutors..




Reuters - Published





Almost half of land sold for first phase of Egypt's new capital

Egypt has sold almost half of the land earmarked for the first phase of a huge project to develop a new capital 50 km east of Cairo, an official at the state-owned company building it said.




Reuters - Published





Egypt animal mummies showcased at Saqqara near Cairo

The mummies, including cats, crocodiles, cobras, were found at the Saqqara necropolis near Cairo.




BBC News - Published





U.S. warns Egypt against Russia warplanes deal, says working with Cairo on defense needs

The United States is working with Egypt to deter it from going ahead with a deal to buy Russian warplanes, threatening the Cairo government with sanctions if it does, a senior State Department official..




Reuters - Published





Britain lifts advisory against flying to Egypt's Sharm el Sheikh resort

The British government has removed its advisory against flying to Egypt's Sharm el-Sheikh resort, the British embassy in Cairo said in a statement on Tuesday.




Reuters - Published




Egypt denounces Ethiopia for moving ahead with Nile dam amid water: shortage fears

Egypt denounced Ethiopia on Wednesday for moving forward with building and operating a hyropower dam on the Nile, which Cairo worries will threaten already scarce water supplies.




Reuters - Published





Egypt's security forces move to block anti-Sisi protests

Egyptian police mounted a huge show of force in central Cairo and closed off entrances to Tahrir Square on Friday after calls for protests against President Abdel Fattah al-Sisi following opposition..




Reuters - Published





Egypt tightens security after call for repeat protests

Egyptian security forces closed off entrances to Cairo's Tahrir Square on Friday and deployed police reinforcements after a call for a second week of rare anti-government demonstrations.




Reuters - Published





Crackdown widens after call for new protests in Egypt

At least 1,900 people have been detained since protests against President Abdel Fattah al-Sisi began in Cairo and other Egyptian cities last Friday, the head of a rights monitoring group said on..




Reuters - Published





Egypt protests: 'Hundreds held' after rare anti-government unrest

Protests against alleged government corruption erupted in Cairo and other cities over the weekend.




BBC News - Published





Small but rare protests in Egypt after online call for dissent

Hundreds of protesters gathered in central Cairo and several other Egyptian cities late on Friday shouting anti-government slogans, responding to an online call for a demonstration against government..




Reuters - Published





Egypt resumes Nile dam talks with Ethiopia, Sudan

Egypt's foreign minister said Cairo had resumed talks with Sudan and Ethiopia over a $4 billion dam Addis Ababa is building on the Nile which had been suspended for over a year.




Reuters - Published





UN postpones conference on torture after rights groups' criticism

The United Nations has postponed a conference in Cairo on torture that was to take place in September following criticism from rights groups that say torture is rampant in Egypt.




Reuters - Published





Egypt to reopen historic Baron Empain Palace after $6 million restoration

Egypt will soon reopen the century-old Baron Empain Palace after a $6 million renovation of the Indian-inspired mansion built by a wealthy Belgian engineer in the upmarket Heliopolis district of the..




Reuters - Published