North Korea
Country in East Asia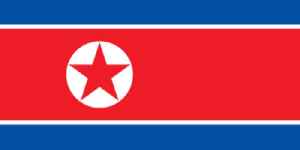 North Korea, officially the Democratic People's Republic of Korea, is a country in East Asia constituting the northern part of the Korean Peninsula. The country is bordered to the north by China and by Russia along the Amnok and Tumen rivers, and to the south by South Korea, with the heavily fortified Korean Demilitarized Zone (DMZ) separating the two. North Korea, like its southern counterpart, claims to be the legitimate government of the entire peninsula and adjacent islands. Pyongyang is the country's capital and largest city.


Activity flurry suggests N. Korea sub missile test

Analysts and security officials say they are watching for signs that North Korea may use an upcoming holiday to unveil new weapons or test fire a submarine-launched ballistic missile, after a flurry of..
Credit: Reuters Studio Duration: 01:23
Published
Kim Jong-Un Visits 'Socialist Fairyland' Village

Kim Jong-un has praised North Korea's military for rebuilding a typhoon-hit village "as a socialist fairyland". The Supreme Leader was visiting an area in the south of the country, which has..
Credit: ODN Duration: 01:38
Published
Trump Just Can't Keep A Secret, And That's A Big Problem

Boasting of his 'great intel,' US President Donald J. Trump told Russian officials in 2017 about an ISIS plot so classified that he risked exposing the source. In the same year, Trump revealed to the..
Credit: Wochit News Duration: 00:43
Published
Kim Jong Un inspects flood-hit area

North Korean leader Kim Jong Un inspected reconstruction work in a flood-hit area of the country, state media reported on Saturday. North Korea has recently been battered by some of the wettest..
Credit: Reuters Studio Duration: 00:51
Published
North Korea Mobilises Thousands After Typhoon Damage

North Korea has mobilised thousands of workers from its capital Pyongyang to help the nation's countryside regions recently struck by a powerful typhoon. After surveying the damage, North Korean..
Credit: ODN Duration: 01:11
Published
Kim Jong-Un Surveys Damage in Typhoon-Hit Area

North Korean leader Kim Jong-un has visited areas struck by a typhoon and called for 12,000 workers from the capital Pyongyang to join in the recovery efforts. North Korean state-run TV showed..
Credit: ODN Duration: 01:37
Published
Typhoon Maysak hits North Korea

Typhoon Maysak hit North Korea overnight and brought heavy rain and floods, the country's state-run broadcaster KRT reported on Thursday (September 3), even as damage from a previous typhoon last week..
Credit: Reuters Studio Duration: 00:47
Published
Typhoon that smashed South Korea now makes landfall in its northern neighbour

A typhoon that smashed South Korea, ripping off roofs and knocking out power to over 1,600 households, made landfall in North Korea early Thursday.
Credit: euronews (in English) Duration: 00:50
Published
Kim Jong Un's Sister May Hold Key North Korean Post, South Korean Officials Say

Kim Yo Jong appears to be effectively in charge of the Organisation and Guidance Department of North Korea's ruling Workers' Party.
Credit: Cover Video STUDIO Duration: 01:05
Published
UN warns of N. Korea's miniature nuclear devices

According to a confidential UN report, North Korea is pressing on with its nuclear weapons program and several countries believe it has "probably developed miniaturized nuclear devices to fit into the..
Credit: Reuters - Politics Duration: 02:01
Published
North Korean Reports First Possible Covid-19 Case

The first publicly reported suspected case of Covid-19 within North Korea's borders has been reported. North Korean leader Kim Jong Un called an emergency meeting Saturday after the infection was..
Credit: Wochit News Duration: 00:37
Published
North Korea mark armistice anniversary with fireworks

North Korean residents on Monday (July 27) watched fireworks and laid flowers at statues of their late leaders to commemorate the 67th anniversary of the end of the 1950-53 Korean War, state media..
Credit: Reuters Studio Duration: 00:49
Published
N. Korea 'emergency' over suspected COVID-19 case

A border city in North Korea has been locked down after a person suspected to have the new coronavirus was reported to have returned from South Korea in what, if confirmed, would be the first case..
Credit: Reuters Studio Duration: 00:59
Published
Coronavirus: Kim Jong-un Declares State of Emergency

North Korea has declared a state of emergency after Kim Jong-un chaired an emergency politburo meeting about a suspected case of Covid-19. State media said the person defected to South Korea three..
Credit: ODN Duration: 01:49
Published
North Korea declares emergency over first reported COVID-19 case

Leader Kim Jong Un holds an emergency meeting as the country's first suspected coronavirus infection is reported.
Credit: Al Jazeera STUDIO Duration: 02:23
Published
North Korea places border city in lockdown over fears of first Covid-19 patient

North Korean leader Kim Jong Un has placed a city near the border with SouthKorea under lockdown over concerns the country has its first coronavirus case,state media reported. The measure was taken on..
Credit: PA - Press Association STUDIO Duration: 00:42
Published
You Might Like



Typhoon Maysak: North Korea vows to punish officials over 'casualties'

The ruling party says local officials are responsible for "dozens of casualties" in Typhoon Maysak,




BBC News - Published





Kim Jong-un Visits Cornfield Following Reports of Coma

North Korea's leader, Kim Jong-un, is out and about visiting cornfields and assessing damage from storms ... just days after reports claiming he's on his death bed. The dictator held and ear of corn..




TMZ.com - Published





Typhoon makes rare landfall over North Korea

With winds in excess of 100mph, Bavi brings flooding rains to parts of North and South Korea.




BBC News - Published





Kim Jong-un warns over North Korea typhoon and coronavirus

Despite rumours over his health, the North Korean leaders appears well and in charge.




BBC News - Published





North Korea propaganda: New faces but old messages

Pyongyang is believed to be behind several new YouTube and Twitter accounts aimed at foreign audiences.




BBC News - Published





North Korean Leader Kim Jong-Un Reportedly in a Coma

North Korean dictator Kim Jong-un is once again on his death bed ... that is, if you buy what some South Korean officials are saying about his mysterious health status. Chang Song-min -- a former aide..




TMZ.com - Published





Kim Jong-un gives sister Yo-jong 'more responsibilities'

Kim Yo-jong has reportedly been given responsibility for North Korean policy towards the US.




BBC News - Published





Coronavirus: Swimming defector was not infected, says S Korea

The suspected patient crawled through a drain then swam to North Korea, the South says.




BBC News - Published





North Korea on alert over 'first suspected coronavirus case'

State media say a defector who returned from South Korea has Covid-19 symptoms.




BBC News - Published





The North Korean refugees supplying PPE to care homes

The North Korean refugees who have donated 7,000 sets of PPE to care homes in the north of England.




BBC News - Published




Coronavirus in North Korea: Kim Jong-un claims 'shining success'

North Korea maintains that it has zero Covid-19 cases, though analysts say this is unlikely.




BBC News - Published





North Korea: Kim Jong-un 'suspends military action' against South

A meeting led by North Korean leader Kim Jong-un halts plans for unspecified moves against the South.




BBC News - Published





North Korea: Balloons and speakers raise Korean border tensions

Propaganda balloons have become a symbol of a worsening relationship between North and South Korea.




BBC News - Published





North Korea continues to present 'extraordinary' threat to region: Pentagon official

North Korea's activities in recent days have shown that Pyongyang continues to pose an "extraordinary" threat to the Asia-Pacific region, a senior Pentagon official said on Thursday.




Reuters - Published





South Korea's nuclear envoy visits U.S. as tensions flare with North Korea

South Korea's chief nuclear negotiator will hold talks with officials in Washington on Thursday amid flaring tensions with North Korea after Pyongyang blew up an inter-Korean liaison office and..




Reuters - Published




Defectors prepare packages to send to North Korea despite growing tensions

A North Korean defector-led group on Thursday prepared hundreds of plastic bottles stuffed with rice which they plan to float into North Korea, despite a legal challenge from South Korean authorities..




Reuters - Published




South Korea's Moon faces crisis in peace bid with North but has few options

South Korea's President Moon Jae-in faces the biggest crisis yet in his bid to foster reconciliation with North Korea, as it lashes out with the destruction of a joint office and rolls back agreements,..




Reuters - Published





North Korea rejects South's offer of envoys, vows to redeploy border troops

North Korea said on Wednesday it had rejected a South Korean offer to send special envoys to ease escalating tension over defiance by North Korean defectors and stalled reconciliation efforts, and it..




Reuters - Published




South Korean unification minister offers to step down, Yonhap says

South Korean Unification Minister Kim Yeon-chul, who oversees engagement with North Korea, offered on Tuesday to step down, saying he takes responsibility for a worsening in ties between the..




Reuters - Published




North Korea tells 'mongrel dog' South why it bombed office

Kim Jong-un's sister said the South's president "put his neck into the noose of US flunkeyism".




BBC News - Published





South Korea says will no longer accept unreasonable behavior by North Korea

South Korea's presidential Blue House said on Wednesday that recent North Korean criticism of President Moon Jae-in was senseless and that it will no longer accept unreasonable behavior by the North.




Reuters - Published




Timeline: From historic summit to building destruction, North Korea unsettles U.S.

North Korea on Tuesday blew up a building set up in 2018 in a border town as a joint liaison office to foster better ties with South Korea, the latest in a series of actions by Pyongyang that have..




Reuters - Published




U.S. urges North Korea to 'refrain from further counterproductive actions'

The United States responded to North Korea's blowing up of a joint liaison office with South Korea on Tuesday by saying it fully supports Seoul's efforts on inter-Korean relations and urging Pyongyang..




Reuters - Published




North Korea destroys inter-Korean liaison office in 'terrific explosion'

North Korea on Tuesday blew up a building set up in 2018 in a border town as a joint liaison office to foster better ties with South Korea after threatening action if North Korean defectors went ahead..




Reuters - Published




U.S. says in 'close coordination' with South Korea after North Korea destroys liaison office

The U.S. government is in "close coordination" with South Korea after North Korea destroyed an inter-Korean liaison office on Tuesday, a senior Trump administration official said.




Reuters - Published




Britain warns against security law for Hong Kong as North Korea defends China

Britain said on Tuesday that China's plan to impose national security legislation on Hong Kong would undermine the autonomy in the former British colony and could threaten its rights and freedoms.




Reuters - Published




Kaesong liaison office: What does North Korea want?

Expert Ankit Panda pieces together the puzzle of why Pyongyang destroyed the Kaesong liaison office




BBC News - Published





North Korea: What's behind the liaison office demolition?

Experts' views on why North Korea has chosen to provoke the South by destroying the liaison office.




BBC News - Published





South Korea vows to respond sternly if North keeps raising tensions

South Korea's presidential office said on Tuesday it will respond sternly if North Korea continues to raise tensions after destroying a joint liaison office that was a symbol of inter-Korean..




Reuters - Published




Kremlin concerned about situation on Korean peninsula, calls for restraint

The Kremlin said on Tuesday it was concerned about the situation on the Korean peninsula and called for restraint from all sides after North Korea destroyed an inter-Korean liaison office.




Reuters - Published




North Korea blows up liaison office on its side of border with South

North Korea blew up and destroyed an inter-Korean liaison office in its border city of Kaesong on Tuesday, South Korea said, after Pyongyang threatened to take action if defector groups push ahead with..




Reuters - Published