Oxford
City and non-metropolitan district in England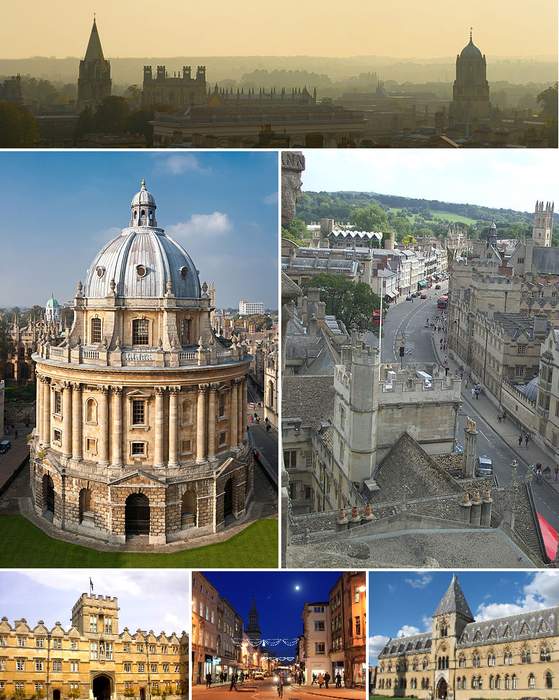 Oxford is the county town and only city of Oxfordshire, England. In 2017, its population was recorded at 152,450. It is 56 miles (90 km) northwest of London, 64 miles (103 km) south of Birmingham and 24 miles (39 km) northwest of Reading.


William congratulates Oxford University over vaccine breakthrough

The Duke of Cambridge has congratulated Oxford researchers via a video callafter their vaccine was found to be up to 90% effective in preventingCovid-19.
Credit: PA - Press Association STUDIO Duration: 00:58
Published
AstraZeneca, Oxford say their vaccine is up to 90% effective

U.K.-based pharmaceutical giant AstraZeneca and England's University of Oxford announced Monday that late-stage trials show their COVID-19 vaccine was up to 90% effective in preventing the disease...
Credit: ABC Action News Duration: 00:21
Published
Astra Zeneca's 'Oxford' COVID-19 Vaccine Found Safe, Especially For Elderly

A new study reveals a COVID-19 vaccine under development in England safely promotes an immune response against the virus. According to UPI, the vaccine is in Phase 2 of clinical trials with Astra..
Credit: Wochit News Duration: 00:37
Published
Vaccine findings a 'landmark moment' says head of Oxford tri

The head of Oxford's vaccine trial team has said the findings of pharmaceutical firm Pfizer marks a "landmark moment" against the coronavirus pandemic. Pfizer announced on Monday that interim findings..
Credit: ODN Duration: 01:43
Published
Russians spread fake news over Oxford coronavirus vaccine

A Russian disinformation campaign designed to undermine and spread fear about the Oxford University coronavirus vaccine has been exposed. Pictures, memes and video clips depicting the British-made..
Credit: ODN Duration: 01:10
Published
Community left 'reeling' after Oxford car crash kills four

Zoe Powell, 29, died alongside her daughters Phoebe, eight, Amelia, four, andsix-year-old son Simeon when the family's Subaru people carrier collided witha heavy goods vehicle on the A40 to the west..
Credit: PA - Press Association STUDIO Duration: 01:18
Published
You Might Like



Covid-19: Millions more residents in England move to tier 2

Parts of Yorkshire and the Humber, West and East Midlands, and Luton and Oxford face new measures.




BBC News - Published





Stolen bubble gum recovered from lorry off M40 near Oxford

The lorry driver and passenger are arrested on suspicion of several offences.




BBC News - Published





Covid: No safety concerns found with Oxford vaccine trial after Brazil death

Oxford University says a review has found no safety concerns after the Brazilian volunteer's death.




BBC News - Published





Oxford takeaways fined over Covid curfew breach

Oxford City Council fines two Cowley Road restaurants for serving customers after the 10pm curfew.




BBC News - Published





Oxford A34 crash: Adrian Bourne hit by ambulance after wine tasting event

Adrian Bourne was dropped off at his hotel by taxi but then wandered off along the A34 in Oxford.




BBC News - Published





Man charged with air gun possession at John Radcliffe Hospital

Police were called to the John Radcliffe Hospital in Oxford on Saturday afternoon.




BBC News - Published





Hundreds to lose jobs at BMW Mini car plant in Oxford

'We are aware that our plans will have an impact on people during an uncertain and worrying time,' says car manufacturer




Independent - Published





Workmen rescued from rubble after roof collapse in Windsor

One man is being treated for serious injuries at Oxford hospital




Independent - Published





'Curious' cow gets head stuck in tree in Oxford

Firefighters are said to have "lubricated" the animal's neck before managing to pull it free.




BBC News - Published





York, Cardiff and Oxford are UK's most sustainable cities, according to study

Wolverhampton scored lowest behind Birmingham and Norwich




Independent - Published





Wycombe promoted to Championship for first time in club's history

Wycombe win promotion to the Championship after beating Oxford in the League One play-off final at Wembley.




BBC News - Published





Wycombe edge past Oxford to secure historic promotion to Championship

Wycombe win promotion to the Championship after beating Oxford in the League One play-off final at Wembley.




BBC News - Published





Wycombe Wanderers 2-2 Fleetwood Town (agg: 6-3): Chairboys to face Oxford in final

Wycombe Wanderers withstand a brave display from Fleetwood Town to reach the League One play-off final.




BBC News - Published





'Deluge of rubbish' at reserve harming animals

"Late night get-togethers" are blamed for creating tonnes of waste at Port Meadow in Oxford.




BBC News - Published





Coronavirus: Duke of Cambridge visits Oxford vaccine group

William visited the city's Churchill Hospital and praised the "incredibly exciting" project.




BBC News - Published





Virtual Boat Race: Cambridge win as teams compete on machines at home

Cambridge wIn the virtual Boat Race against Oxford, with both teams competing on rowing machines at home.




BBC News - Published





Cecil Rhodes statue: 'Bit of hypocrisy' in removal calls

Thousands peacefully protested to remove the Cecil Rhodes statue in Oxford.




BBC News - Published





Coronavirus: Oxford photographer adds CGI virus to landscape

Photographer Richard Wakefield added CGI viruses to video footage of Oxfordshire in lockdown.




BBC News - Published





Police use horses in Oxford to chase down wanted man

Officers say the spectacle in Oxford may have provided "light entertainment" for neighbours.




BBC News - Published





'Anxiety' in Oxford Filipino community over coronavirus

A senior nurse says there is a "heightened anxiety" among community members over coronavirus.




BBC News - Published





Coronavirus news you may have missed overnight: Scientists warn Oxford vaccine may only give 'partial protection' as Northern Ireland eases lockdown

Outbreak infects 4.8 million people worldwide, with over 319,000 deaths




Independent - Published





Coronavirus: Scientists warn Oxford vaccine may only offer 'partial protection' after results of monkey trial

Results of trial in macaque monkeys divide opinion among virologists




Independent - Published





Coronavirus: UK to spend £84m on Covid-19 vaccine studies, business secretary announces

Clinical trials of the Oxford vaccine are 'progressing well', says business secretary Alok Sharma




Independent - Published





Rawan Hussain: Teenager caught train from Leeds

Police are appealing to anyone who has seen Rawan Hussain, 16, in either Birmingham or Oxford.




BBC News - Published





Coronavirus: Vaccine testing underway in Oxford trial that could see results by 'mid-August'

'If we can see evidence of a strong immune response by the middle or the end of May, then I think the game is on', government task force member says




Independent - Published





Coronavirus app could help stop spread of covid-19 – but many people will need to use it, Oxford experts say

Widespread and quick use would be key to battling spread of virus, study says




Independent - Published





Coronavirus: Man who coughed at police officers in Oxford jailed

Shoppers applauded officers as they took Jonny Sansom away from Sainsbury's in Cowley, Oxford.




BBC News - Published





Coronavirus: Two hospital porters die amid pandemic

Two "popular and hard-working" porters at the John Radcliffe Hospital in Oxford have died.




BBC News - Published





Coronavirus vaccine could be ready by September, says Oxford professor working on trials

'I think there's a high chance that it will work based on other things that we have done with this type of vaccine'




Independent - Published





Dog rescued after chasing rat up waste pipe in Oxford

Olive, a Bedlington terrier, was freed by Thames Water engineers nearly 24 hours later.




BBC News - Published





Coronavirus: Doctor 'kicked out' by Headington landlady

The surgeon said he drove all the way back from Oxford to Wirral "nearly in tears".




BBC News - Published





'We discuss food banks at school gates like it's normal'

Stories of people struggling to eat in Oxford - from a jobless woman with an MA to a funeral director.




BBC News - Published





How the net closed on Oxford's grooming gang

How did sex offenders at the centre of Oxford's depraved underworld finally come to face justice?




BBC News - Published





Coronavirus: Second Oxford student tests positive

Oxford University has said it will remain open and is taking advice from Public Health England.




BBC News - Published





Minister calls for action against students after Amber Rudd 'no-platformed' at Oxford event

Former home secretary hits out at 'rude' and 'badly judged' decision to cancel her talk




Independent - Published





Teacher at the Dragon School in Oxford sentenced over indecent images

Paul Dean was head of English at the prestigious Dragon School in Oxford.




BBC News - Published





Oxford grooming trial: Three men jailed for sexually abusing girl

Naim Khan, Mohammed Nazir, and Raheem Ahmed were found guilty of 35 offences between 1999 and 2001.




BBC News - Published





Oxford panto challenges gender and drag stereotypes

An Oxford theatre is staging a pantomime that challenges gender and drag stereotypes.




BBC News - Published





Remarkable journey from Afghan refugee to Oxford scholar

Getting an education was always a matter of life or death for Summia Tora.




BBC News - Published





Oxford professor given protection following threats from trans activists

Oxford academic Selina Todd was given protection after threats from transgender rights activists.




BBC News - Published




Homelessness: Bench armrests 'hostile' to Oxford rough sleepers

The council owns the bench which has had bars fitted on it but says it doesn't know who fitted them.




BBC News - Published





Toilet roll with Trump's face on it left on Oxford bus

A Zimbabwean $10bn note and a giant tent were also among items left on Oxford buses in 2019.




BBC News - Published





Layla Moran: Potential Lib Dem leadership candidate becomes first MP to come out as pansexual

Oxford MP said she was 'surprised' to find herself in a same-sex relationship, but added: 'Sometimes when you meet the right person, it just kind of happens'.




Independent - Published





Oxford don forced to quit wins age discrimination claim

Prof Paul Ewart was unfairly dismissed when he was made to retire aged 69, a tribunal finds.




BBC News - Published




Rare video shows puffin using stick as a tool - to scratch an itch

Oxford professor first saw unusual sight on remote island in Wales




Independent - Published





Oxford bus driver can lift equivalent of 18 bus tyres

Gabor Laszlo is a power-lifter in his spare time and was second in the world championships.




BBC News - Published





South Africa car crash deaths: Tributes to Oxford teacher

"Exceptional" science teacher Susanna Naylor died in the car crash along with her husband and friend.




BBC News - Published





Man City to play at Oxford in Carabao Cup

Holders Manchester City are drawn away against League One side Oxford United in the quarter-finals of the Carabao Cup.




BBC News - Published





Holders Man City drawn away at Oxford in EFL Cup quarter-finals

Holders Manchester City are drawn away against League One side Oxford United in the quarter-finals of the Carabao Cup.




BBC News - Published





Oxford grooming trial: Girl 'treated by men as sexual commodity'

Four men are accused of 36 charges including rape and indecent assault, between 1999 and 2001.




BBC News - Published