São Paulo
Largest city of Brazil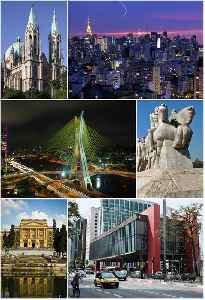 São Paulo is a municipality in the Southeast Region of Brazil. The metropolis is an alpha global city and the most populous city in Brazil, the Western Hemisphere and the Southern Hemisphere, besides being the largest Portuguese-speaking city in the world, and the largest city south of the Tropic of Capricorn. The municipality is also the world's 12th largest city proper by population. The city is the capital of the surrounding state of São Paulo, the most populous and wealthiest state in Brazil. It exerts strong international influences in commerce, finance, arts and entertainment. The name of the city honors the Apostle, Saint Paul of Tarsus. The city's metropolitan area, the Greater São Paulo, ranks as the most populous in Brazil and the 12th most populous on Earth. The process of conurbation between the metropolitan areas located around the Greater São Paulo created the São Paulo Macrometropolis, a megalopolis with more than 30 million inhabitants, one of the most populous urban agglomerations in the world.


'A rich exchange': The refugees teaching languages in Brazil
A language school in São Paulo employs refugees to teach, benefiting both students and instructors.
BBC News - Published
Brazil's Lula calls for Saturday rally, national tour
Brazil's former president Luiz Inacio Lula da Silva plans to hold a gathering of supporters at a metal workers union in greater Sao Paulo on Saturday before embarking on a national tour, he told a..
Reuters - Published
Brazil's ex-president freed from prison
Former Brazilian president Luiz Inacio Lula da Silva emerged from prison on Friday and met a crowd of cheering supporters, after a federal judge ordered his release following a landmark Supreme Court..
Credit: Reuters Studio Duration: 01:33Published
Dorset art installation recreates Delhi and London smog
Pods allow visitors to experience the air quality in Delhi, London, Beijing, São Paulo and Norway.
BBC News - Published
Park World Championships: Skateboarder Sky Brown, 11, wins bronze medal
Watch as 11-year-old skateboarder Sky Brown moves closer to Olympic qualification, after scoring 58.3 to win bronze at the Park World Championships in Sao Paulo.
BBC News - Published
'Finding my dad 30 years after I was taken from him'
Abandoned in Sao Paulo and then adopted by a British couple, Edson thought he'd never see his father again.
BBC News - Published
How Brazil and Vietnam are tightening their grip on the world's coffee
A towering machine rumbles through the fields of Julio Rinco's farm in the Brazilian state of Sao Paulo, engulfing whole coffee trees and shaking free beans that are collected by conveyor belts in its..
Reuters - Published
Former Brazil presidential candidate convicted of fraud in earlier race
A Sao Paulo state court convicted Fernando Haddad, who was the runner-up in Brazil's presidential elections last year, of mismanaging campaign accounts when he ran for mayor of Sao Paulo six years..
Reuters - Published
Brazil wildfires prompt 'prayers' for Amazon
A smoke-fuelled daytime blackout in Sao Paulo prompts calls for more action against forest fires.
BBC News - Published
Brazil top court suspends ex-president Lula's move to Sao Paulo jail
Brazil's Supreme Court on Wednesday suspended a lower court decision to transfer imprisoned former President Luiz Inácio Lula da Silva from the southern city of Curitiba to a penitentiary in the state..
Reuters - Published
Neymar rape case dropped over lack of evidence
The São Paulo attorney general's office say the case is being closed due to a lack of evidence.
BBC News - Published
Brazil police say one arrested in $29 million gold robbery case
Brazilian police said on Sunday they arrested one person and are seeking an arrest warrant for another in connection with the theft of a gold shipment at São Paulo's international airport on July..
Reuters - Published
Armed men steal $40 million of gold, metals from Brazil airport
Armed men stole $40 million of gold and other precious metals on Thursday from a Sao Paulo cargo terminal at South America's busiest airport, taking two hostages, police said.
Reuters - Published
You Might Like