Father
Male parent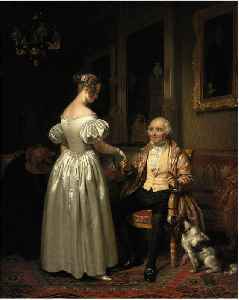 A father is the male parent of a child. Besides the paternal bonds of a father to his children, the father may have a parental, legal, and social relationship with the child that carries with it certain rights and obligations. An adoptive father is a male who has become the child's parent through the legal process of adoption. A biological father is the male genetic contributor to the creation of the infant, through sexual intercourse or sperm donation. A biological father may have legal obligations to a child not raised by him, such as an obligation of monetary support. A putative father is a man whose biological relationship to a child is alleged but has not been established. A stepfather is a male who is the husband of a child's mother and they may form a family unit, but who generally does not have the legal rights and responsibilities of a parent in relation to the child.


Jerry Still, Comedian, Dead at 92

Actor and comedian Jerry Stiller has died due to natural causes. CNN reports Stiller was 92. Ben Stiller, Jerry's son, released a statement via twitter announcing his father's death. "He was a great..
Credit: Wochit News Duration: 00:32
Published
Seinfeld star Jerry Stiller dies aged 92, son Ben pays tribute

Jerry Stiller will be forever remembered fo his comedic roles portraying the apoplectic father Frank Constanza in the TV comedy series Seinfeld. This report produced by Zachary Goelman.
Credit: Reuters Studio Duration: 01:34
Published
Dad is too old for the hoverboard!

Man losing balance on hoverboard and falling down.
Credit: Cover Video STUDIO Duration: 00:14
Published
Dad builds lockdown bowling machine for cricket-mad son

A man in Kent has built a bowling machine for his son using parts from his shed during the coronavirus lockdown. With government guidelines restricting people's movement outside, Phil Alger's son..
Credit: PA - Press Association STUDIO Duration: 01:02
Published
Dad's dinner party for children during lockdown goes viral

A British man stages a restaurant-style dinner to entertain his children, wearing a full tux and serving milk, the video is a social media feast.
Credit: Reuters - Viral Video Duration: 01:02
Published
Dad throws heartwarming dinner party with young family

A dad delights his young children by turning dinner time into a trip to a luxury restaurant during the coronavirus crisis lockdown.
Credit: PA - Press Association STUDIO Duration: 01:05
Published
You Might Like
Search this site and the web: