Kim Jong-un
Current supreme leader of North Korea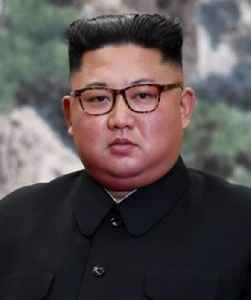 Kim Jong-un or Kim Jong Un is a North Korean politician serving as Supreme Leader of North Korea since 2011 and the leader of the Workers' Party of Korea since 2012. He is the second child of Kim Jong-il (1941–2011), who was North Korea's second Supreme Leader from 1994 to 2011, and Ko Yong-hui (1952–2004). He is the grandson of Kim Il-sung, who was the founder and first supreme leader of North Korea from its establishment in 1948 until his death in 1994.


Kim Jong-Un Visits 'Socialist Fairyland' Village

Kim Jong-un has praised North Korea's military for rebuilding a typhoon-hit village "as a socialist fairyland". The Supreme Leader was visiting an area in the south of the country, which has..
Credit: ODN Duration: 01:38
Published
Kim Jong Un inspects flood-hit area

North Korean leader Kim Jong Un inspected reconstruction work in a flood-hit area of the country, state media reported on Saturday. North Korea has recently been battered by some of the wettest..
Credit: Reuters Studio Duration: 00:51
Published
North Korea Mobilises Thousands After Typhoon Damage

North Korea has mobilised thousands of workers from its capital Pyongyang to help the nation's countryside regions recently struck by a powerful typhoon. After surveying the damage, North Korean..
Credit: ODN Duration: 01:11
Published
Kim Jong-Un Surveys Damage in Typhoon-Hit Area

North Korean leader Kim Jong-un has visited areas struck by a typhoon and called for 12,000 workers from the capital Pyongyang to join in the recovery efforts. North Korean state-run TV showed..
Credit: ODN Duration: 01:37
Published
Kim Jong Un's Sister May Hold Key North Korean Post, South Korean Officials Say

Kim Yo Jong appears to be effectively in charge of the Organisation and Guidance Department of North Korea's ruling Workers' Party.
Credit: Cover Video STUDIO Duration: 01:05
Published
UN warns of N. Korea's miniature nuclear devices

According to a confidential UN report, North Korea is pressing on with its nuclear weapons program and several countries believe it has "probably developed miniaturized nuclear devices to fit into the..
Credit: Reuters - Politics Duration: 02:01
Published
North Korean Reports First Possible Covid-19 Case

The first publicly reported suspected case of Covid-19 within North Korea's borders has been reported. North Korean leader Kim Jong Un called an emergency meeting Saturday after the infection was..
Credit: Wochit News Duration: 00:37
Published
North Korea declares emergency over first reported COVID-19 case

Leader Kim Jong Un holds an emergency meeting as the country's first suspected coronavirus infection is reported.
Credit: Al Jazeera STUDIO Duration: 02:23
Published
North Korea places border city in lockdown over fears of first Covid-19 patient

North Korean leader Kim Jong Un has placed a city near the border with SouthKorea under lockdown over concerns the country has its first coronavirus case,state media reported. The measure was taken on..
Credit: PA - Press Association STUDIO Duration: 00:42
Published
You Might Like



Kim Jong-un Visits Cornfield Following Reports of Coma

North Korea's leader, Kim Jong-un, is out and about visiting cornfields and assessing damage from storms ... just days after reports claiming he's on his death bed. The dictator held and ear of corn..




TMZ.com - Published





Kim Jong-un warns over North Korea typhoon and coronavirus

Despite rumours over his health, the North Korean leaders appears well and in charge.




BBC News - Published





North Korean Leader Kim Jong-Un Reportedly in a Coma

North Korean dictator Kim Jong-un is once again on his death bed ... that is, if you buy what some South Korean officials are saying about his mysterious health status. Chang Song-min -- a former aide..




TMZ.com - Published





Kim Jong-un gives sister Yo-jong 'more responsibilities'

Kim Yo-jong has reportedly been given responsibility for North Korean policy towards the US.




BBC News - Published





Coronavirus in North Korea: Kim Jong-un claims 'shining success'

North Korea maintains that it has zero Covid-19 cases, though analysts say this is unlikely.




BBC News - Published





North Korea: Kim Jong-un 'suspends military action' against South

A meeting led by North Korean leader Kim Jong-un halts plans for unspecified moves against the South.




BBC News - Published





North Korea tells 'mongrel dog' South why it bombed office

Kim Jong-un's sister said the South's president "put his neck into the noose of US flunkeyism".




BBC News - Published





North Korea says little reason to maintain Kim-Trump ties: KCNA

North Korea sees little use in maintaining a personal relationship between North Korean leader Kim Jong Un and U.S. President Donald Trump if Washington sticks to hostile policies, state media reported..




Reuters - Published




North Korean leader's sister emerges as policymaker in spat with South Korea

The sister of North Korean leader Kim Jong Un is taking a leading role in a new, more hard-line pressure campaign against South Korea, highlighting what analysts say is a substantive policy role that..




Reuters - Published




North Korea's Kim stresses self-sufficient economy as tensions with South Korea rise

North Korean leader Kim Jong Un focused on domestic economic issues at a meeting of the politburo of the country's ruling Workers Party, state media said on Monday, as the North ramped up pressure on..




Reuters - Published




North Korea's Kim, in first appearance in weeks, vows to bolster nuclear 'deterrence'

North Korean leader Kim Jong Un hosted a meeting to discuss the country's nuclear capabilities, state media said on Sunday, marking his first appearance in three weeks after a previous absence sparked..




Reuters - Published




Kim Jong Un vows to further bolster nuclear war deterrence

North Korean leader Kim Jong Un hosted a military meeting to discuss new policies to bolster the country's nuclear capabilities amid stalled denuclearisation talks with the United States, state media..




Reuters - Published




North Korea's Kim keeps low public profile in May: analysts

North Korean leader Kim Jong Un has made an unusually small number of public appearances in the past two months, once again going three weeks without state media reporting his attendance at a public..




Reuters - Published




China says willing to help North Korea in fight against virus

China is willing to offer support to North Korea within its ability against the coronavirus epidemic, state television said on Saturday, quoting President Xi Jinping as saying in a letter to North..




Reuters - Published





North Korea lashes out at South Korean military drills, sends greetings to China

North Korea lashed out at South Korea over recent military drills, while leader Kim Jong Un sent a personal message to China's Xi Jinping to congratulate him on that country's success in controlling..




Reuters - Published




North Korea says recent South Korean military drills are grave provocation that demands a reaction: KCNA

North Korea lashed out at South Korea over recent military drills while Kim Jong Un sent a personal message to China's Xi Jinping to congratulate him over that country's success in controlling the..




Reuters - Published





South Korea spy agency says no signs North Korea's Kim received heart surgery

There are no signs North Korean leader Kim Jong Un received heart surgery when he disappeared from state media for three weeks, but he reduced public activity due to coronavirus concerns, South Korean..




Reuters - Published




Kim Jong-un: No signs of heart surgery, says South Korean intelligence

Rumours swirled about the North Korean leader's health after he wasn't seen in public for weeks.




BBC News - Published





North Korea defectors criticised over speculation Kim was ill or dead

A former senior North Korean diplomat apologised on Monday after saying leader Kim Jong Un was likely so ill he could not stand, days before he emerged in state media chain smoking and walking briskly..




Reuters - Published




Shots fired by North Korea 'accidental': Pompeo

Shots fired by North Korea across its border with South Korea were likely "accidental," U.S. Secretary of State Mike Pompeo said on Sunday as speculation continues to swirl about the health of North..




Reuters - Published




North Korea's Kim did not have surgery, South says, as shots fired at DMZ

North Korean leader Kim Jong Un did not undergo surgery during almost three weeks of absence from public life, a South Korean official said on Sunday, as the two Koreas exchanged gunfire at the..




Reuters - Published




South Korea says Kim Jong Un did not have surgery, as two Koreas exchange gunfire

North Korean leader Kim Jong Un did not undergo surgery during his almost three week absence from public life, South Korean news outlet Yonhap said citing a senior government official, as the two..




Reuters - Published




South Korea Blue House's assessment is Kim Jong Un did not have surgery: Yonhap

South Korea's assessment is that North Korean leader Kim Jong Un did not have a surgery, local news outlet Yonhap said, citing an unidentified senior official at presidential Blue House.




Reuters - Published





North and South Korea exchange gunfire across border at guard post

North and South Korea exchanged gunfire around the South's guard post early on Sunday, raising tension a day after North Korean leader Kim Jong Un ended an almost three-week absence from public life..




Reuters - Published




Trump hails Kim reappearance, but North Korea denuclearization prospects bleak

U.S. President Donald Trump on Saturday welcomed the reemergence of North Korea's Kim Jong Un after weeks of speculation about his health, but prospects for the U.S. efforts to persuade Pyongyang to..




Reuters - Published




Trump says glad to see North Korea's Kim 'back, and well!'

U.S. President Donald Trump on Saturday responded to reports of North Korean leader Kim Jong Un's reappearance in public with a tweet saying, "I, for one, am glad to see he is back, and well!"




Reuters - Published




Kim Jong-un shown on state media after absence

KCNA news agency reports that the North Korean leader cut the ribbon at the opening of a fertiliser factory




BBC News - Published





The art of re-emergence: North Korea leader Kim appears after long gap

When North Korea broke a three-week silence on leader Kim Jong Un's public activity on Saturday, it offered no clue where he has been during a period of intense global speculation about his health and..




Reuters - Published





Heir unapparent: If North Korea faces succession, who might replace Kim?

North Korean leader Kim Jong Un made his first public appearance in three weeks, state media reported on Saturday, after an unexplained absence fuelled questions about who would take over the..




Reuters - Published




Kim Jong-un and the brutal North Korea rumour mill

Kim Jong-un is not dead, but that won't stop the rumour mill in future. Here is how it works.




BBC News - Published





After rumours about health, North Korea state media report Kim Jong Un appearance

After weeks of intense speculation about the health of Kim Jong Un, state news agency KCNA said on Saturday the North Korean leader attended the completion of a fertilizer plant north of Pyongyang, the..




Reuters - Published