Sydney
State capital of New South Wales and most populous city in Australia and Oceania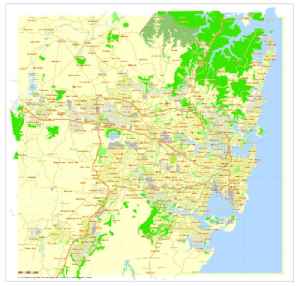 Sydney is the state capital of New South Wales and the most populous city in Australia and Oceania. Located on Australia's east coast, the metropolis surrounds Port Jackson and extends about 70 km (43.5 mi) on its periphery towards the Blue Mountains to the west, Hawkesbury to the north, the Royal National Park to the south and Macarthur to the south-west. Sydney is made up of 658 suburbs, 40 local government areas and 15 contiguous regions. Residents of the city are known as "Sydneysiders". As of June 2017, Sydney's estimated metropolitan population was 5,230,330 and is home to approximately 65% of the state's population.


The Bookshop: The story of Australia's oldest LGBTI bookstore
For nearly four decades The Bookshop has been a safe place, community hub and vital resource for Sydney.
BBC News - Published
Hong Kong protests against extradition law spill into Sydney
Anger in Hong Kong over a move to allow extraditions to mainland China spilled over into Sydney on Sunday, with migrants gathering for a protest and urging the Australian government to condemn the..
Reuters - Published
Father of missing backpacker pleads for help in Australia
At a press conference in Australia, the father of missing teenager Theo Hayez asks for help after his son disappeared more than two weeks ago. He was backpacking in the country and was last seen in..
Credit: Reuters Studio Duration: 01:35Published
Police Raid Australia's National Broadcaster
According to CNN, Two police raids in two days on Australia's national broadcaster and a prominent journalist have raised concerns about press freedom in the country. Police searched the offices of the..
Credit: Wochit News Duration: 00:49Published
Police in Australia search headquarters of ABC News in Sydney
ABC says the operation was in relation to its 2017 reports about alleged misconduct by Australian troops in Afghanistan
Credit: euronews (in English) Duration: 02:03Published
Australia: Police raid ABC headquarters over Afghanistan stories
Police searched the corporation's offices in Sydney, in second high-profile probe into news outlets in 24 hours.
Credit: Al Jazeera STUDIO Duration: 02:36Published
Geoffrey Rush Awarded $1.9 Million In Defamation Suit
(CNN)Oscar-winning actor Geoffrey Rush has been awarded $2.9 million Australian dollars (over $1.9 million USD) after winning his defamation case against a Sydney newspaper publisher and journalist,..
Credit: Wochit News Duration: 00:52Published
Anti-coal protester runs at Australian PM outside voting center
Australian Prime Minister Scott Morrison voted in the country's general election on Saturday, and said he wanted to back the aspirations of Australians. When leaving the voting center, an anti-coal..
Credit: Reuters Studio Duration: 01:01Published
Former Australian leader dies on eve of general election
Australian politicians scrambled to shore up undecided voters on Friday, the last day of an election campaign that's ended in mourning for one of the country's political giants, Bob Hawke. Ed Giles..
Credit: Reuters Studio Duration: 02:25Published
Israel Folau sacked by Rugby Australia over social media post
Rugby Australia terminates Israel Folau's contract following his controversial posting on social media
Credit: Reuters - Sports Duration: 01:01Published
News Corp Appeals Ruling In Geoffrey Rush Defamation Suit
On Monday, News Corp's Australian arm appealed a judgment that awarded Geoffrey Rush $594,000 in defamation damages. News Corp published articles saying that Rush had behaved inappropriately toward a..
Credit: Wochit News Duration: 00:41Published
Olympic chief has sympathy for Semenya, respects CAS decision
Olympic chief Thomas Bach said on Saturday he had sympathy for Caster Semenya but respected the Court of Arbitration for Sport (CAS)'s decision that means the South African athlete will have to reduce..
Credit: Reuters - Sports Duration: 01:45Published
Israel Folau conduct hearing to continue Sunday
Israel Folau's code of conduct hearing will continue for a second day with no decision expected before next week at the earliest, Rugby Australia said on Saturday.
Credit: Reuters - Sports Duration: 01:02Published
Punches thrown at event of controversial right-wing lawmaker
A 19-year-old man is arrested after assaulting two journalists an event held by a controversial right-wing lawmaker. Rough cut - no reporter narration.
Credit: Reuters Studio Duration: 00:59Published
Fog blankets Sydney, causes flight delays
Heavy fog blanketed Sydney on Saturday morning, delaying flights, creating hazards for shipping and setting social media ablaze with moody photographs of disappearing landmarks.
Reuters - Published
Search this site and the web:
You Might Like