London Underground
Public rapid transit system in London, United Kingdom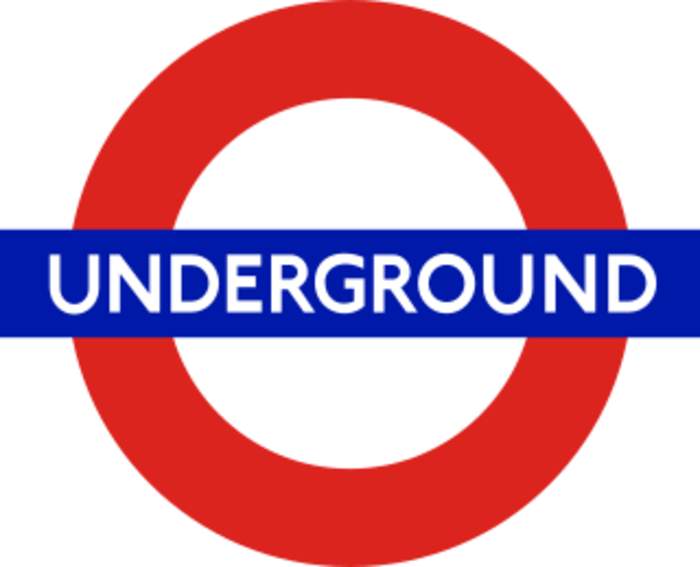 The London Underground is a rapid transit system serving Greater London and some parts of the adjacent counties of Buckinghamshire, Essex and Hertfordshire in the United Kingdom.


Passenger fined for not wearing a face covering on London's Tube

A joint operation between Transport for London's enforcement officers andBritish Transport Police takes place on London's Tube network at King's CrossSt Pancras. Officers ensure that people are..
Credit: PA - Press Association STUDIO Duration: 00:42
Published
You Might Like



Banksy painting Tube carriage shows London Underground 'not safe', RMT says

Transport for London refuses to release a report into a Banksy artwork, citing security concerns.




BBC News - Published





Tashan Daniel: Man jailed for London Underground murder

Alex Lanning is given a life sentence for killing Tashan Daniel and jailed for at least 25 years.




BBC News - Published




British White Man Knocked Out After Racist Rant Against Black Youths

London Bridge might be falling down, but so is this man after getting his clock cleaned for spewing racist crap in public. Check out this one-hitter-quitter that went down over the weekend on a train..




TMZ.com - Published





Banksy's new face mask-themed artwork removed from London Underground carriage by Transport for London

TfL says piece violates 'strict anti-graffiti policy' but invites artist to recreate message 'in a suitable location'




Independent - Published





Why Boris Johnson's call for driverless Tube trains is a political stunt

Analysis: You won't be riding in a driverless Tube train for many years, Jon Stone explains




Independent - Published





Train travels wrong way down London Tube track

Two trains nearly crash when one travels in the wrong direction on a London Underground track.




BBC News - Published





Coronavirus: Tube could be 'overwhelmed' trying to enforce social distancing when lockdown lifts, report warns

London Underground capacity may have to be cut to 15% of normal levels if two-metre spaces between passengers is enforced




Independent - Published





Coronavirus lockdown brings anguish for Tashan Daniel's family

Tashan Daniel was stabbed on the London Underground while making his way to an Arsenal game.




BBC News - Published





UK PM Johnson says should be possible to get more trains on London Underground

British Prime Minister Boris Johnson said on Wednesday it should be possible to get more trains on the London Underground to tackle overcrowding happening because of a reduced service during the..




Reuters - Published





Coronavirus: Health secretary Matt Hancock branded 'grossly irresponsible' after calling for London Underground system to return to full operations

NHS workers complain of being forced to breach virus safety rules in crowded carriages




Independent - Published





Oval Four: Black man framed by corrupt police officer at London Tube station cleared 48 years later

Omar Boucher is the last member of the 'Oval Four' to have his conviction quashed




Independent - Published





Roads quiet but Underground packed as Britain goes into virtual lockdown

Roads were much quieter than usual on Tuesday after Britain went into virtual lockdown to try to curb the spread of the coronavirus, but London Underground trains were crammed with people and streets..




Reuters - Published





Coronavirus: Crowds reported on Tube, Aslef union says

Social distancing on London Underground is "impossible" because of the crowds, a union leader says.




BBC News - Published





Coronavirus: 40 London Underground stations to be closed

The Night Tube will be stopped from this weekend as part of new contingency plans across London.




BBC News - Published





Coronavirus: 40 London Underground stations to close and Night Tube suspended as capital prepares for lockdown

'People should not be travelling, by any means, unless they really, really have to', mayor says




Independent - Published





Coronavirus: London Underground driver tests positive for disease

A London Underground tube driver has reportedly tested positive for coronavirus.




Independent - Published





London Underground air used to heat homes above ground

The Tube can be unbearably warm at times. But what if all that hot air could be put to good use?




BBC News - Published





London Tube workers balloted over strikes in pay row

London Underground workers have been locked in more than a year of negotiations in a pay row with TfL.




BBC News - Published





Coronavirus news – live: London Underground could be hotbed for spread of virus, doctors warn, after record rise in China death toll

Follow the latest updates




Independent - Published





'Nothing short of a miracle': Cat survives seven hours stuck on London Underground tracks after 250 trains drive over him

'How the f*** did my cat make his way down onto the track,' owner asks




Independent - Published





Father of Jewish children abused on tube thanks Muslim woman who intervened

Victim of antisemitism on London Underground says he wants to meet Asma Shuweikh in person




Independent - Published





Whitechapel stabbings: Man murdered near London Tube station as three others attacked

A man has been stabbed to death in London, in an incident where three others suffered knife injuries.




Independent - Published





Man hit by Tube train at Oxford Circus

The man suffered a medical episode and fell in front of a Victoria Line train during rush hour.




BBC News - Published





Climate-change protesters disrupt London rush hour

Climate-change activists disrupted rail services in London on Thursday, sparking a clash between angry commuters and a protester who had climbed onto the roof of a London Underground train during rush..




Reuters - Published




Climate protesters dragged from top of London Underground train

The men were demonstrating at Canning Town but were pulled down to the ground by commuters waiting on the platform after the Tube was unable to leave the station.




BBC News - Published





Birdsong plays in 5,000 buildings to highlight bird loss

Venues include London Underground stations, sports stadiums, supermarkets and Lincoln Cathedral.




BBC News - Published





Extinction Rebellion protesters target London Underground

The Jubilee Line and DLR are partly suspended after incidents at three stations across the city.




BBC News - Published





Extinction Rebellion - live: Furious mob of commuters drag protesters from Tube train as parts of London Underground shut down

Latests updates as climate activists defy London-wide ban on protests




Independent - Published





Police investigating death of man at London Tube station minutes after woman's body found at home

Detectives believe deaths of pair known to each other are linked




Independent - Published





Two men in court over London Underground stabbing murder

Alex Lanning and Jonathan Camille both appeared at Westminster Magistrates' Court.




BBC News - Published





Upskirting lawyer sentenced for London Underground photos

Daren Timson-Hunt was caught by a police inspector travelling in the same carriage, a court hears.




BBC News - Published





Sexual assaults on London Underground soar 42% in last four years

Calls for victims to report unwanted sexual behaviour on tube as campaigners say figures are tip of iceberg




Independent - Published





Tube noise levels: London Underground drivers vote for industrial action

Staff backed action on four Tube lines, saying progress on the issue was "too slow".




BBC News - Published





London Underground: More than 36,000 shifts lost to Tube strikes

A leading academic says the amount of days lost to London Underground strikes is "particularly dire".




BBC News - Published





The hidden history of Piccadilly Circus Tube Station

The old London Underground station was rebuilt in the 1920s to deal with an increase in commuters.




BBC News - Published





'CS gas attack' on London Underground train at Oxford Circus

A number of people were treated at the scene by paramedics for coughing and lack of breath.




BBC News - Published




Police launch manhunt after 'tear gas' released on Tube train at Oxford Circus station

Police are hunting for two men after gas was released on a Tube train in central London on Saturday.




Independent - Published





London Underground to get full 4G coverage

Passengers will be able to make calls and go online anywhere on the Tube network by the mid-2020s.




BBC News - Published





London Underground theft reports increase by 80%

The Piccadilly and Central lines, which serve tourist hotspots, had the most reports of theft.




BBC News - Published





Tube pusher jailed for life after shoving 91-year-old man onto the tracks

A schizophrenic man who pushed a 91-year-old pensioner onto the tracks at a London Underground station has been jailed.




Independent - Published





London Underground: 'A stranger tried to kill me'

Tobias French was nearly killed when a stranger tried to push him in front of an oncoming train.




BBC News - Published