Liverpool
City and metropolitan borough in England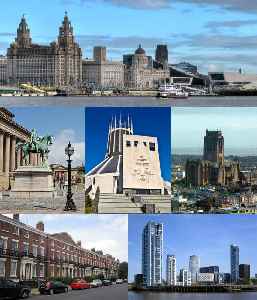 Liverpool is a city and metropolitan borough in Merseyside, England. Its population in 2019 was approximately 498,042 making it the tenth-largest English district by population and the largest in Merseyside and the surrounding region. It lies within the UK's sixth-most populous urban area. Liverpool's metropolitan area is the fifth-largest in the UK with a population of 2.24 million.


Batman stunt double spotted on top of Liverpool's Royal Liver Building

A stunt double dressed as Batman has been pictured on top of the Royal LiverBuilding in Liverpool. The stuntman, who was secured with a wire, was seenleaning off the famous landmark on Thursday...
Credit: PA - Press Association STUDIO Duration: 01:09
Published
Liverpool faces highest level of COVID-19 restrictions in England

Liverpool is the only area at the highest level of restrictions in England.
Credit: Al Jazeera STUDIO Duration: 03:51
Published
Dancing crowds in Liverpool 'shamless', says mayor

Crowds of people dancing in Liverpool city centre were a "shameless",Liverpool's metro mayor has said. Police dispersed the gathering at 10pm asbars shut their doors for the final time ahead of new..
Credit: PA - Press Association STUDIO Duration: 01:29
Published
Liverpool city centre appears busy as new restrictions come in

Liverpool City Region has become the first area of England to be placed in thetoughest tier of coronavirus restrictions, in a bid to reduce the virus'sinfection rate. The measures were imposed..
Credit: PA - Press Association STUDIO Duration: 00:50
Published
Liverpool mayor says images of crowded streets hours before new COVID-19 measures 'shame our city'

Crowds were pictured dancing in Liverpool before new COVID-19 restrictions were brought in on Wednesday in the UK's new three-tier alert system.
Credit: Euronews English Duration: 03:09
Published
Liverpool bar owner says financial support for closed venues 'not enough'

Venya Kruitkov, owner of Kazamier bar in Liverpool, says that more financialsupport needs to be provided as employers in the hospitality industry will beunable to subside wages, even with Government..
Credit: PA - Press Association STUDIO Duration: 00:32
Published
Starmer questions PM's new Covid measures in Liverpool

Labour leader Keir Starmer has questioned whether the new Covid alert system, announced today by Prime Minister Boris Johnson, is enough to "bring the country back from the brink" of the pandemic...
Credit: ODN Duration: 01:23
Published
Prime Minister announces Liverpool pubs and gyms to close

Prime Minister Boris Johnson explains the new Covid-19 three-tier alert levelsbeing rolled out in the UK. The Liverpool area faces the tightest restrictionswith pubs and gyms told to close.
Credit: PA - Press Association STUDIO Duration: 01:48
Published
Liverpool mayor frustrated by poor communication with Government

Mayor of Liverpool Joe Anderson says that the Government is not consulting orlistening to suggestions from local governing bodies before rolling out newcoronavirus restrictions.
Credit: PA - Press Association STUDIO Duration: 00:54
Published
English soccer reforms labeled as 'power grab'

Radical changes to the structure of the premier league proposed by Liverpool and Manchester Utd have been labeled 'a power grab' by the UK minister who oversees sport. Adam Reed reports.
Credit: Reuters Studio Duration: 01:20
Published
England new lockdown rules: Liverpool to be placed under tight restrictions


Credit: FRANCE 24 English Duration: 01:48
Published
Liverpool metro mayor on new lockdown financial support

Liverpool City Metro Mayor Steve Rotheram calls on the government to provide a financial support package for local businesses as new lockdown restrictions could see the closure of pubs, gyms and..
Credit: ODN Duration: 00:56
Published
Never before seen Lennon photos go on display

The Beatles Story museum in Liverpool unveils a set of unseen photos of JohnLennon, taken by Robert Deutsch, in 1974. Plus shots of Lennon's glasses andpiano and quotes from Diane Glover of The Beatles..
Credit: PA - Press Association STUDIO Duration: 00:41
Published
COVID-19 spreads rapidly in northern England

Liverpool, Leeds, Newcastle and Manchester have seen steep rises in cases, mainly clustered around universities.
Credit: Al Jazeera STUDIO Duration: 02:36
Published
Psychologist jailed for life after bludgeoning his mother to death

A sports psychologist who bludgeoned his mother to death to fund his "shamlifestyle" has been jailed for life. Robert Child, 37, inflicted a "mercilessattack" on his 64-year-old mother Janice..
Credit: PA - Press Association STUDIO Duration: 00:57
Published
Ministers and MPs criticise protesters for targeting printing presses

Protesters from Extinction Rebellion (XR) have blockaded two of NewsCorporation's major printing presses to stop a range of papers reachingnewsstands on Saturday. More than 100 protesters used..
Credit: PA - Press Association STUDIO Duration: 01:00
Published
You Might Like



Brother of Liverpool mayor Joe Anderson dies with Covid

Joe Anderson has said his brother, who was admitted to hospital with coronavirus, has died.




BBC News - Published





'They were there for the taking' - could Merseyside derby history repeat itself 10 years on?

A look at how the mood at Everton and Liverpool is very different to the last time the Toffees won a Merseyside derby, exactly 10 years ago.




BBC News - Published





'The next proper challenger' - Everton can rival Liverpool, says Klopp

Carlo Ancelotti's Everton can become "the next proper challenger" to Liverpool in the Premier League, says Reds manager Jurgen Klopp.




BBC News - Published





Everton can challenge Liverpool under Carlo Ancelotti - Jurgen Klopp

Carlo Ancelotti's Everton can become "the next proper challenger" to Liverpool in the Premier League, says Reds manager Jurgen Klopp.




BBC News - Published





Batman Stuntman Wears Hefty-Bag Like Bat Suit

The reboot of the Batman film franchise definitely has a new look ... because it looks like The Dark Knight's utilizing a Hefty bag. We kid, sort of, but filming for "The Batman" Thursday in Liverpool,..




TMZ.com - Published





Jurgen Klopp's record-breaking five Liverpool years in numbers

BBC Sport digs into the stunning stats underpinning Jurgen Klopp's remarkable half-decade at Anfield.




BBC News - Published





Coronavirus: Liverpool crowds dispersed on eve of new restrictions

Footage on social media shows people dancing in the streets of Liverpool after last orders.




BBC News - Published





Liverpool coronavirus measures 'a slap in the teeth'

The mayor of Liverpool believes the area needs a local furlough scheme to help with tougher coronavirus restrictions.




BBC News - Published





Liverpool set to face strictest England Covid rules

Merseyside is expected to be the only part of England to face the tightest "Tier 3" restrictions.




BBC News - Published





Covid: £40m hospitality fund for Liverpool city region

The money has been set aside for the hospitality and leisure sector in the Liverpool City Region.




BBC News - Published





Sheff Utd sign Brewster from Liverpool for £23.5m

Sheffield United boss Chris Wilder says Rhian Brewster is "one of the country's hottest properties" after signing the striker from Liverpool.




BBC News - Published





Rhian Brewster: Sheffield United complete Liverpool striker signing

Sheffield United boss Chris Wilder says Rhian Brewster is "one of the country's hottest properties" after signing the striker from Liverpool.




BBC News - Published




Sheff Utd agree £23.5m deal for Liverpool forward Brewster

Sheffield United agree a £23.5m deal to sign Liverpool's England Under-21 forward Rhian Brewster.




BBC News - Published





Stricter Covid rules in Liverpool and north-east England

Stricter measures will be introduced in Liverpool, Warrington, Hartlepool and Middlesbrough




BBC News - Published





Covid 19: More restrictions expected in Merseyside

There are "serious concerns" about managing the virus amid a spike in cases, Liverpool mayor says.




BBC News - Published





Coronavirus: 10pm pub curfew 'dangerous', Liverpool's mayor says

Joe Anderson says pubs should have staggered closures after crowds gathered in Liverpool.




BBC News - Published





Murder probe after man found stabbed in Toxteth

The man died in hospital after the "targeted attack" in Toxteth, Liverpool, police say.




BBC News - Published





Premier League: 'Signings could open up title race' - Alan Shearer previews new season

Alan Shearer thinks Manchester City will win the Premier League title back from Liverpool but says predictions are difficult until the transfer window closes on 5 October.




BBC News - Published





Drunk man steals 'L' from Liverpool Philharmonic sign

Police say they found a man with the letter after the theft from Liverpool's Philharmonic Hall.




BBC News - Published





Liverpool's Cavern Club in 'fight for survival'

Staff are being laid off at the Liverpool music venue due to difficulty trading during the pandemic.




BBC News - Published





Coronavirus: Liverpool volunteers credited for containing local surge in Covid-19 cases

Princes Park area saw spike in infection but boots-on-ground helpers have brought numbers under control




Independent - Published





Sunday's gossip column: Chelsea want Burnley's Pope

Chelsea step up Pope bid, Inter must pay £15m for Sanchez, PSG set to battle Liverpool for Thiago, plus more.




BBC News - Published





Anthony Walker: BBC drama part of his legacy, mother says

The TV drama tells the story of murdered Liverpool student Anthony Walker and the future he deserved.




BBC News - Published





Top Premier League moments of the season - we've picked them, you rank them

From Liverpool's title win to Son Heung-win's wonder goal, BBC Sport looks back at 12 significant moments from this season's Premier League.




BBC News - Published





Liverpool: Anfield dispersal order to 'prevent disorder'

Fans have gathered around Anfield where Kenny Dalglish will present the Premier League trophy.




BBC News - Published





Liverpool: Who makes your all-time Reds XI?

After 30 years of hurt, Liverpool are champions of England. But who from Jurgen Klopp's Class of 2020 would make your all-time Reds XI?




BBC News - Published





UFC Fight Island: Molly McCann on 'momentous moment' for Liverpool fighters

UFC fighters Molly McCann and Chris Fishgold used to work together at a Liverpool bar. Now they will be on the same card at Fight Island.




BBC News - Published





Liverpool shooting: Woman shot by police 'critically ill'

Merseyside Police had been called to the scene following reports of a woman armed with a knife.




BBC News - Published

Also reported by •Independent


Dubai drug raid: 'No reason' to hold Liverpool flight attendant

Derrin Crawford's family say the 23-year-old tested negative for drugs but is still in jail.




BBC News - Published





Big Zuu's freestyle for Premier League champions Liverpool

UK rapper Big Zuu performs a new freestyle to celebrate his beloved Liverpool winning their first league championship for 30 years.




BBC News - Published





Thursday's football gossip: Arsenal and Inter linked to Griezmann

Arsenal and Inter Milan linked to Griezmann, Gunners step up Partey chase, Salah wants to stay at Liverpool for "long time", plus more.




BBC News - Published





Mohamed Salah says he wants to stay at Liverpool for a 'long time'

Mohamed Salah says he wants to stay at Liverpool for "a long time" and thinks the club can still "achieve more".




BBC News - Published





Liverpool city centre zip wire attraction gets green light

The aerial zip wire attraction will run from St John's Beacon to Liverpool Central Library.




BBC News - Published





Footballer stabbed during robbery

Derby County defender Andre Wisdom is stable in hospital after being stabbed in an "unprovoked assault and robbery" in Liverpool.




BBC News - Published





Liverpool police granted extra powers as Liver Building set alight in second night of celebrations

Police pelted with bottles as supporters defy lockdown to descend on city centre again




Independent - Published





Beers, cheers and tears: How lockdown Liverpool came to life to celebrate historic title win

The pubs were shut and Anfield's gates remained locked as Liverpool celebrated the end of a three-decade wait to be crowned champions. But the unprecedented circumstances could not dampen spirits,..




Independent - Published





Liverpool: Mayor fears Covid-19 spike over Anfield fan gathering

Joe Anderson says it was "disappointing" to see so many Liverpool fans ignore official advice.




BBC News - Published





Chelsea 2-1 Man City: Liverpool win title as Chelsea beat Man City

Liverpool are crowned champions of England for the first time in 30 years after Manchester City lose to Chelsea.




BBC News - Published




Liverpool aerial zipline to be approved despite fears of 'Disneyisation' of historic city centre

A proposed 400-metre zipline whisking thrill-seekers above Liverpool city centre is set to be approved – despite critics claiming it will Disneyfy a hugely historic area.




Independent - Published





Coronavirus: UK towns and cities warn of potential bankruptcy due to pandemic

Liverpool and Manchester council bosses among those urging the government for help to stave off financial disaster in 'a moment of profound crisis'




Independent - Published





Portable changing rooms and a saxophone player - a 'suitably surreal' Merseyside derby draw

Everton's goalless stalemate with Liverpool was a derby like no other with no fans present, writes BBC Sport's chief football writer Phil McNulty.




BBC News - Published





Everton 0-0 Liverpool - a Merseyside derby draw like no other at Goodison Park

Everton's goalless stalemate with Liverpool was a derby like no other with no fans present, writes BBC Sport's chief football writer Phil McNulty.




BBC News - Published




Everton 0-0 Liverpool: Reds edge closer to title with draw in derby

Liverpool edge closer towards the Premier League title after a goalless draw with Everton in the Merseyside derby at Goodison Park.




BBC News - Published




Liverpool stabbing: Two men and a woman injured

One man was wounded in the stomach, while the other victims were injured in the head, police say.




BBC News - Published





Liverpool to wrap up title? Lawro takes on Sports Team drummer Al Greenwood

Mark Lawrenson takes on Sports Team drummer Al Greenwood to make predictions for this weekend's Premier League fixtures.




BBC News - Published





Sunday's gossip - Dortmund dismiss Sancho Liverpool link

Borussia Dortmund dismiss Jadon Sancho Liverpool link, Timo Werner has no future at Leipzig, plus more.




BBC News - Published





Black Lives Matter protests: March held in Liverpool

The event is one of many protests being held in support of the Black Lives Matter movement.




BBC News - Published





Penny Lane signs defaced in Liverpool over slavery claims

The signs on the street immortalised in a Beatles song in 1967 were attacked overnight.




BBC News - Published





Merseyside derby can be played at Goodison

The Merseyside derby gets the go-ahead to be held at Everton's Goodison Park stadium, while Liverpool can play home games at Anfield.




BBC News - Published