Dhamar Governorate
Governorate in Yemen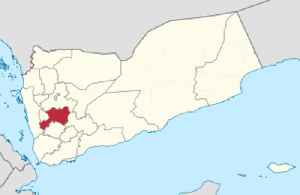 Dhamar, also spelt Thamar, is a governorate of Yemen. It is located to the south and southeast of Sana'a Governorate, to the north of Ibb Governorate, to the east of Al Hudaydah Governorate and to the northwest of Al Bayda' Governorate in the central highlands of Yemen. It has a total areas of 7,586 km2 (2,929 sq mi) and an estimated population of around one and a half million. The visitor enters Dhamar governorate about 70 km south of the Sana'a airport. The center of the governorate is about 100 km (62 mi) from Sana'a, the capital of the Republic. The governorate sits among a number of other governorates: Sana'a to the north and northeast, al-Bayda' to the east, Ibb to the south, and Raymah and al-Hudaydah to the west.


Yemen's Houthis down U.S. drone in Dhamar governorate: spokesman
Yemen's Houthi movement's air defenses on Wednesday downed a United States drone MQ-9 in Dhamar governorate, southeast of the Houthi-controlled capital Sanaa, the group's Al-Masirah TV quoted the..
Reuters - Published
Search this site and the web:
You Might Like