Democratic National Committee
Top institution of the U.S. Democratic Party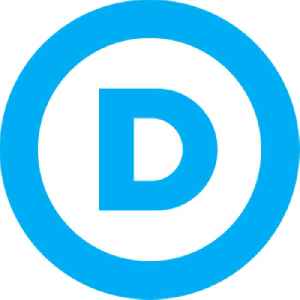 The Democratic National Committee (DNC) is the governing body for the United States Democratic Party. The committee coordinates strategy to support Democratic Party candidates throughout the country for local, state, and national office. It organizes the Democratic National Convention held every four years to nominate and confirm a candidate for president, and to formulate the party platform. While it provides support for party candidates, it does not have direct authority over elected officials.


Democrats announce tighter criteria for fifth presidential debate
The Democratic National Committee on Monday announced new criteria for the fifth presidential debate in November, requiring candidates to receive 3 percent or more support in at least four opinion..
Reuters - Published
Parents of murdered Democratic staffer Seth Rich can sue Fox News: U.S. court
A federal appeals court on Friday revived a lawsuit against Fox News Network over its reporting on Seth Rich, a former Democratic National Committee employee whose unsolved murder sparked..
Reuters - Published
2016 election probe a factor in frozen Ukraine aid: WH
President Donald Trump's acting chief of staff Mick Mulvaney on Thursday acknowledged that Trump held up $391 million in military aid to Ukraine in part to make the money contingent upon the Ukrainians..
Credit: Reuters Studio Duration: 02:15Published
November Debate Spells Death For Beto Campaign
The DNC increased the threshold for the November Presidential debate. The Washington Examiner reports that failed Senatorial candidate Beto O'Rourke will not make the cut. O'Rourke hit the donor..
Credit: Wochit News Duration: 00:33Published
DNC Upset Over Treatment Of Biden
Joe Biden has been under fire for suspected international corruption. The DNC is not outwardly defending Biden. The low-key approach is sparking frustration. Trump continues to pummel the former vice..
Credit: Wochit News Duration: 00:32Published
Ex DHS Chief: Trump Blaming Hillary For Ukraine Scandal Will 'Bring Him Down'
President Donald Trump's former homeland security chief Tom Bossert came out swinging on Sunday. According to Politico, Bossert is alarmed by Trump's attempt to get dirt on Joe Biden from Ukraine. In..
Credit: Wochit News Duration: 00:44Published
DNC Will Shrink Debate Stage Again
Democratic Presidential Candidates are waiting for the rules of the upcoming fall debates. The candidates are bracing for another round of strict new debate criteria from the Democratic National..
Credit: Wochit News Duration: 00:36Published
Five Things To Consider During The Democratic Debate
1. Is it fair for the Democratic National Committee to qualify who is worth joining the debate? 2. Will Joe Biden have a strong debate, compared to his past appearances? 3. What will be the dynamic..
Credit: Wochit News Duration: 00:37Published
Democrats Ensure Presidential Candidates Won't Create Own Political Groups
Democratic Party officials are still not happy about Barack Obama creating his own political group. According to Politico, Obama created Organizing for Action outside of the Democratic National..
Credit: Wochit News Duration: 00:32Published
DNC Votes Against Allowing Candidates To Participate In Exclusive Climate Debate
Democratic National Committee delegates in San Francisco voted against a debate focused on climate change. The 222-137 vote said they would not allow candidates to participate in such a primary debate...
Credit: Wochit News Duration: 00:32Published
Democratic National Committee expected to block Iowa, Nevada virtual caucus plans: reports
The Democratic National Committee is expected to recommend on Friday that Iowa and Nevada scrap plans to hold so-called virtual caucuses ahead of the 2020 election because of security concerns,..
Reuters - Published
Explainer: Two nights, 20 Democrats - What you should know about the first 2020 debate
When 20 Democrats take the stage next week for the first of 12 prime-time presidential primary debates, they will assemble according to months-in-the-making plans by the Democratic National Committee..
Reuters - Published
Democrats announce 20 U.S. presidential candidates who qualify for first debate
The Democratic National Committee announced on Thursday the 20 presidential candidates who will participate in the party's pivotal first debate in Miami later this month, dealing a blow to four..
Reuters - Published
Democrats bar Fox News from moderating debates after reported Trump ties
The Democratic National Committee on Wednesday said it will not allow Fox News to host any of its candidates' political debates through 2020, citing a report this week about the conservative channel's..
Reuters - Published
You Might Like