Leipzig
Place in Saxony, Germany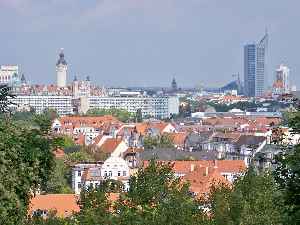 Leipzig is the most populous city in the German state of Saxony. With a population of 600,000 inhabitants as of 2019, it is Germany's eighth most populous city as well as the second most populous city in the area of former East Germany after (East) Berlin. Together with Halle (Saale), the largest city of the neighbouring state of Saxony-Anhalt, the city forms the polycentric conurbation of Leipzig-Halle. Between the two cities lies Leipzig/Halle Airport.


You Might Like
Classy PSG beat Leipzig to reach first Champions League final
Paris St-Germain are through to their first Champions League final courtesy of a deserved 3-0 victory over RB Leipzig
BBC News - Published
Sunday's gossip - Dortmund dismiss Sancho Liverpool link
Borussia Dortmund dismiss Jadon Sancho Liverpool link, Timo Werner has no future at Leipzig, plus more.
BBC News - Published
China-EU summit in Germany postponed due to coronavirus
A summit planned for September in Leipzig, Germany, between China and the European Union has been postponed because of the coronavirus, the German government said on Wednesday.
Reuters - Published
Germany's Leipzig Book Fair confirms cancellation over coronavirus
The organizers of a major German book fair in the eastern city of Leipzig confirmed on Tuesday the event would be canceled over the spread of the novel coronavirus.
Reuters - Published
German book fair canceled due to coronavirus: Focus
A book fair in the eastern German city of Leipzig has been canceled in an effort to contain the spread of the coronavirus in the country, Focus Magazine reported on Tuesday.
Reuters - Published
German club Leipzig sorry for ejecting Japanese guests over coronavirus fears
RB Leipzig apologise to a group of Japanese guests who were asked to leave Sunday's home match amid coronavirus concerns.
BBC News - Published
Uefa Champions League: Key battles for Liverpool, Tottenham Hotspur, PSG and Dortmund
Football experts from around Europe give the continental view on the first set of Champions League last-16 ties, including Atletico Madrid v Liverpool, and Tottenham v Leipzig.
BBC News - Published
Thirty years after it fell, the Berlin Wall still divides Germans
When Matthias Rudolph joined political protests in Leipzig in 1989, he wanted to change the Communist German Democratic Republic. Thirty years on, he enjoys the freedoms the fall of the Berlin Wall..
Reuters - Published
East Germany 1989: People power activists who toppled a state
A giant anti-communist protest in Leipzig in October 1989 doomed the East German state.
BBC News - Published