Taiwan
Country in East Asia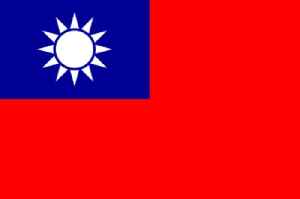 Taiwan, officially the Republic of China (ROC), is a state in East Asia. Neighbouring states include the People's Republic of China (PRC) to the west, Japan to the north-east, and the Philippines to the south. The island of Taiwan has an area of 35,808 square kilometres (13,826 sq mi), with mountain ranges dominating the eastern two thirds and plains in the western third, where its highly urbanised population is concentrated. Taipei is the capital and largest metropolitan area. Other major cities include Kaohsiung, Taichung, Tainan and Taoyuan. With 23.7 million inhabitants, Taiwan is among the most densely populated states, and is the most populous state and largest economy that is not a member of the United Nations (UN).


Democratic and Republican lawmakers back $8 billion F-16 sale to Taiwan
Congress should move quickly with an $8 billion sale of F-16 fighter jets to Taiwan as the self-ruled island faces pressure from China's increased military presence in the region, leading U.S...
Reuters - Published
Huawei gets caught up in China territory controversy
Huawei, at the epicentre of the US-China trade war, is under fire over its representation of Taiwan.
BBC News - Published
Protesters in Taiwan demand apology from Japan
Dozens of activists joined a protest in front of Japan's de facto embassy in Taipei on Wednesday (August 14), demanding an official formal apology and monetary compensation for the Taiwanese "comfort..
Credit: Reuters Studio Duration: 00:42Published
Coach, Givenchy apologize over T-shirts
Chinese brand ambassadors for labels like Coach and Givenchy have cut ties with the companies over products they say violate China's sovereignty. Fred Katayama reports.
Credit: Reuters Studio Duration: 01:01Published
Shocked cats caught on camera during earthquake
Home security camera footage shows five house cats in Taipei curiously looking around while being shaken by an earthquake early Thursday. A 6.0 magnitude quake caused minor damage in north-eastern..
Credit: PA - Press Association STUDIO Duration: 00:37Published
Cats in Taipei get a fright as 6.0-magnitude earthquake makes buildings tremble
The earthquake caused minor damage in northeastern Taiwan early on Thursday morning as the island braced for the arrival of a severe typhoon
Credit: euronews (in English) Duration: 00:50Published
Taiwan quake sends house cats into a panic
Skittish cats are caught on camera reacting to a 6.0 magnitude earthquake that struck off Taiwan's coast on Thursday (August 8). Rough cut - no reporter narration.
Credit: Reuters Studio Duration: 00:36Published
Audio reveals Ronald Reagan calling African delegates 'monkeys'
In a recently emerged audio recording from 1971, then-California Governor Ronald Reagan can he heard disparaging African delegates to the United Nations as "monkeys" during a phone call with U.S...
Credit: Reuters Studio Duration: 01:07Published
Pompeo Criticized China After Meeting With Their Top Diplomat
U.S. Secretary of State Mike Pompeo recently criticized China after meeting with his Chinese counterpart. According to Reuters, Pompeo spoke out against Chinese "coercion" of Southeast Asian..
Credit: Wochit News Duration: 00:32Published
Pompeo blasts Chinese 'coercion' in South China Sea
U.S. Secretary of State Mike Pompeo on Thursday criticized Chinese "coercion" in the disputed South China Sea, at a meeting of Southeast Asian nations with world powers. Rough Cut (no reporter..
Credit: Reuters Studio Duration: 01:03Published
Taiwan leader willing to help Hong Kong protesters seeking asylum
Protesters who stormed Hong Kong's legislature have fled to Taiwan, fearing they could face serious punishment.
Credit: Al Jazeera STUDIO Duration: 01:36Published
In a snub to China, Taiwan's leader visits U.S.
Taiwanese President Tsai Ing-wen arrived in the United States on Thursday on a trip that has angered Beijing, warning that democracy must be defended and that the island faced threats from "overseas..
Credit: Reuters Studio Duration: 02:20Published
US approves possible $2.2bn arms sale to Taiwan
The sale of weapons, including Abrams tanks and Stinger missiles, announced despite Chinese opposition.
Credit: Al Jazeera STUDIO Duration: 01:46Published
Foxconn gets new chairman as Gou seeks Taiwan presidency
Apple supplier Foxconn - the world's biggest electronics contract manufacturer - chose its chip-unit boss as chairman on Friday to succeed Terry Gou, who is preparing to contest Taiwan's presidential..
Credit: Reuters Studio Duration: 01:22Published
Taiwan sharply boosts defense budget amid China tension
Taiwan unveiled its largest defense spending increase in more than a decade on Thursday amid rising military tensions with its giant neighbor China, which considers the self-ruled island its own and..
Reuters - Published
Coach, Givenchy in hot water over China T-shirt row
Chinese brand ambassadors of fashion labels from Coach to Givenchy have severed ties with the companies over products which they said violated China's sovereignty by identifying Hong Kong and Taiwan as..
Reuters - Published
Search this site and the web:
You Might Like